European Refugee Crisis: Slovenian Army To Help Manage Continuing Flow Of Migrants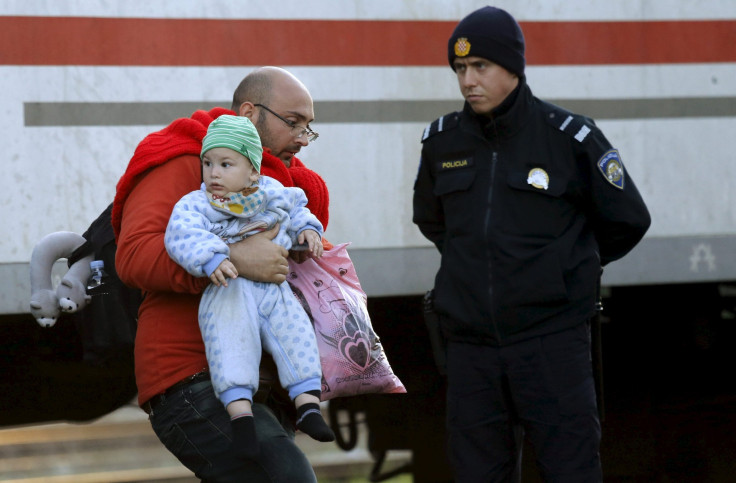 As hundreds of refugees arrived at Slovenia's border, the country's prime minister announced Saturday its army will help police manage the influx coming from neighboring Croatia, the Associated Press reported. Five buses carrying 300 refugees entered the country Saturday through checkpoints with Croatia, Slovenian police said, according to Al Jazeera. Soldiers will be deployed if there are many refugees or if there are any illegal attempts to cross the border.
The soldiers won't have authority over the refugees, and will only offer police officers logistical support, authorities said. Since Hungary closed its border Friday to refugees more than 5,000 have entered Croatia, ABC News reported. Some 190,000 refugees are estimated to have come into Croatia since mid-September.
"We are going to focus even more on safety and security and order so our country can function normally," Slovenian Prime Minister Miro Cerar said, according to the AP.
Most of the refugees intend to continue through Slovenia to other countries in the north, such as Austria and Germany, the BBC reported. Traveling by sea, more than 600,000 refugees are thought to have crossed into the European Union this year.
Slovenia said earlier Saturday some refugees already had reached the Austrian border where Slovenia has set up a refugee center. Many of the refugees reaching Europe are Syrians, Afghans and Iraqis fleeing ongoing conflict in their homelands, and while many asylum seekers have received warm welcomes upon entering countries, refugee housing areas in some countries have been the target of violence. In a number of EU countries, including Germany, refugees have been the targets of militant groups.
In Sweden a school that was set to hold refugees burned down Saturday in what police said was likely an aggravated arson, the AP reported. The school was recently renovated to house the refugees. It has been closed for about four years.
© Copyright IBTimes 2023. All rights reserved.