Even TV Show Creators Want 'Game Of Thrones' To Include Lady Stoneheart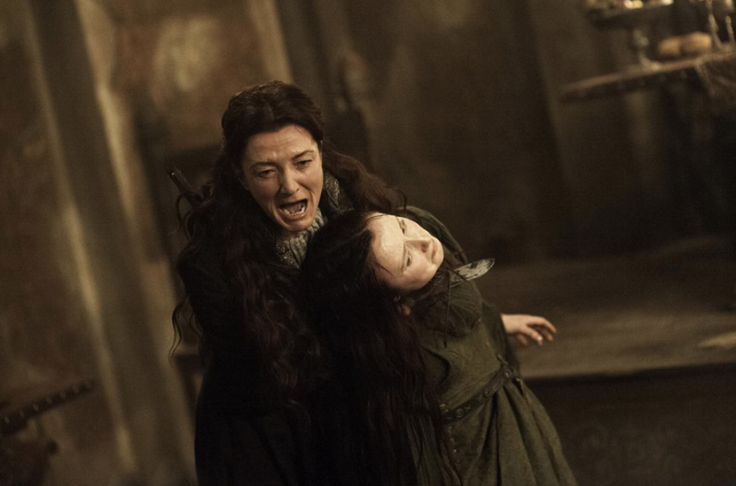 Where is Lady Stoneheart? "Game of Thrones" viewers have been demanding the introduction of author George R.R. Martin's character – and other TV show creators are among the ravenous fans!
Noah Hawley ("Fargo"), Bryan Fuller ("Hannibal") and Graham Yost ("Justified") were on hand at the 2015 ATX Television Festival to participate in the "To Adapt Is To Evolve" panel. The panel discussed the difficulties of adaptions – from characters, to fans and the "voice" of the original TV show or movie.
Hawley, Fuller and Yost explained what went into creating their unique adaptions, and even dived a little bit into the "Game of Thrones" world.
"I think you see now in 'Game of Thrones' that the audience is really excited that they're breaking from [the books]," Hawley said of the HBO series. "It kind of sucks when you know exactly what's going to happen, and you're going to just see how they are going to execute it. I think what's interesting is to do something different. Obviously I think that George 'Double R' Martin is sort of like, 'What should I do now? How do I finish this?' So it's nice now to finish that for him."
The audience at the panel laughed at Hawley's joke about Martin's "pace" at which he writes. And Fuller took that time to chime in.
"As long as they include Lady Stoneheart," Fuller added.
For those unfamiliar with the character, Lady Stoneheart is the reincarnated Catelyn Stark (Michelle Fairley). The Stark matriarch was murdered during the "Red Wedding" when Roose Bolton (Michael McElhatton) betrayed her family. Her throat was cut after she was forced to watch her firstborn son, Robb (Richard Madden), die.
In the books, Catelyn comes back from the dead as "Lady Stoneheart." Bent on revenge, she kills any person who has ties to the Freys, Boltons or Lannisters. The character barely talks due to the wounds she sustained before she died.
Although book readers love Lady Stoneheart, "Game of Thrones" showrunners D.B. Weiss and David Benioff have kept quiet about any plans to bring back actress Michelle Fairley.
"We reached the point that commenting individually on what is or is not in the show from the books is a prospect of diminishing returns," Weiss told Entertainment Weekly in March. "Early on in the process, it was something we talked about a fair amount. [The change of strategy is] not out of any disrespect; the fact that people care enough about the books and the show to have arguments about it is something we have huge gratitude and respect for. I just don't think there's value in anything we have to say about it. It opens a Pandora's Box of questions you could spend your whole life answering, and the net result is that what you said will probably make people less happy than if you hadn't said anything."
The Season 5 finale of "Game of Thrones" airs Sunday, June 14 at 9 p.m. EDT on HBO.
© Copyright IBTimes 2022. All rights reserved.
FOLLOW MORE IBT NEWS ON THE BELOW CHANNELS