'Game Of Thrones' Author George R.R. Martin Explains 'Song Of Ice And Fire' Book 6 Delay At Season 5 Premiere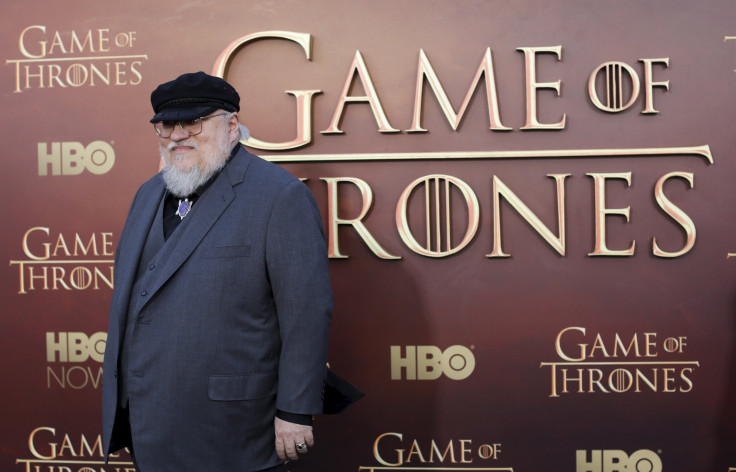 Season 5 of "Game of Thrones" will premiere on April 12 but, while HBO keeps on churning out new episodes at a season per year pace, George R.R. Marin has been much slower with the publishing of the "Song of Ice and Fire" novels. Having only published one book since the show's 2011 premiere -- and with two more to go -- there are doubts about whether the author can keep pace with the series. Martin addressed concerns about when the sixth book -- "The Winds of Winter" -- will be published at the "Game of Thrones" Season 5 premiere in London Monday.
"There's more pressure every year. Everybody wants it. The readers want it, my agents want it, the publishers want it, HBO wants it, but I want it most of all," Martin told People. "Ultimately, as much as I'd like to say that the book is going to be done next week…the main thing is to make the book as good as I can possibly make it."
That might be a problem soon. Book 6 will very likely not be published before Season 6 of "Game of Thrones" and a quick look at the release dates for the first five books would indicate that there is almost no chance that book 7 would be out before a possible Season 7. Many of the storylines on the show have already caught up with their book counterparts and now – instead of the books spoiling the shows – the show might cover territory Martin has yet to even write himself.
According to Vanity Fair, "Game of Thrones" executive producer David Benioff told the Oxford Union last week that the show writers know Martin's planned ending and are ready to push on without the source material.
"Luckily, we've been talking about this with George for a long time, ever since we saw this could happen, and we know where things are heading. And so we'll eventually, basically, meet up at pretty much the same place where George is going," said Benioff. "I kind of wish that there were some things we didn't have to spoil, but we're kind of stuck between a rock and a hard place. The show must go on and that's what we're going to do."
Will the show have to spoil the big ending before Martin finishes his books? Only time will tell. Season 5 of "Game of Thrones" premieres on April 12 on HBO.
© Copyright IBTimes 2023. All rights reserved.