Ex-UFC Champ Proposes Perfect Heavyweight 'Storyline' For Jon Jones
KEY POINTS
Michael Bisping discussed Jon Jones' move to UFC heavyweight division
Bisping thinks Jones should fight the winner of Stipe Miocic vs. Francis Ngannou
"Bones" is confident he can take out reigning UFC heavyweight champ Miocic
Michael Bisping has a lot of interesting thoughts about Jon Jones' highly-anticipated heavyweight debut.
Though the UFC hasn't made an official announcement yet as to when Jones will make his return, the MMA community has already been buzzing about the former champ's move to heavyweight, including former UFC middleweight champ Bisping.
According to "The Count," the perfect opponent for Jones is the winner between Stipe Miocic and Francis Ngannou at UFC 260. For Bisping, "Bones" taking on the best heavyweight fighter in the world will be the best "storyline" the UFC could ever come up with, suggesting it could also end the so-called "G.O.A.T." debate in MMA.
"Whoever wins that fight [Miocic vs. Ngannou], Jon Jones – he's on deck to fight next," Bisping recently said on his podcast.
"Could you imagine the storyline if Jon Jones can go out there after being essentially undefeated for so long, taking out multiple generations of mixed martial artists and then go up to heavyweight and take out the greatest heavyweight the UFC has ever seen?" he continued. "I mean you can close the f---ing book on all of this chat about the greatest of all time because that's it! It's over, it's done!"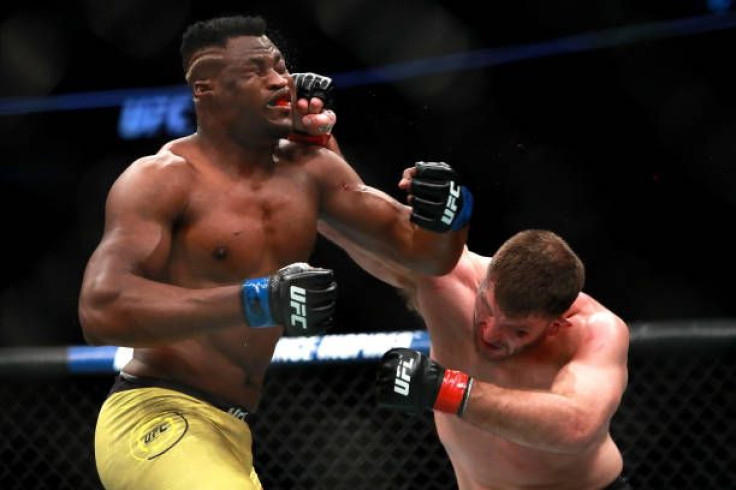 Jones is currently preparing for his UFC return at the famed Jackson Wink MMA Academy and has been posting training clips on his official social media accounts.
Commenting on one of the latest training video clips Jones posted, Bisping pointed out that there's "nothing" to talk about regarding the said clip as it seemed too regular.
"I've seen the footage, Okay it's a little bit of a clip [Jon] Jones hitting pads [but] there's nothing great, I mean there's nothing bad but I'm like 'it's not a talking point,'" the 42-year-old assessed.
Prior to moving up to heavyweight, Jones was undefeated in the UFC's light heavyweight division, having managed to defend his title 13 consecutive times.
Jones, 33, is confident he deserves an instant heavyweight title shot and is even confident he would dominate reigning UFC heavyweight champion Miocic as well.
"The current champion [Miocic] is 38, I'm only 33," Jones recently tweeted. "Mark my words eventually I will have that belt around my waist. There's no rush. I'll just keep building my body, I'll focus on doing all the right things outside of the octagon, and hopefully one day the company will see more value in me."
© Copyright IBTimes 2023. All rights reserved.