EXCLUSIVE: Another Scandal At Cincinnati IRS Office, Targeting Democrats This Time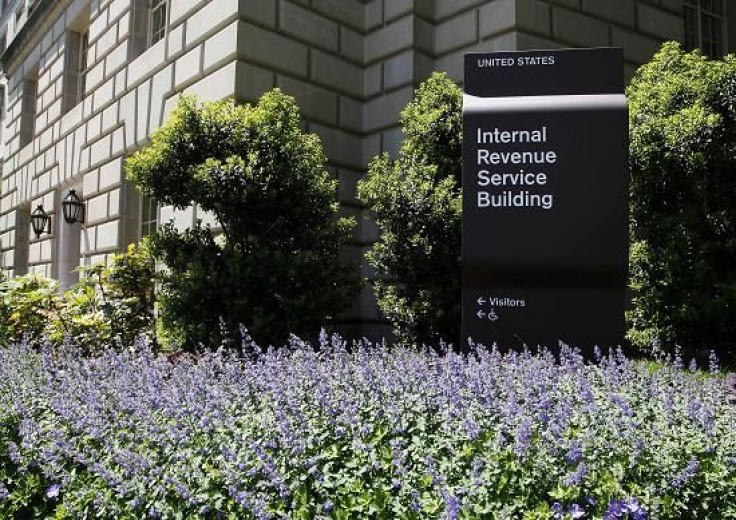 A group of employees at Cincinnati's beleaguered Internal Revenue Service field office used IRS computers and email accounts to exchange dozens of emails during the months leading up to the 2008 presidential election among a group of friends and colleagues dubbed the "Neanderthals," discussing national politics in a manner that two employment lawyers say likely violated federal law.
And certain decisions about who to promote within the office were decided in part based on considerations of employees' political leanings, according to a longtime Cincinnati IRS field-office employee who declined to be identified but provided the internal emails to International Business Times.
The 80 politically charged emails were sent among members of a group of more than 20 people, including at least eight employees of the Cincinnati IRS field office's Employee Plans Office, part of the Tax Exempt & Government Entities Division there, which is already embroiled in a national scandal over its targeting of conservative groups for added scrutiny in the run-up to the 2012 election.
The revelations about the Employee Plans Office emails, the content of which was decidedly pro-conservative and anti-Democrat, add another chapter to the tale of a Cincinnati IRS operation gripped by political tension.
Possible Hatch Act Violations
The vast majority of the emails obtained by IBTimes were exchanged by Neanderthals members before the 2008 election and included criticism, jokes or insults directed at Barack Obama, Joe Biden or Democrats in general, or overt praise of John McCain, Sarah Palin or Republicans.
One exchange on the morning of Oct. 17, 2008, saw Ryan P. McDonald, then a tax law specialist at the Cincinnati IRS office, and Robert P. Bell, then a manager in the Employment Plans division, emailing each other via their IRS email accounts about the impending election.
"Gallup poll has the race at 2 points. That's well within the margin of error. This one ain't over yet!" McDonald wrote, adding, "This has not been a good week for Obama. Voter fraud by ACORN. His exposure as a socialist who wants to spread the wealth around. John Lewis and Rep. Murtha calling people racists with no cause at all. Biden thinks jobs is a three-letter word. Another week like this and McCain might even be in the lead."
Bell's response: "I sincerely hope you're right, but I doubt it. I think that only Neanderthals like us give a crap about ACORN and the other stuff you mention. I'm still going to vote, though."
Neither McDonald, Bell nor any other current or former IRS employee who is a member of the Neanderthals responded to a request for comment, but similarly political exchanges were common throughout the dozens of emails passed among the Neanderthals between June 2008 and August 2010 that were obtained by IBTimes.
The discussions amount to "overt political activity that violated the Hatch Act," according to Charles Lamberton, president and principal of Pittsburgh's Lamberton Law Firm LLC, which specializes in employee and workplace law.
Hatch Act is shorthand for An Act to Prevent Pernicious Political Activities, a law enacted in 1939 and most recently amended in 2012 that aims to keep political activity out of federal, state and local government workplaces.
The law specifically states, "Less restricted federal employees [a group that includes IRS employees] may not engage in political activity -- i.e., activity directed at the success or failure of a political party, candidate for partisan political office, or partisan political group -- while the employee is on duty, in any federal room or building, while wearing a uniform or official insignia, or using any federally owned or leased vehicle."
It goes on to outline examples of activities prohibited under that provision, including the use of "any email account or social media to distribute, send or forward content that advocates for or against a partisan political party, candidate for partisan political office, or partisan political group," a restriction Lamberton believes the Neanderthals clearly violated.
"I don't know how you look at emails of this sort and not determine on its face that there was overt political activity that violates the Hatch Act," Lamberton said. "What is the essential [tenor] of the communication? If it's just expressing an opinion, that's okay, but when it crosses over into something that is advocating in favor of one and against another -- that 'against another' really is key -- that becomes a problem…. If it starts to now compare and contrast between the performance of one candidate and the performance of another, and takes positions in favor of one and against another, now that's political activity, and that can be very problematic for the employee who engaged in it."
But that's not how Neanderthals member Charles Tate, who has never worked for the government, sees it.
"I was not aware that any of the members were employed by the federal government, and I did not really care. Only infrequently did someone mention their occupation or background, and then only when it reflected some special knowledge about a topic," he wrote via email, adding later, "Why would overt endorsements of political candidates, crude language, or insults of political policies or politicians among friends be of concern?"
Bruce Friedland, a spokesman for the IRS, provided comment on behalf of the agency.
"The IRS cannot comment on specific situations involving employees," Friedland wrote via email. "The IRS requires its employees to follow the guidelines of the federal Hatch Act and the rules for political activity by federal workers. The IRS regularly reminds employees of the Hatch Act guidelines. When the IRS receives allegations of violations of the Hatch Act, it follows all the proper procedures and protocols and refers the matter to the U.S. Office of Special Counsel. The independent Office of Special Counsel has the authority to investigate, determine the facts and take appropriate disciplinary action for violations of the Hatch Act."
Going Up The Ladder
One or more of the IRS employees in the group became aware in 2009 that using federal government resources to espouse partisan political opinions posed potential conflicts and took that concern to higher-ups in the Cincinnati IRS office for guidance, according to Frank Bitzer, a Neanderthals member who has never worked for the agency.
"As I understand it (and it may not be 100 percent accurate), some of the guys who do work for the IRS went to their supervisors because they were concerned that they may be inadvertently crossing the line on anything they were doing," Bitzer wrote via email. "The Service investigated and, in the end, advised them that they were all entitled to participate in any communications they desire so long as they do it on their own time and not on IRS resources. As a result, we updated our email list to make sure those friends who work at the IRS were only contacted using their home email addresses."
Bitzer clarified his remarks in a follow-up email.
"They self-reported themselves over concerns of the emails back in 2009 and the Service reviewed the matter and put it to rest," he wrote.
The Neanderthals actually went a step further, assigning themselves nicknames like "Meataxe," "Bulldog," "Fedora," and "Sourdough," which they have used in their email communications ever since.
The realization that what they were discussing via IRS resources was not entirely aboveboard can be interpreted as a possible defense for their actions, according to Charles Pautsch, a partner at Chicago law firm Arnstein & Lehr LLP who specializes in labor and employment law, and has experience in related public sector cases. But prosecutors could also potentially use it to bring an additional charge of conspiracy if a case were brought against the IRS employees alleging that they violated the Hatch Act, Pautsch said.
"That may be used against them, I would think, that they wanted to continue what they were doing but they were using pseudonyms," he said. "You can look at is as a conspiracy at that point, or you can also look at it as exonerating them in some way. There's the issue of agency … did they have agency and are they responsible? Was there a conspiracy to violate the law? When you have a group of people who get together to do something and you actually give it a name -- that may be viewed as some kind of conspiracy to evade the law."
Who Are (And Aren't) The Neanderthals?
The Neanderthals have no leader, they are not an official organization, and they do not engage in coordinated protests, voter or fundraising drives or other direct political action as a group, its members say, though they do occasionally host barbecues featuring cigars, Scotch and conversation, according to Bitzer.
"All we are is a group of guys with similar interests in beer, sports, social issues and politics," Bitzer wrote via email. "It started as a casual group of friends chatting over beers and then emailing back and forth on issues of common interest. We decided to get together for cook-outs and we invariably discussed 'my friend would like this' or 'my cousin saw an article about that' and we decided to start bringing others into the email list."
Tate says he was not a part of the discussion about what to name the group but that it arose out of a feeling many of the members share. "The name Neanderthals reflects the ironic view that ordinary Americans, i.e., Midwestern middle-aged guys like us, are so frequently accused of being primitive or backwards by the chic elite set that attempt to fashion our cultural views," Tate wrote.
Bitzer maintains that the group has no official set of guiding principles and that "the only requirement is that you give yourself a nickname in order to get added to the list."
But evidence suggests the group discriminates against people who do not hold similar political beliefs.
Bitzer alluded to such a policy himself in an email to IBTimes, stating, "We are just friends sharing common interests and discussions. If someone has a friend, cousin, son, co-worker, who shares similar views, they are welcome to join the group merely by asking."
And an email Bell sent on June 4, 2008, from his IRS email account to six members of the Neanderthals specifically identified a man who, because of his left-leaning political views, was not to be invited to take part in a contest to create insulting names for Obama. The man's name has been removed because no one who responded to requests for comment could say who he was, and he did not send or receive any of the Neanderthals emails obtained by IBTimes.
"[The individual] has always been involved in our previous contests, but I fear his political leanings don't allow me to include him in this one," Bell wrote. "Those of you who have not participated before need to read this e-mail string from the bottom up so you'll know what this is all about. You may, of course, share this with a wider audience, but that audience must consist solely of those who won't be supporting THE CANDIDATE OF HOPE AND CHANGE (cue the hymns) this fall. After all, we don't want to hurt anyone's feelings or anything."
The political aspect of the Neanderthals may have also contributed to personnel decisions within the Cincinnati IRS office's Employee Plans division.
The longtime IRS Cincinnati office employee who provided the emails to International Business Times said that a manager there who was a member of the Neanderthals -- who, as Bitzer said, share "similar views" -- often promoted fellow Neanderthals over nonmembers.
"What they did was, there's maybe 10 managers in employee plans, five of which were promoted from that group," the source said. "It was very political."
And that demonstrates another possible instance of illegal activity allegedly undertaken by members of the Neanderthals, according to Lamberton.
"It's connected with the Hatch Act," Lamberton said of the alleged employment discrimination. "It's abjectly illegal, and anyone who was discriminated against because of their political affiliations or political leanings would have a First Amendment claim that they could bring."
© Copyright IBTimes 2023. All rights reserved.