Extrajudicial Killings Rise In Pakistan Police Crackdown In Karachi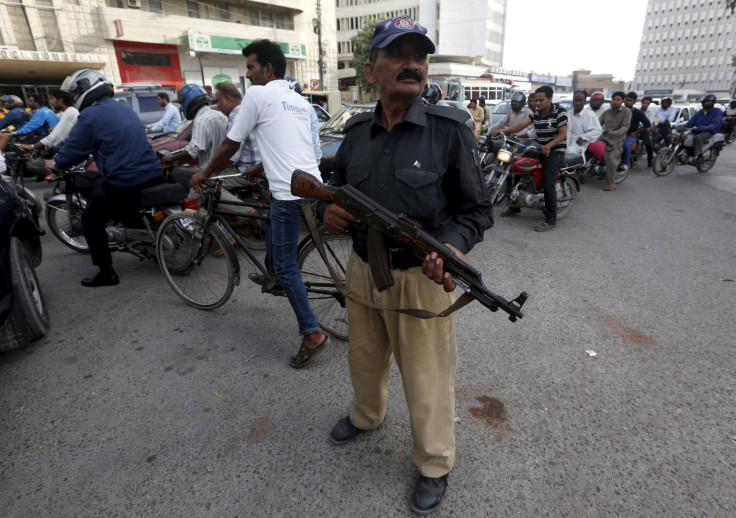 By Mehreen Zahra-Malik
KARACHI, Pakistan (Reuters) - Some senior current and former Karachi police officials say extrajudicial killings by the force are happening as part of a crackdown on crime in the city, in a stark admission of the practice by Pakistani authorities.
Karachi, a metropolis of 20 million that hosts the stock exchange and central bank, is beset by armed violence, and many of its sprawling slums are no-go areas for outsiders.
Two years ago, the military, with help from police, paramilitary Rangers and intelligence agencies, unleashed a campaign against armed gangs and suspected militants in the city.
Murders are down to 202 so far in 2015, compared with 2,507 in 2013, police records show.
"The efforts carried out by government have resulted in a marked decrease in crimes," Interior MinisterChaudhry Nisar said.
Murders in Karachi decreased by 50 per cent over the 12 months through July, while no new kidnapping for ransom cases were reported over that period, Nisar said.
According to political leaders, human rights activists and families of victims, however, the crackdown has been accompanied by allegations of extortion and killings by the police in staged encounters – a practice where police claim the victim was killed in a gunfight though they were executed.
In interviews, half a dozen serving and former police officials said such extra-judicial killings were being used as a policing technique and a way to release the burden on courts.
Accusations of abuses by Pakistan's military and police are not new, but the acknowledgment by officials marks an unusual admission in a country with a poor human rights record.
Rao Anwar, a senior Karachi police official against whom the NGO United Human Rights Commission of Pakistan filed a court case in May for alleged extra-judicial killings, said suspects were sometimes handed over to police by Rangers and intelligence officials to be "dealt with".
But he added that most of the killings were as a result of police clashes with criminals.
When asked whether he thinks innocent people were also killed, Anwar said, "This is a state of war."
"There are always gray areas in such matters. And when the justice system fails to convict suspects then these things happen," he said.
The United Human Rights Commission alleged in the case against Anwar that he killed 60 people in staged encounters. The Sindh High Court will hear the case next month.
Anwar declined to comment on the case.
Ghulam Qadir Thebo, the inspector general for Karachi until July, said police had killed 234 criminals in police clashes since January this year.
A senior policeman, who declined to be named, put the figure at 1,000, saying a majority of the deaths were extrajudicial killings. Three other serving officials confirmed the assessment.
The inspector general's office declined comment on the figure. Neither the intelligence services nor Rangers answered requests for comment.
While police acknowledge that the crackdown has resulted in excesses on the margins, they say police are also often victims of attacks by criminals. More than 150 police have been killed since the start of the operation, police said.
"BODIES IN HANDCUFFS"
According to the families of six alleged victims, identified by Reuters through cases filed in the Supreme Court and high courts, security forces have carried out mass arrests, and some of those detained have faced a stark choice: pay or be killed.
Reuters could not independently verify their claims.
Muhammad Noman, a Karachi resident, said he and his uncle were on their way to work in Jan. 3, 2014 when they were bundled into a vehicle by armed men wearing police and Rangers' uniforms.
"They covered our eyes and half an hour after picking us up, they let me go," Noman said. "We searched for my uncle everywhere. Three days later, police called us and said his body had been found."
Noman and his family filed a court case four days later against the police and say they have received threats that more relatives will "disappear" unless they retract the case.
The police have filed a denial before the court.
Azeem Khan, an unemployed heroin addict, said he was grabbed by four policemen outside a poultry shop in the slums of Karachi in April and driven to an abandoned plaza.
He said he was offered two options: death or pay a $4,000 ransom to the police.
"My life was spared because I said I would pay in small installments," Khan told Reuters in Sohrab Goth, a crowded slum that was high on the police list of places to "clean up".
A junior police official would visit monthly to collect the money, he said. Police denied the allegation.
At Karachi's Abbasi Shaheed Hospital, Afzal, a doctor who only wanted to be identified by his first name, said police had on occasion brought in bullet-riddled bodies, shot at close range.
"Many times I have removed the handcuffs in the morgue," the doctor said, showing pictures of two victims whose hands were tied.
When asked about Afzal's account, one senior police official who declined to be named said: "It is possible that there are some cases of mischief by individual officers, but by and large this is a clean job. Police know what they are doing."
(Additional Reporting by Syed Raza Hassan; Writing by Mehreen Zahra-Malik; Editing by Paritosh Bansal and Mike Collett-White)
© Copyright Thomson Reuters 2023. All rights reserved.