Extreme Weather Hits India's Staple Food Crops, Threatens Food Security
Prices of staples in Indian households, including tomatoes and rice, have soared in recent weeks, triggering an unprecedented nationwide shortage of key food items. This shortage has been largely attributed to the erratic weather, including unseasonable heavy rainfall in different parts of the country, which impacted crop production and the stock of food items.
As India's agricultural sector continues to grapple with unpredictable weather, farmers have expressed concerns about the repercussions of continuous rainfall on crop production as well as food prices.
The disparity in rainfall distribution between states in northern India and southern India has severely impacted crop production. While high-yielding crops like rice are benefiting from rain in the northern Indian states of Punjab, Haryana, and Uttar Pradesh, in south India, which used to get abundant rainfall, a lack of rain in Andhra Pradesh, Karnataka, and Telangana is threatening the production of the staple food item.
Vegetables, pulses and sugarcane are also facing the fallout of the uncertain weather, resulting in high price volatility for food items across different states. Last week, India halted the export of non-basmati white rice, its largest export category, in an attempt to halt looming domestic price surges after heavy rains caused significant damage to the crop in the country. The retail prices of rice have surged by more than 11% in India over the past year and by 3% in the past month.
As the world's biggest rice exporter (accounting for about 40% of global exports) banned exports of non-basmati white rice, Indians in the U.S. and Canada thronged supermarkets in large numbers to hoard bags of the food staple. A number of grocery stores in the U.S. and Canada have also increased the prices of rice at their outlets, reports said.
"The price of 9 kg rice bags has increased from $15-$20 to more than $50 in many stores across the U.S. This is unacceptable," Harminder Kaur, an Indian settled in Texas, told International Business Times. If the price of food grains continues to rise, it could stoke global food inflation.
Not only rice, but the prices of tomatoes, a staple in Indian households, have also increased fivefold in recent months due to adverse weather, resulting in a shortage of this food item. Farmers are taking unusual measures to protect their produce from theft. Leading fast-food chain McDonald's temporarily dropped tomatoes from its burgers in many parts of the country.
"Many vegetable crops, including tomatoes, capsicums, and spinach have been impacted by flood damage, particularly in northern India. As a result, prices of many vegetables have skyrocketed, costing anywhere from Rs. 100-300 per kg in many regions," Mahesh Salgaokar, a Goa-based independent agricultural consultant, told IBT.
"This year, we are experiencing more than usual rainfall, probably due to global warming. There was unusually intense heat in the months of March and April, which is not normal for a state like Goa. Heavy rains mixed with flash flooding will further delay planting, resulting in lower-than-normal yields. It can threaten food security, not only in the country but globally also," Salgaokar added.
Raj Bala, a Haryana-based farmer, told IBT: "The irregular weather has severely impacted my tomato crops. Besides the weather, the months of March and April saw pest attacks on the crops due to a sudden rise in temperature which affected the fields. The heatwave in February and the delayed monsoon are also important reasons behind the shortfall in produce and increasing prices of tomatoes."
She said she could harvest and sell only a portion of what she sowed at the beginning of the season, as the rest of the produce got destroyed due to the unpredictable weather conditions.
"Deficient rainfall, and consequently lower rice and pulses sowing, has pushed prices higher. Rice constitutes around 4.4% and pulses have a weight of 6% in [India's] overall consumer price index," The Hindu reported, citing analysts from stock trading platform Motilal Oswal. "July is a crucial period for sowing kharif crops as about 32% of monsoon precipitation typically occurs during this month," they added.
Other food items, including chilies, onions and ginger, have also been facing the wrath of the weather gods, although the price inflation has remained moderate.
While June ended with a rain deficiency of 10%, according to the India Meteorological Department (IMD), surplus rainfall in July so far has covered up the shortfall to a large extent, accounting for a third of the overall rainfall in the season.
Mumbai, India's financial hub, and its suburbs are experiencing incessant downpours. The IMD sounded an orange alert for the Maharashtra capital Tuesday after the city surpassed the 100 mm mark last week. Mumbai also surpassed the 1,000 mm mark of July rainfall within the first three weeks, according to the Indian Express.
Frustrated with the incessant downpours, commuters across Mumbai express exasperation with the daily struggle to go to work.
"The monsoon makes the traffic in the city. There is no traffic police on the roads most of the time. Potholes are adding to our crisis. It is a never-ending circle," said Akash V, a Mumbai-based tech professional.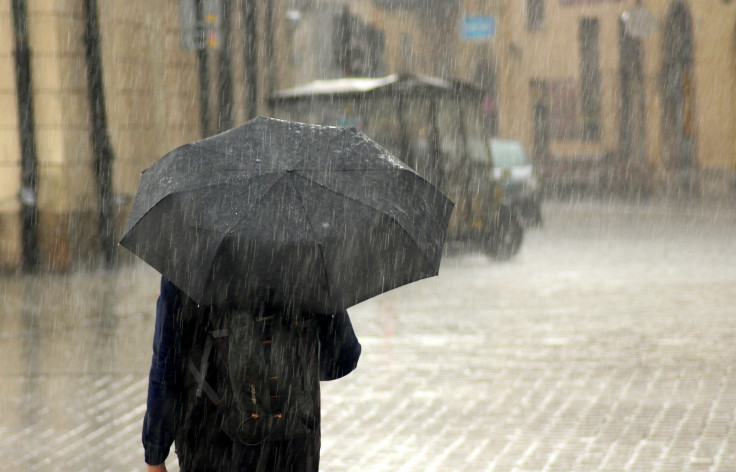 © Copyright IBTimes 2023. All rights reserved.