'Extremely Serious' Incursion: China Sends Flotilla Armed With Cannons To Japan's Senkaku Islands
KEY POINTS
The flotilla was spotted near the Senkaku Islands on Aug. 30.
The Chinese belligerence prompted Tokyo to register its protest
The Chinese vessels also tried to harass Japanese fishermen nearby
China sent seven coast guard ships, four outfitted with cannons, to the Japan-administered Senkaku Islands last month, in another instance of its willingness to use military might to outwear nations which dispute its territorial claims.
This "extremely serious" incursion in the East China Sea drew Japanese ire, prompting Tokyo to register its protest with Beijing, reported Stars and Stripes.
China has laid claim to the chain of uninhabited islands that lie 1,200 miles (1,900 kilometers) southwest of Tokyo since the 1970s. Currently, Japan administers and controls the island, as part of Ishigaki in Okinawa Prefecture.
The flotilla was spotted near the islands, called Diaoyu Islands in China, on Aug. 30, a Japan Coast Guard spokesman told Stars and Stripes Thursday. The spokesman added that this was nearly double the usual contingent of Chinese ships patrolling the area and the largest since 2016.
"We consider this incident extremely serious," the spokesman said. "The Japanese coast guard is always prepared with a force that exceeds them," he added.
Though Japan's Ministry of Foreign Affairs filed a formal protest over the incident with its Chinese counterpart, it is not clear when or at what level the protest was made.
According to the spokesman, two Chinese vessels were initially spotted patrolling in Japan's contiguous zone around the islands. However, they were joined by five more ships around 1 a.m. Of these, four were equipped with deck "cannons."
A contiguous zone is a 24-mile-wide band beyond the 12-mile territorial limit. Nations may exercise limited control in their contiguous zones and vessels operating in the area are required to identify themselves.
Following this, four ships, including one with a deck gun, intruded into the Japanese territorial waters around 2:42 a.m. Japanese coast guard swung into action and warned off the ships.
Japanese coast guard claims the ships also attempted to approach five Japanese fishing vessels operating in the area but were prevented by the coast guard. The Chinese Coast Guard vessels often engage and harass Japanese fishermen in the area, he said.
The Chinese vessels remained in the area till 5:30 p.m. when three departed. They decreased their number further three days later, the spokesman added.
According to him, this remains the most serious incident involving Chinese ships in the area since 2016, when they sent 15 ships.
China often sent vessels and warplanes into Japanese territory. Tokyo says Chinese coast guard vessels have ventured into Japanese territorial waters, or within 12 nautical miles of Japanese land, a total of 88 times between January 1 and the end of August.
This incident also explains Japanese Defense Minister Nobuo Kishi's recent statements reiterating Tokyo's resolve to protect the islands by "matching any Chinese threat ship for ship, and beyond."
In an interview with CNN, Kishi said Tokyo considers the Senkakus unquestionably its territory, and the islands would be defended as such.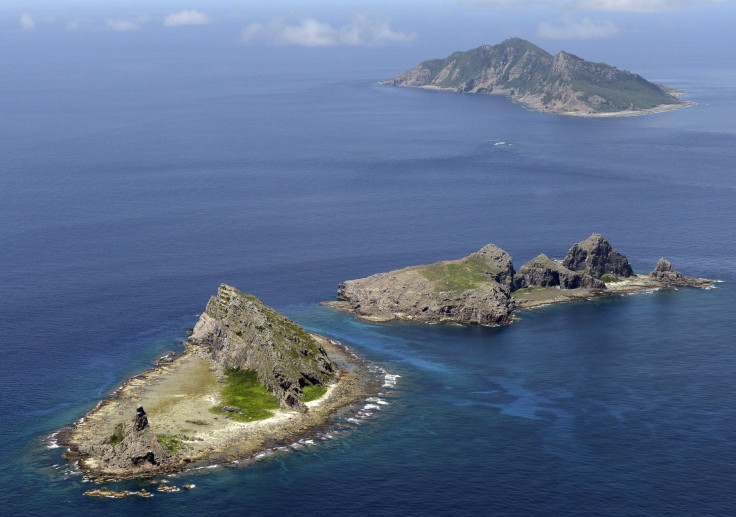 © Copyright IBTimes 2022. All rights reserved.
FOLLOW MORE IBT NEWS ON THE BELOW CHANNELS