FAA Criminalizes Use Of Drones Near Stadiums, Violators Could Face Up To A Year In Jail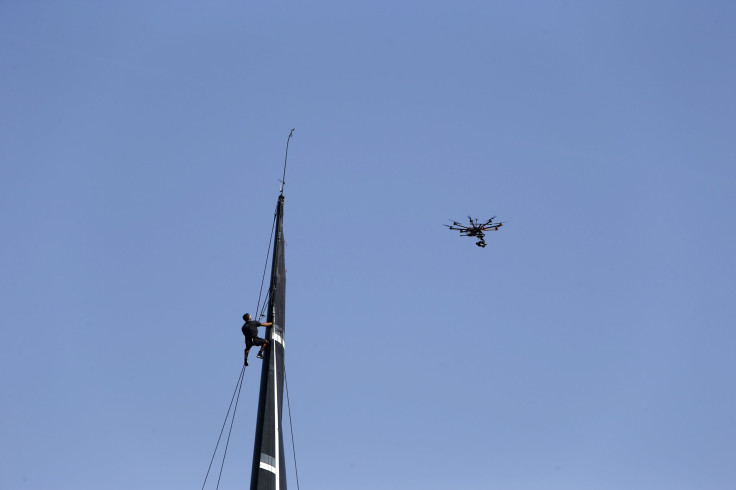 Flying drones or model planes near or over sports stadiums and auto race tracks could land operators in jail, the Federal Aviation Administration, or FAA, warned in a notice, The Associated Press, or AP, reported Tuesday. This is reportedly the first time that the use of drones has been criminalized in the United States.
Violations could lead to a fine or imprisonment for up to a year, AP reported. The notice reportedly comes as an update to a 2009 notice in which the FAA instructed pilots to avoid flying aircraft below 3,000 feet and within three miles of a Major League Baseball, National Football League or NCAA Division I college football game. The restrictions would be active for an hour before and after an event. Venues for the NASCAR Sprint Cup, Indy Car and Champ series auto races are also reportedly included under restricted areas.
The notice is "another attempt by the FAA to impose legal restriction on drones or model aircraft that never existed before," Brendan Schulman, a New York-based attorney, who represents several drone operators said, according to AP.
The notice was reportedly updated while adding a new web address, Laura Brown, a spokeswoman for FAA, reportedly said. She added that the agency decided to "clarify" that drones are also included in the earlier prohibition, AP reported. The FAA reportedly stated that the restriction was being imposed for security reasons.
However, Schulman reportedly said that he did not believe that such restrictions would in any way help prevent terrorist attacks. The prohibition reportedly applies to nearly 150 stadiums in the U.S.
Sports teams too have expressed concerns over the new restrictions as drones are used for photographing and recording games, Kenneth Quinn, a former FAA general counsel who also has voiced concerns over the drone restrictions, said, according to AP. Quinn added that the teams wanted permission from the FAA to allow the use of drones by them to record practice sessions for future training.
In August, a man was detained by police for flying a small drone during a Carolina Panthers football game at the Bank of America Stadium in Charlotte, North Carolina, AP reported.
© Copyright IBTimes 2023. All rights reserved.