Fake Pfizer COVID-19 Vaccine Made Of Anti-Wrinkle Treatment Sold For $1,000
KEY POINTS
Pfizer has identified counterfeit versions of its COVID-19 vaccine in Mexico and Poland
The vials found in Poland contained anti-wrinkle treatment
Authorities worldwide have also found and took down eight websites selling counterfeit vaccines
Pfizer has identified counterfeit versions of its COVID-19 vaccine in Mexico and Poland, a company spokesperson revealed Wednesday.
The pharmaceutical giant said Wednesday that authorities in separate investigations seized vials with fraudulent labeling. Pfizer researchers conducted tests on the seized vials, which later found what was in the vials to be counterfeit. The vials in Poland contained anti-wrinkle treatment.
"We are cognizant that in this type of environment -- fueled by the ease and convenience of e-commerce and anonymity afforded by the Internet -- there will be an increase in the prevalence of fraud, counterfeit and other illicit activity as it relates to vaccines and treatments for COVID-19," the spokesperson told ABC News.
Dr. Manuel de la O Cavazos, health secretary of Nuevo Leon state in Mexico, said that about 80 people at an unnamed clinic in Mexico received shots of the fake Pfizer COVID-19 vaccine, which was sold for $1,000 each. The vials found in the clinic were placed in beach-style beer coolers and had different lot numbers and expiration dates.
In Poland, authorities seized the counterfeit vaccines at a man's apartment. Further investigation showed that no one in Poland had received a shot of the fake Pfizer doses.
The findings now add to the running tally of COVID-19 vaccine scam attempts in the U.S. and across the globe.
"Everybody on the planet needs it. Many are desperate for it," Lev Kubiak, Pfizer's world head of security, told The Wall Street Journal. "We have a very limited supply, a supply that will increase as we ramp up and other companies enter the vaccine space. In the interim, there is a perfect opportunity for criminals."
Tony Pelli, a consultant with BGI Group who specializes in drug security, said criminals find it easier to promote fake shots than get their hands on real COVID-19 vaccines due to increased security.
"With counterfeits, you kind of can just show up, and say, 'Here's COVID vaccines, we've got some, don't ask how,' and start distributing them," he said.
In recent months, federal authorities in the U.S., Mexico and other nations have identified and taken down dozens of websites that claim to sell COVID-19 shots or have affiliations with drugmakers Moderna and Pfizer.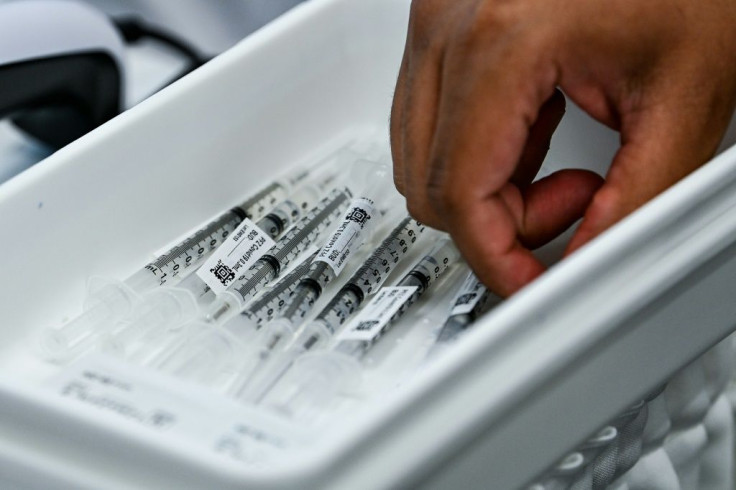 © Copyright IBTimes 2022. All rights reserved.
FOLLOW MORE IBT NEWS ON THE BELOW CHANNELS