FARC Weapons Arrests: Three Detained In Europe On US Charges Of Plotting To Sell Weapons To Colombian Rebel Group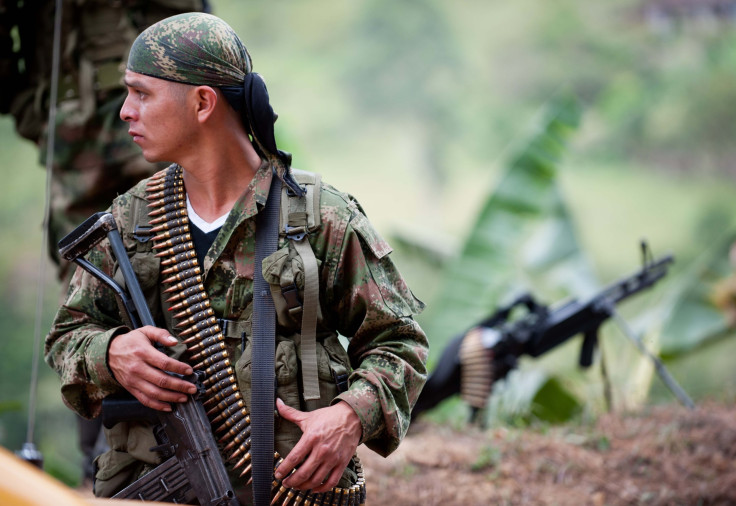 (Reuters) - Three men were arrested in Europe this week on U.S. charges that they conspired to sell military-grade weapons for use against Americans in Colombia, federal prosecutors in New York said on Wednesday.
All three were charged with conspiracy to kill officers and employees of the United States and with conspiracy to provide material support or resources to a Colombian rebel group, according to the indictment that was previously sealed.
Prosecutors charged Cristian Vintila, 44, of Romania; Massimo Romagnoli, 43, of Greece; and Virgil Flaviu Georgescu, 42, of Romania.
The three thought they would be selling anti-aircraft weapons, firearms and other items to the Colombian FARC rebel group for use by FARC against the United States, but they were in fact speaking to confidential sources working with the U.S. Drug Enforcement Administration, according to the statement.
The U.S. government in 1997 designated FARC as a foreign terrorist organization.
According to U.S. prosecutors, FARC is the world's largest supplier of cocaine, and FARC members have murdered and kidnapped Americans as retaliation for U.S. assistance to Colombia's anti-cocaine crackdown. An accused FARC member was extradited in November to the United States to face hostage-taking and terrorism charges.
The indictment of the three men in Europe does not say that FARC knew of their intended sales. It accused the men of being willing to sell to FARC, knowing the arms would be used against U.S. forces assisting the government of Colombia.
Vintila and Georgescu were arrested in Montenegro on Monday and Romagnoli was arrested there on Tuesday, the prosecutors said in a statement.
It was not known if any of them had U.S. lawyers or how soon they might be extradited to the United States. A spokeswoman for Manhattan U.S. Attorney Preet Bharara declined to comment.
FARC, which grew out of a 1960s peasant movement demanding land reform, and the Colombian government began peace talks in Cuba in late 2012. FARC has declared an indefinite unilateral ceasefire beginning on Dec. 20.
(Reporting by David Ingram; Editing by Lisa Shumaker)
© Copyright Thomson Reuters 2023. All rights reserved.
FOLLOW MORE IBT NEWS ON THE BELOW CHANNELS