At Fast-Food Worker Rally, Mayoral Candidates For New York Take Stage: PHOTOS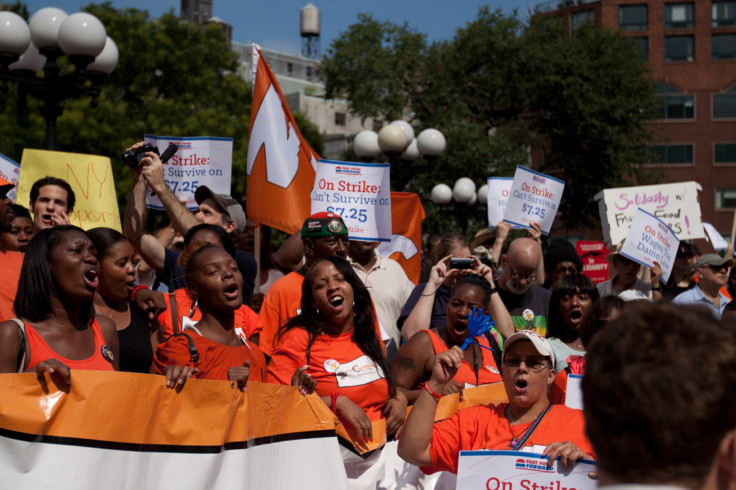 Scores of fast food workers employed by restaurant giants like McDonalds Corporation (NYSE:MCD), Burger King Worldwide (NYSE:BKW), and Wendy's Co. (Nasdaq:WEN) rallied in New York city during a nationwide strike on Thursday afternoon, demanding the right to unionize and a $15 hourly wage.

New York politicians and union chiefs also took center stage, pledging support for the workers in their quest, which has lasted several months. Similar nationwide strikes and protests have happened at least three times since November 2012.

McDonald's employee Anthony Roman, who has worked at two Manhattan McDonald's for five years, said to International Business Times that the cost of rent and food is relentlessly rising, without a similar uptick in wages.

"We've got a lot of support from a lot of people," said Roman, who earns $7.25 per hour, as he protested in New York's Union Square park, for the second time in months. "And it's true, $15 and a union, yes, we do deserve it."

Local union leader Hector Figueroa, with the Service Employees International Union (SEIU), laid out a list of additional demands to the crowd, and added that sixty cities were participating in the strike on Thursday.

He demanded fewer workplace injuries and formal contracts for employees, noting that workers should challenge the might of the so-called 'Big Three' fast food giants in particular – McDonald's, Burger King, and Wendy's.

Figueroa pledged the support of 150,000 SEIU members, and the rest of the organized labor movement. He also threatened additional national strikes.

"We're here to say to the country that we need to stand by these workers," Figueroa told IBTimes afterwards. "They deserve decent pay, they deserve benefits, they deserve protection on the job."

It's unclear how many workers participated in the strike nationally, but the organizing Fast Food Forward campaign posted photos from protests in Massachusetts, Connecticut, and North Carolina on its Facebook page Thursday.

Each major New York Democratic mayoral candidates also took the rally as yet another stop on the campaign trail, with less than two weeks to the city's mayoral primary of Sept. 10. Federal and state politicians endorsed legislation upping the minimum wage.

City public advocate Bill de Blasio took stage first, to contrast a booming $200 billion fast food industry with the plight of its employees.

"This is not even something that we need to think twice about," said de Blasio. "People need a decent wage, to feed their families."

De Blasio has surged ahead recently in a packed and closely contested field of Democratic hopefuls, with a Quinnipiac University poll Wednesday placing him with 36 percent of the vote.

Mayoral candidates City Council Speaker Christine Quinn and former Congressman Anthony Weiner also gave brief speeches to the crowd, though they received a more mixed reception.

Weiner told IBTimes that the city's mayor should stand behind workers' efforts to unionize, and could require certain businesses to report how much their employees depend on public assistance like Medicaid and food stamps.

"There's all kinds of things we can do," he said. Later, in his speech, he said legislation or speeches wouldn't necessarily advance the goals of workers, but that permitting unionization was key.

In his speech, Weiner also tied the struggle of fast food workers to the need for a single payer universal health care system, in keeping with his longtime emphasis on health care policy.

McDonalds has said that the proposed wage hikes are unwarranted, partly because the company has created millions of good jobs with windows for promotion, according to Reuters.

The company also said on its website that all its stores operated normally on Thursday, despite the so-called national strike. Police present at Union Square estimated that about 200 to 350 people attended the Thursday city protest.

The National Restaurant Association (NRA) has said in the past that only five percent of fast food employees earn minimum wage, with most being part-time employees or teenagers.

But the Center for Economic and Policy Research disputes that, claiming that half of fast food workers are older than 23, with more than a quarter supporting at least one child. Median pay for fast-food workers is $8.94 an hour, according to analysis of government data by the National Employment Law Project.

It's unclear how much impact these latest strikes will have. Although President Barack Obama called for a minimum wage hike to $9 per hour in his 2013 annual address, the move has had little traction in Congress.

There are no signs that fast food chains are preparing to hike their wage rates, either.

Burger King employee Zenquetta Charles, who has attended past protests in New York, told IBTimes taht the lack of an effective political or corporate response is disappointing, in the face of continued strikes and protests.

"It's been going on for a while, and I haven't seen no reaction," she said, of results coming from the protests. "It feels like nothing's getting done. You're doing a lot of work, and nothing's getting done."

As part of its official response, McDonald's USA also said: "The story promoted by the individuals organizing these events does not provide an accurate picture of what it means to work at McDonald's."

"McDonald's aims to offer competitive pay and benefits to our employees," read the statement, according to CBS Chicago.

Bystander Jim Coen, an unemployed carpenter, viewed the protest and political speeches as just so much "political grandstanding", in the absence of concrete legislative action.

There have been few results so far, he said, with mayoral candidate merely seizing a convenient bandwagon.
© Copyright IBTimes 2023. All rights reserved.