FDA Rejects BPA Ban, Faces Criticism For 'Wrong Call'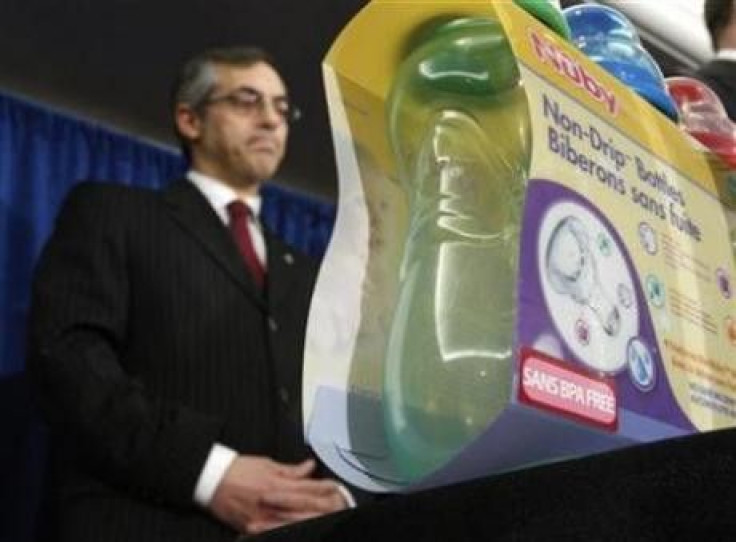 The Food and Drug Administration rejected a petition on Friday that would have banned the controversial chemical bisphenol A (BPA) from all food and drink packaging, citing a lack of scientific evidence necessary to rationalize a ban.
BPA is widely used in plastic manufacturing as a hardener, but when ingested, mimics estrogen, according to a study published in the journal Environmental Health Perspectives. Estrogen is the major female sex hormone, and helps regulate the menstrual cycle and contributes to breast development. Estrogen is also responsible for women having less facial hair and smoother skin than men.
BPA can increase estrogen in the body, and excessive exposure to BPA led to symptoms of excessive estrogen levels in mice, such as early puberty and infertility -- even at levels considered by the FDA to be safe, according to the National Institutes of Health.
Other studies have linked the BPA to health issues such as cancer, reproductive problems, heart disease and neurological issues.
While evidence from some studies have raised questions as to whether BPA may be associated with a variety of health effects, there remain serious questions about these studies, particularly as they relate to humans, the FDA said in a statement.
People ingest BPA by eating or drinking anything that's been stored in containers that use it, such as soup cans or water bottles, according to the Centers for Disease Control and Prevention. CDC Researchers found BPA-laced urine in 93 percent of residents tested between 2003 and 2004.
The National Resources Defense Council, the organization that started the petition, said the FDA made the wrong call.
BPA is a toxic chemical that has no place in our food supply, Dr. Sarah Janssen, a senior scientist with the NRDC, said in a statement. The agency has failed to protect our health and safety -- in the face of scientific studies that continue to raise disturbing questions about the long-term effects of BPA exposures, especially in fetuses, babies and young children.
Consumers Union, a consumer advocacy organization, echoed the NRDC's statement.
We're disappointed with the FDA's decision because we think there's ample scientific evidence about the health risks of BPA for the agency to take action now and ban it from food and drink packaging, Jean Halloran, the director of food policy initiatives at Consumers Union, said in a statement.
Consumers Union published an article in December 2009 that tested canned foods for BPA, and found almost all of the 19 brands tested contained BPA.
But some researchers applauded the FDA for not banning the chemical.
My opinion is that it is prudent, Scott Belcher, a researcher at the University of Cincinnati, told Nature. There are still a lot of data coming out.
Despite rejecting the petition, the FDA maintains that there is some concern over BPA's effect on children, and the government has $30 million earmarked to conduct additional studies on the chemical's effects. Ten states have banned BPA from baby bottles.
Throughout the rest of the world, BPA is becoming scarcer. Canada, the European Union, Turkey, and Japan have banned BPA in a variety of products, including baby bottles. In October, France OK'd a widespread BPA ban chemical on all products in the country, which takes effect on January 1, 2014.
© Copyright IBTimes 2023. All rights reserved.