Fear Of Another ISIS Terrorist Attack Sends Grieving Parisians Into A Frenzy Of False Alarms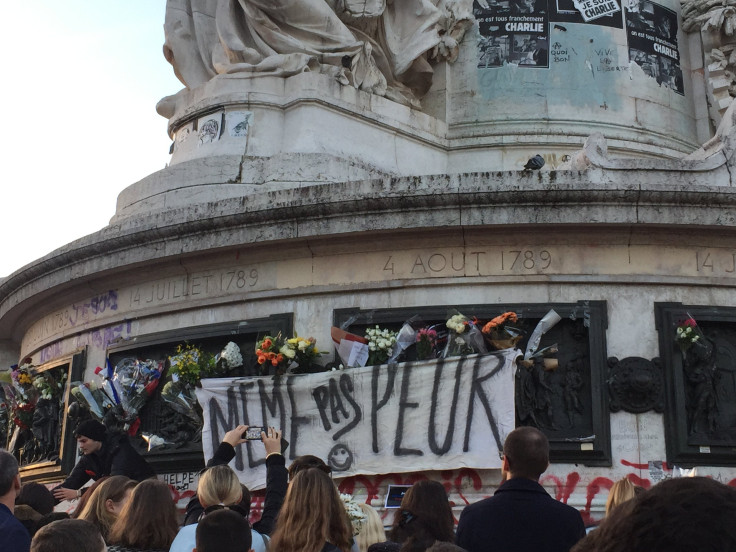 PARIS -- Vacant seats were in short supply at the terraces encircling Paris' Place de la Republique Sunday night. A banner draped on the Statue of the Republic declared: "Not even scared." It was just 48 hours after six simultaneous attacks, claimed by the Islamic State group, tore through the city, killing 129 people and wounding more than 350 others, but Parisians were drinking, eating and laughing at the plentiful cafes and bars lining the city's sidewalks, eager to show the world they had not been defeated by the barbaric attacks on their city. Moments later, the banner's words rang hollow, as dozens of people fled the square in panic, startling customers at nearby cafe Chai L'Adrien.
The cause for the sudden stampede was unknown but, as terrified people screamed and pushed each other through the open doors, those sitting outside followed in swift pursuit, knocking over tables and scattering their belongings as they went. Inside the restaurant, the crowd kept running until it reached the back wall and a hit a fork in the escape route.
Once there, the throng was left with an unpalatable choice: Going out the back could mean running into a shooter or suicide bomber, but hiding in the bathroom could mean being found by an attacker; seconds later, 10 people crowded into the restroom and locked the door. Three girls were crying.
The owner of the restaurant tried to keep everyone calm, giving updates as he got them from the police. He asked those with laptops to look for information. Fifteen minutes later, he announced it was a false alarm. A firecracker had gone off in the middle of the square, sending those who had gathered at a memorial service into a panic that another attack was happening.
The same thing happened in at least two other places around Paris Sunday night, sending formerly defiant Parisians burrowing in fear, hiding inside bars, restaurants and cafes.
Friday's attacks were the third major terror attack in Paris in 10 months. In January, al Qaeda-linked gunmen forced their way into the offices of satirical magazine Charlie Hebdo, killing 11. The following day an ISIS-linked man took more than a dozen hostages, shooting four dead, at Hyper Cacher, a kosher supermarket.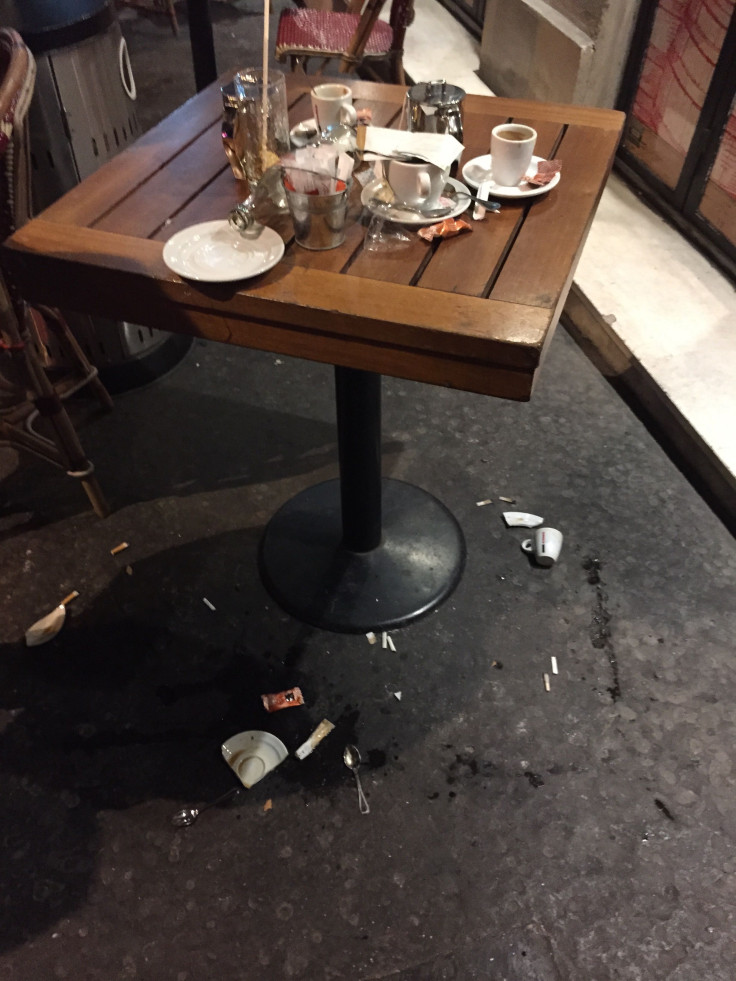 The latest assaults were the bloodiest yet and are seen by many Parisians as the most threatening of all, since they were an attack on the French way of life, and a warning that lives could be taken at random, and in large numbers.
"It's different than Charlie Hebdo. That was targeted. I was devastated about that, but this could be any of us," Camille Hamet, a writer from Paris, told International Business Times.
Public spaces frequented by young professionals, artists, journalists and Paris' intellectual elite were the focus of Friday's concerted campaign of terror. Nevertheless, the city's residents are trying to continue as normal. Parisian nightlife is lived on its outdoor terraces. Even on cold November nights, young urbanites can be found putting the world to rights at outdoor tables, smoking and drinking until the early hours.
"Not only are we trying to go on living, but we're trying to go on living in the Parisian way," Hamet said.
But it's not easy -- France is now in a state of emergency and Friday night's atrocities have sent tremors of fear through the city's core.
"I still go out; I don't want to barricade myself at home, but to say 'not even scared?'" said Florence, a 29-year-old cinematographer who asked that her last name not be published. She was sitting outside a bar in Belleville, about 15 minutes away from the Place de la Republique, when people started running from the street and warning others to take refuge inside the bar.
"I can't say that I'm not scared when I have the image in my mind of my friends in the hospital."
Three of Florence's friends were hospitalized from wounds sustained at the Bataclan music hall, the deadliest of Friday's attacks, when four attackers took concertgoers hostage, killing at least 87 of them before detonating their suicide vests.
"[My friends] are all going to be OK," she told IBT. But the fear, she said, will take longer to dissipate.
"We were on the terrace drinking beer … and then it happened," said Hamet, who was with Florence.
Police in SWAT gear shouted at anyone on the street to get inside and hide. The iron curtain on the bar's front wouldn't close, so Hamet and her friends took refuge in the basement. In vain, they tried to open the emergency exit but were forced to wait in the small, airless room until the police cleared the area.
Hamet and Florence were shaken but did not relinquish their evening ambitions. After the police cleared the area, they went to a different restaurant up the street. But this time, they sat inside.
"It's the first time I've walked into a restaurant in Paris and asked where the emergency exit is," Hamet said.
FOR FREE to continue reading
✔️ Unlock the full content of International Business Times UK for free
offer available for a limited time only
✔️ Easily manage your Newsletters subscriptions and save your favourite articles
✔️ No payment method required
Already have an account?
Log in
© Copyright IBTimes 2023. All rights reserved.