Fed Recap: Chairman Bernanke Defends QE3, Pre-Empts Political Criticism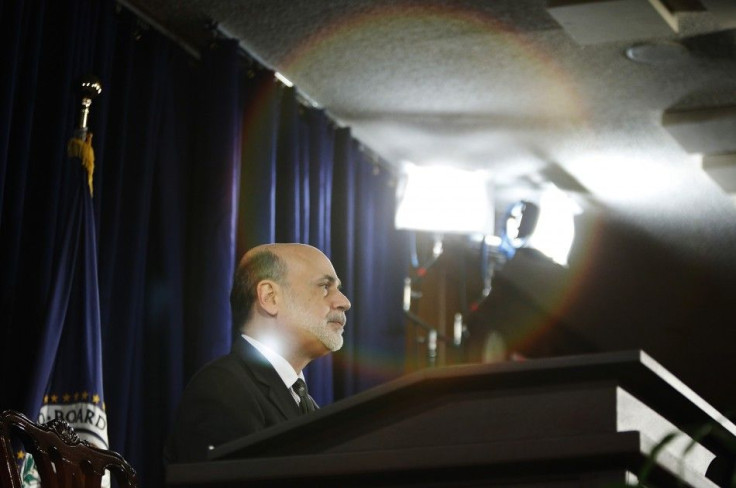 Just hours after the Federal Reserve announced Thursday a third round of asset purchases to energize the U.S. economy's anemic recovery, Chairman Ben Bernanke gave reporters a spirited defense of the central bank's actions, saying he and fellow Fed governors had an obligation to do what we can to stimulate the labor market.
Following the conclusion of a two-day meeting of the Fed's powerful, rate-setting Federal Open Market Committee, Bernanke was sharp and convivial.
As he had done a few weeks earlier at a much-awaited speech in Jackson Hole, Wyo., where policy observers believe he forecast the justification for Thursday's action, Bernanke began with prepared remarks that described the labor market -- where unemployment is 8.2 percent -- as a grave concern.
The weak job market should concern every American, Bernanke said, noting it's a huge waste of human talent.
To rectify that waste, and to strenghten the recovery and support the gains we have seen in housing and other sectors, Bernanke said the Federal Reserve was justified in engaging in a new round of monetary easing, which the institution had said earlier in the day will add some $85 billion in long-term assets every month to the Fed's balance sheet.
Policy accommodation will continue, even as the economy picks up, Bernanke said at the press conference, noting he would expect the recovery to enter some kind of sustainable velocity before pulling back.
We want improvement to be sustained improvement, Bernanke said. We're not looking for wiggles in the data.
The Fed's action went beyond what many were expecting, not necessarily in the announced size of potential purchases by the central bank, but in its tone, which suggested an open-ended commitment to monetary accommodation until the economy picks up decisively -- whatever the political costs in the highly charged environment of an approaching presidential election.
We interpret today's action as a bold shift in Fed policy, economists at Barclays Capital said in an emailed note to clients sent out as Bernanke was speaking, noting the accommodation switch has been 'turned on' and the data have to tell the committee when to stop.
The press corps, with a few notable exceptions, did not challenge Bernanke on possible pitfalls of his policy choice, a marked departure from the much more hostile reception the same group of reporters gave the chairman in April, when policy accomodation was also expected, but not announced.
Bernanke still went out of his way in some answers to deflect potential criticism, noting, for example, that while the Fed's insistence on keeping rates low meant people living off the interest from investments are receiving very low returns, the situation was even more critical for the unemployed as it's difficult to save for retirement without the income of a job.
One area where reporters did push Bernanke was for a definition of some kind of metric to measure the success or failure of QE3. When asked for the fourth time on the topic, Bernanke finally offered that, while there was probably not a single specific metric, what we've seen the past six months isnt' it.
Bernanke steered cleared of the more charged political questions and refused to address a query from a Fox reporter on whether he would accept a third term as Fed chairman.
But the Fed's decision was, of course, immediately political. In a statement shortly before Bernanke began speaking, House Republican Conference Chairman and Financial Services Committee Vice Chairman Jeb Hensarling of Texas said the action had shown there are limits to what monetary policy can achieve, and it's clear the Fed has reached them.
Bernanke himself seemed to dismiss that line of thought at the press conference, asserting that the Fed still had a lot of communication tools that could be leveraged. In case the central bank were faced with a situation where it had to pick up the shards resulting from political gridlock, for example if the so-called fiscal cliff scenario goes into effect late this year, we'd have to think about what to do in that contingency.
One aspect Fed watchers were quick to note Thursday is how much the attitude now being espoused by the chairman fell in line with a highly controversial paper presented at a bank conference in Jackson Hole, Wyo., by Columbia Graduate School of Business economist Michael Woodford. That paper argued the main thing the Fed could do was signal its future intentions, and that its current policy was only effective inasmuch as it was interpreted by the markets as stating future preferences.
Seemingly conceding this point, Bernanke said that our policies have always had a significant element of conditionality, but the idea here is to make it more transparent.
The markets rallied on the Fed decision and Bernanke's appearance. The benchmark S&P 500 Index of U.S. stocks, which saw levels it had not reached since December of 2007, closed at 1,459.99, up 1.63 percent from the previous day's close. Gold had a monster rallly. After dipping to below $1,695 per ounce on a panic sell-off a few minutes before the Fed announcement, the benchmark contract surged to recently sell for $1765 per ounce.
We're not promising a cure to all these ills, but what we can do is provide some support, the chairman said.
© Copyright IBTimes 2023. All rights reserved.