Fed Should Lay Groundwork For Interest Rate Hikes: Officials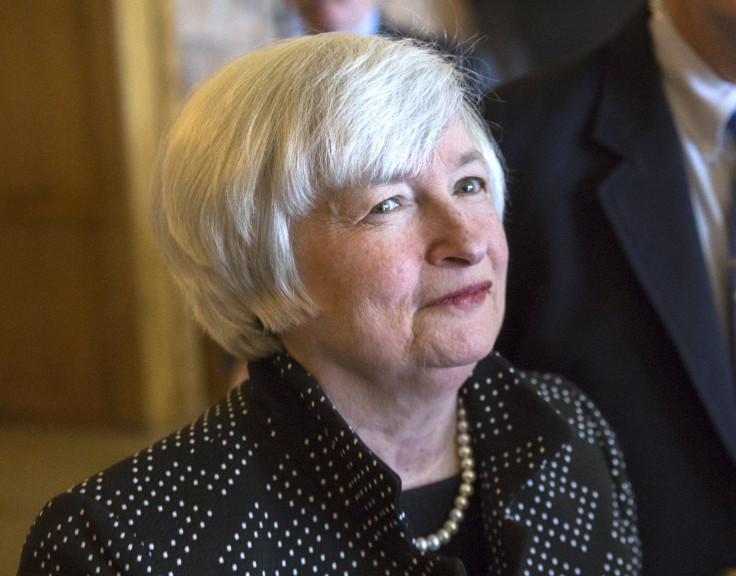 JACKSON HOLE, Wyo. (Reuters) -- Pressure is building within the Federal Reserve for officials to move as early as next month to more clearly acknowledge improvements in the U.S. economy and lay the groundwork for the central bank's first interest-rate hike in almost a decade. According to some U.S. central bankers and their close advisers, signs of economic resilience and growing anxiety about the risks of holding rates too low for too long have set the stage for an intense debate over rewriting their policy statement.
It is uncertain whether Federal Open Market Committee, or FOMC, members will use their Sept. 16-17 meeting to scrap key parts of the language they have been using to keep rate-hike expectations at bay, but if they do not, then October looks like a good bet.
"Some shift of language is on the table, and should be on the table in the coming meetings," Federal Reserve Bank of Atlanta President Dennis P. Lockhart, a policy centrist, said in an interview. While a handful of officials have argued for prompt changes, Lockhart said he thinks September "is still early."
Adding, dropping or adjusting even a few words in the FOMC's post-meeting statement is a potentially treacherous task. A miscommunication by the world's most powerful central bank could shock financial markets globally and, in a worst case, reverse the economic recovery it seeks to foster.
At issue is a 5-month-old pledge by the Fed to keep benchmark rates near zero for a "considerable time" after it shelves its current asset-purchase program in October. Another line that has drawn internal objections is the month-old statement that "significant" slack remains in the labor market, a suggestion that not even strong job growth and a further drop in unemployment will prompt a tightening of policy any time soon.
"The language puts us in a box that I think is not a good box to be in," Federal Reserve Bank of Philadelphia President Charles I. Plosser told Reuters on the sidelines of the central bank's annual Jackson Hole conference. Plosser dissented against the "considerable time" line at the FOMC's last meeting in late July. Like fellow hawks at the central bank, he said he prefers "very simple, data-dependent" guidance that avoids timelines or calendar dates.
Wary Eye On Global Growth
Aside from an unpredictable market reaction, Fed Chair Janet L. Yellen will have to contend with a potentially uncooperative world economy that could upend U.S. economic progress. During the Jackson Hole meetings, central bankers from Britain, Europe and Japan described how their economies were healing more slowly than expected -- and, in Europe's case, at risk of slipping backward.
Worse than a bout of inflation, Yellen does not want to raise rates only to have to shift gears should the economy slow. That means any change in language is not likely to mean rate hikes will come earlier or occur faster than currently envisioned.
As it stands, many investors and the core of Fed policymakers expect to hold off raising rates until the middle of next year.
But a rhetorical shift would mark the start of a delicate transition as the Fed plans how to close the book gently on six years of near-zero interest rates. At some point, it needs to shed key phrases it has used to describe the slack in the economy and prepare markets for the return to a more normal monetary policy.
In an address to fellow policymakers Friday, Yellen gave more voice than usual to the possibility that economic conditions may tighten faster than expected. Coupled with increasingly loud calls from Fed hawks for a shift in course, her remarks suggested change was afoot.
"With a few exceptions, the data are mostly coming in to push everybody in a slightly more hawkish range," said former Fed Vice Chairman Alan Blinder, a professor at Princeton University who attended the conference. "The whole range is moving, so the midpoint is moving, and [Yellen] is moving."
Minutes from the FOMC's last meeting in July revealed that several participants disagreed with parts of the statement, including the description of the degree of labor market slack and the likely timing of a rate hike. Those voices are only likely to get louder.
In her speech Friday, Yellen nodded to the possible need to shift the tone soon. "With the economy getting closer to our objectives, the FOMC's emphasis is naturally shifting to questions about the degree of remaining slack," she said of the Fed's policy-setting committee. "And thereby to the question of under what conditions we should begin dialing back our extraordinary accommodation."
(Reporting by Jonathan Spicer, Michael Flaherty and Howard Schneider; Editing by Peter Cooney)
© Copyright Thomson Reuters 2023. All rights reserved.