Federal Agents Seize Over 230 Firearms And Silencers In California, Charge 8 Men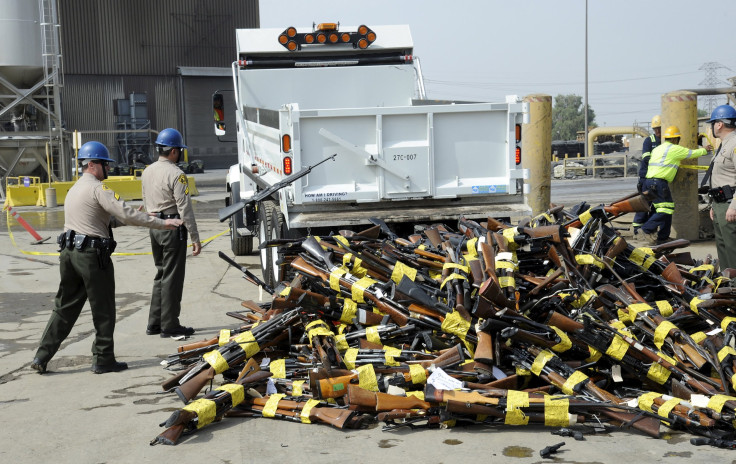 Federal agents charged eight men in Sacramento, California, Thursday for producing and distributing guns, most of which were illegally equipped with silencers, the Associated Press (AP) reported. Agents seized over 230 firearms and silencers.
Most of the seized guns were "ghost guns," which do not have serial numbers and can be bought without going through background checks or transfer documents, the AP reported. The men were charged with dealing in unlicensed firearms, illegally manufacturing firearms, possession of silencers, short-barreled rifles and firearms without serial numbers, and conspiracy, the report added. Three of the eight men also faced drug charges, showing possible links between gun and narcotics trafficking, authorities said.
"Firearms trafficking such as that alleged in this indictment is one of the primary sources of crime guns found on the streets, and the manufacture of untraceable, unserialized firearms hampers criminal investigations, putting the public at greater risk," U.S. Attorney Benjamin Wagner said, according to AP. "High-capacity assault rifles, with silencers but without serial numbers, are some of the most lethal weapons that criminals can get their hands on."
According to Wagner, the men stepped up the manufacture of firearms after federal undercover agents initially contacted them in February. Among the other firearms, authorities also found handguns.
Meanwhile, California Lt. Gov. Gavin Newsom released a ballot initiative to strengthen gun control laws in the state by banning possession of large-capacity magazines and mandatory background checks for buying firearms. The proposal would also entail gun owners to report lost or stolen guns to authorities and improve data sharing between the state and the federal government's criminal background check databases. Besides, it would also create a procedure to hand over guns from convicted felons prohibited from possessing them.
© Copyright IBTimes 2023. All rights reserved.