Federal Holiday For Voting? Disappointed By Midterm Turnout, Vermont Senator Proposes 'Democracy Day'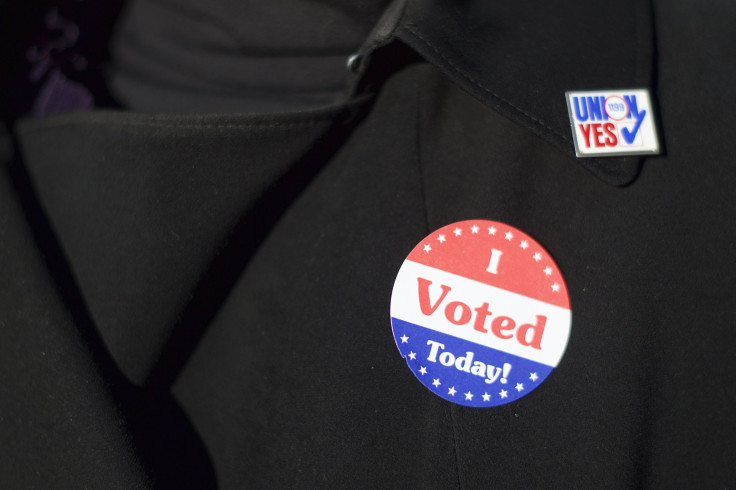 Could making Election Day a national holiday increase voter turnout? Vermont Sen. Bernie Sanders says it would, and on Friday he announced he'll sponsor legislation to request the government do just that. Citing stats that found only about 37 percent of Americans participated in Tuesday's midterm elections, Sanders proposed "Democracy Day." The bill designates the Tuesday after the first Monday in November in every even-numbered year as a federal holiday.
"In America, we should be celebrating our democracy and doing everything possible to make it easier for people to participate in the political process," Sanders, an independent, said in a news release. "Election Day should be a national holiday so that everyone has the time and opportunity to vote. While this would not be a cure-all, it would indicate a national commitment to create a more vibrant democracy."
Midterm turnout is historically low, but this week saw even fewer voters than in the last midterm. Estimates put Tuesday's turnout at 36.6 percent, about four percentage points lower than in 2010, according to data from the United States Elections Project. Typically, general elections generate more buzz and tend to motivate more people to go to the polls. In 2012, 58.2 percent of registered voters cast ballots, the Huffington Post reported, and in 2008, turnout was 61.6 percent. But "we can and must do better than that," Sanders said.
The U.S. Census Bureau reported in 2008 that almost 18 percent of people -- 2.6 million Americans -- said they didn't vote because they were too busy. As such, several media outlets have published editorials on the concept of Democracy Day in the past few decades. In 2009, Princeton University's Henry Farber wrote a paper on the idea, saying he found no evidence that having a holiday would increase voter turnout. Democracy Day, "by itself, is not an effective strategy to increase voter turnout," he said in the abstract.
Most states already have laws that require employers to allow workers time off to vote, according to the Society for Human Resources Management. In places like Hawaii, Georgia and Illinois, people can take up to two hours off to vote with notice. In Arizona, Tennessee, West Virginia, Wisconsin and Missouri, employees are entitled to three consecutive hours for voting. Kentucky allows people to take off up to four hours. Florida, Idaho, Louisiana, Maine, North Carolina and Montana are among the states with no voting leave laws, TheStreet reported.
© Copyright IBTimes 2023. All rights reserved.
FOLLOW MORE IBT NEWS ON THE BELOW CHANNELS