Federal Reserve Lauds Its Current Debit Card Swipe Fee Rules, But Merchants Call It Price Fixing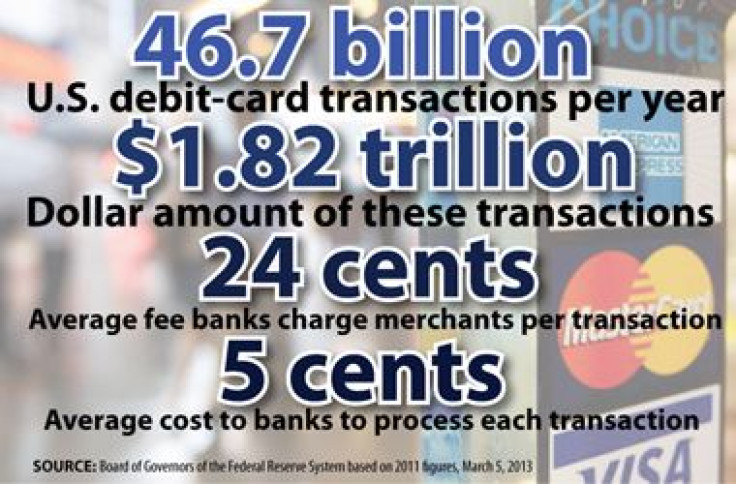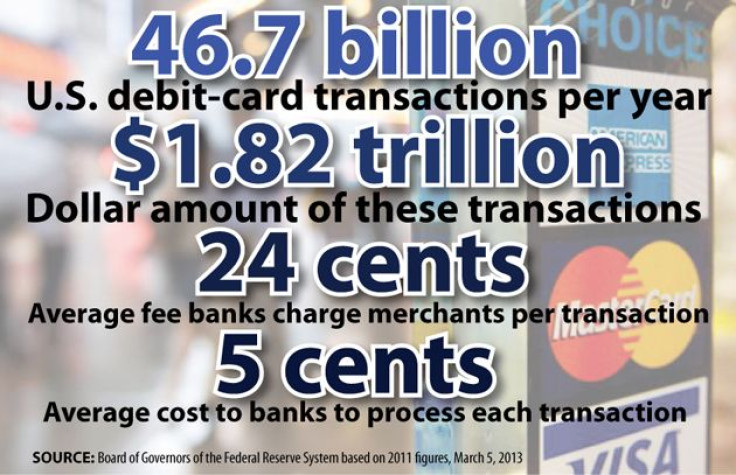 The difference between what banks can legally charge, on average, for authorizing, clearing and settling debit card purchases and how much it actually costs on average to do so might only be 19 cents, but with nearly 50 billion transactions every year in the U.S. alone, those pennies add up to a massive pile of cash.
And the question on the minds of merchants and consumers is this: How much should banks profit off a service that is essentially another way to make checking account withdrawals and which employs much of the same infrastructure used for credit card transactions — from which banks already reap huge profits.
The Board of Governors of the U.S. Federal Reserve System released this week its report summarizing 2011's debit card interchange fee revenue for the U.S., lauding its own effort to reduce the average cost banks charge for processing debit purchases. It says the average costs ultimately are paid by customers whether they use debit cards or not because they are factored into the price of goods regardless of how they're purchased.
But even in its own report released Tuesday, the Fed recognizes a considerable difference between what banks can charge under the Durbin Amendment of the 2010 Dodd-Frank financial reform package and what they actually pay.
"For covered issuers, interchange fees for all transactions (in 2011) averaged 24 cents per transaction," the report said. Later in the document it adds: "Authorization, clearing and settlement (ACS) costs, excluding fraud losses, for covered issuers averaged 5 cents per transaction in 2011."
The fee works like this: Banks with assets exceeding $10 billion cannot charge more than 21 cents, plus 0.05 percent of the cost of the purchase, plus a penny to help offset the cost of debit card fraud, which the Fed says averages out to 24 cents for each purchase.
The 5-cent cost is an average – some banks pay more while other pay less. Smaller banks pay higher fees because they have lower transaction volumes in the same way 24 rolls of toilet paper at a discount retailer costs less than buying each roll individually at a local convenience store. The country's largest banks have the smallest transaction costs but can charge the standard set maximum fee. And banks with less than $10 billion in assets are exempt from the rule altogether.
"Essentially the ceiling has become the floor," says Douglas S. Kantor, a partner in the Washington office of Steptoe & Johnson LLP and counsel to the Merchants Payments Coalition, a group representing supermarkets, drug stores, convenience stores, gas stations, online retailers and related businesses.
The difference between the 24-cent average per-transaction fee and the average nickel ACS cost amounts to a nearly 500 percent markup, says the group.
How is this happening?
According to Kantor and others, the Fed established an overly broad set of standards for what it costs banks to offer debit card transitions. Some of these expenses, they say, overlap with other services banks need to perform in their normal operations.

"What the Fed did is it took a series of fixed costs and factored them into the fee standard," said Kantor by telephone on Wednesday. "So for example it took into consideration the cost of establishing a network that is also uses for credit card transactions. A debit card is just another way of withdrawing money from your account. The other way to do it is to go to the bank with a withdrawal slip. Some of these costs are just part of operating a bank."
Other retail advocates agree.
The National Association of Convenience Stores, the National Retail Federation, the Food Marketing Institute and others have sued the Federal Reserve Bank Board of Governors for "vastly expanding the categories of recoverable costs and thus the allowable debit interchange transaction fee." The lawsuit came after the Fed upped the transaction fee cap from the initial proposal of 12 cents per transaction after Dodd-Frank to the current rule that amounts to the 24-cent average transaction fee.
For consumers, this is a bad rap, because thanks to rules imposed by the financial services industry, merchants have been prevented from charging these fees upfront at the cash register. As a result, consumers pay the so-called "hidden fee" whether they use a debit card or not. A cup of coffee and a muffin at the neighborhood café costs the same for the debit-card user as it does for the cash-paying consumer.
The news comes as the costs of simply having a relationship with a bank are rising.
What once was considered a basic bank service is more frequently considered a premium offering. For example, the most recent MoneyRates.com survey of bank fees, from late last month, said the monthly so-called maintenance fee for having a basic checking account has risen to an average of $147.12 a year.
FOR FREE to continue reading
✔️ Unlock the full content of International Business Times UK for free
offer available for a limited time only
✔️ Easily manage your Newsletters subscriptions and save your favourite articles
✔️ No payment method required
Already have an account?
Log in
© Copyright IBTimes 2023. All rights reserved.