Federal Reserve System: How Long Until FOMC Tapers QE Again? [VIDEO]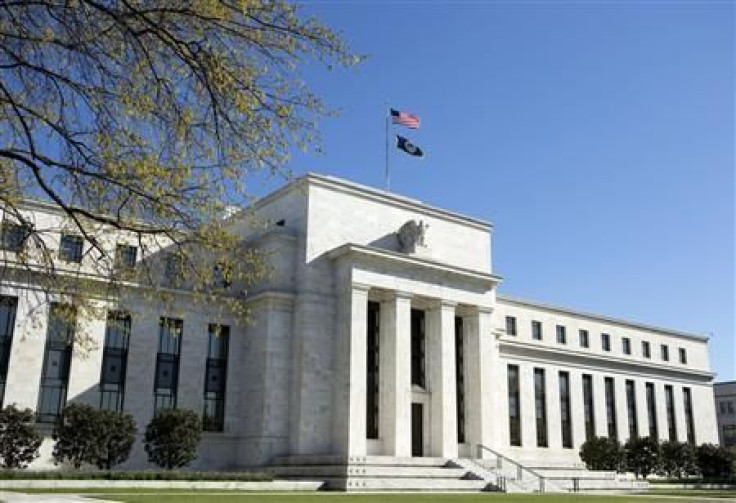 Wall Street opened lower on Thursday, a day after the Dow and S&P 500 closed at record highs following the Federal Reserve's announcement that it will taper its $85 billion-a-month bond-buying program to $75 billion in January.
On Thursday, the Dow Jones industrial average lost 10.66 points, or 0.07 percent, to 16,157.31. The S&P 500 Index fell 3.97 points, or 0.22 percent, to 1,806.68. The Nasdaq Composite dropped 7.75 points, or 0.20 percent, to 4,062.31.
U.S. stock futures ticked lower ahead of the open after government data showed initial jobless claims rose to a nine-month high. The Labor Department said on Thursday initial claims increased by 10,000 last week to a seasonally adjusted 379,000, compared with economists' expectations for first-time applications to fall to 334,000 last week.
The jobs data follows the Federal Open Market Committee's highly anticipated announcement on Wednesday that the central bank plans to scale back quantitative easing next month. "If incoming information broadly supports the Committee's expectation of ongoing improvement in labor market conditions and inflation moving back toward its longer-run objective, the Committee will likely reduce the pace of asset purchases in further measured steps at future meetings," the Committee said in its statement. The FOMC added that it would scale back its monthly long-term Treasury bond purchases to $40 billion and mortgage-backed securities to $35 billion a month, both reductions of $5 billion.
Although the central bank said it plans to gradually reduce stimulus over the next year, how long until the Fed decides to taper its QE program again?
"It's certainly plausible that they could go ahead and take another modest chop out of the QE program," said Keith Bliss, senior vice president and director of sales & marketing at Cuttone & Co., Inc. "What the professionals are starting to focus on now, and I heard it very quickly after the announcement, is what is the rate guidance? What does the short-term rate picture look like? Chairman Bernanke said in his statement that he's convinced that even with $75 billion a month, they can keep the long end of the curve pretty suppressed to continue that recovery in the housing market, if it hasn't recovered fully already. The numbers are pretty outstanding there."
Despite the Fed scaling back on its stimulus program, Fed Chairman Ben Bernanke said the central bank will maintain the federal funds rate throughout next year. "Although the central tendency of the projected unemployment rate for the fourth quarter of next year encompasses 6-1/2 percent, 15 of 17 FOMC participants do not expect a rate increase before 2015," Bernanke said.
The FOMC meets eight times a year and is scheduled to convene again for a two-day meeting on January 28-29, followed by another meeting on March 18-19, which will include a summary of economic projections and a press conference by the chair.
The new voting members for 2014 include Dallas Fed President Richard Fisher and Philadelphia Fed President Charles Plosser, both known to be inflation hawks. In addition, Narayana Kocherlakota, the chairman of the Federal Reserve Bank of Minneapolis, and Cleveland Fed President Sandra Pianalto will join as voting members.
"It's certainly plausible and, again, you have a change in the complexion of the FOMC," said Bliss. "You've got more hawkish elements that actually have a vote, not just influence. They actually have a vote. So it's Chairman Bernanke in his last month, and then Chairwoman Yellen going forward. She's got a real interesting tussle on her hands with the new complexion of the FOMC. Certainly if Fisher and Plosser have their way, you'll see the QE program end before the end of June. I don't think that's going to happen."
Separate data on Thursday showed existing-home sales for November fell to the lowest level in nearly a year. U.S. home resales were down 4.3 percent last month to an annual rate of 4.90 million units, the National Association of Realtors said. Meanwhile, data on Wednesday showed housing starts soared to nearly a six-year high in November. Housing starts jumped 22.7 percent, the highest level since February 2008, to a seasonally adjusted annual rate of 1.09 million units, the Commerce Department said.
"I think we'll see a continued pull back on the QE program, and I think the markets will like that," Bliss said.
Bernanke hinted in his press conference on Wednesday afternoon that bond purchases will likely be finished by the end of 2014. The chairman also pointed out policymakers face another challenge: low inflation. "The Committee is determined to avoid inflation that is too low as well as inflation that is too high, and it anticipates keeping rates low at least until it sees inflation clearly moving back toward its 2 percent objective," Bernanke said.
Ahead on the economic calendar, the final revision of third-quarter gross domestic product is issued on Friday, with economists expecting GDP for the previous quarter to be revised higher to 3.7 percent. Earlier in December, the Commerce Department revised its initial reading and said GDP for the quarter grew at a 3.6 percent annual rate, up from a 2.8 percent pace reported in November.
© Copyright IBTimes 2023. All rights reserved.