Female Deacons In The Catholic Church? Pope Francis Announces New Commission To Examine Role Of Women In The Church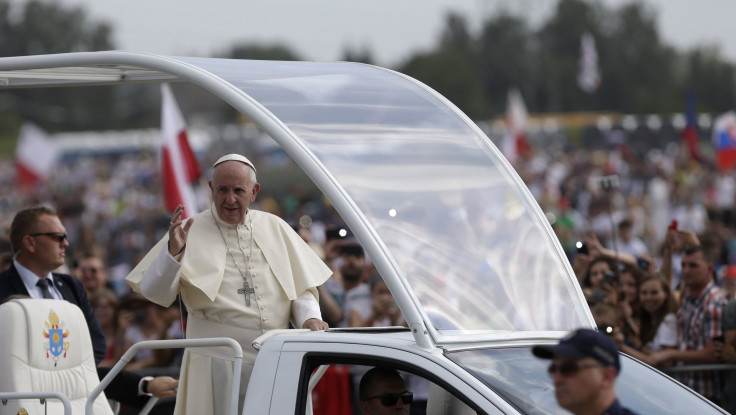 It's the latest move in a line of progressive policies and statements for Pope Francis: The Vatican announced Tuesday the pope has set up a commission that will study the possibility of allowing women to become deacons in the Catholic Church.
The role of women in the church's leadership has long been a controversial topic with opposition from many conservative members who want to continue the tradition of an all-male clergy. The commission will be comprised of six women and seven men who will study the issue as well as the role women have historically played in the church.
The Vatican said Pope Francis came to the decision to create the commission after "intense prayer and mature reflection."
Deacons are one rank below priests in the clergy and are not allowed to celebrate masses. Currently only men serve as both deacons and priests in the Catholic Church. As ordained ministers, deacons can preside over weddings, funerals and baptisms and they are allowed to marry. There are over 13,000 men serving as deacons in the U.S., according to the U.S. Conference of Catholic Bishops. The Vatican was clear the commission and the pope were not considering the issue of ordaining women as priests.
The commission comes after Pope Francis met with almost 900 female religious leaders in May at the Vatican. When asked about setting up a commission to study the role of women and how to increase the number of women involved in the church's decision-making process, Pope Francis gave an off the cuff answer.
"Constituting an official commission that might study the question?" Francis said, according to the National Catholic Reporter. "I believe yes. It would do good for the church to clarify this point. I am in agreement…It seems useful to me to have a commission that would clarify this well."
Women have argued they have long been underrepresented in the church's decision-making. Historians have said there is evidence that women served as deacons in the early years of the church and issue that will be examined by the commission.
Vatican commissions on other subjects have taken years to examine issues and reach a conclusion. Commissions do not guarantee any change will come because the conclusions reached are only advisory.
© Copyright IBTimes 2023. All rights reserved.