Ferguson: During Friday Police Standoff, Protesters Try To Stop Looters Entering Stores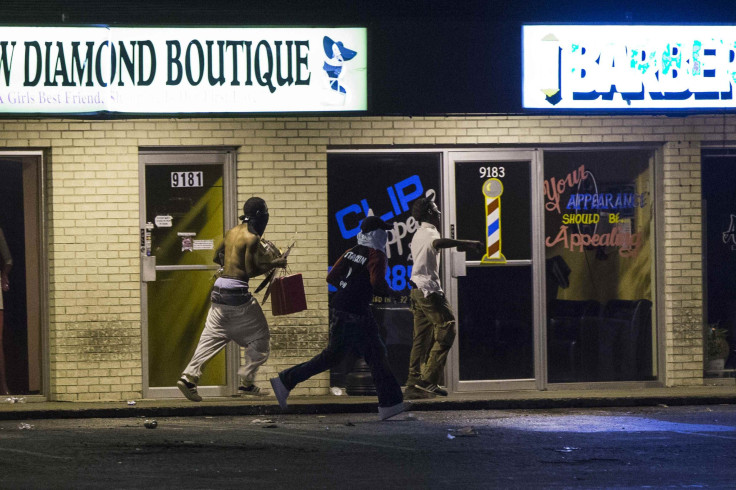 FERGUSON, Mo. -- After police vehicles pulled up beside demonstrators here overnight, most protesters and observers who had gathered at a local intersection were just watching and waiting.
But Saturday around 1:30 a.m. CDT (2:30 a.m. EDT), men began running into local stops, including the Ferguson Market & Liquor store where Michael Brown was alleged to have stolen a package of cigarettes before he was fatally shot by police. At first, it was just one or two people, but slowly the group expanded, breaking windows and leaving with food, electronics, cigarettes and bottles of liquor.
Soon after this activity began, another group of demonstrators congregated by the door of the market, with others posted at different locations nearby, in an attempt to keep the looters out.
"We didn't want them to come in -- this night wasn't supposed to be about looting," said Ferguson resident Gregory Weston, 37, who was one of the small group who pulled would-be looters out and blocked the doorway.
"There's really no excuse for it at this point," Weston said. "It's bad when people take something so good and ruin it with something like that."
After nearly a week of nightly protests following the death of Michael Brown, the demonstrations in Ferguson Friday were the most peaceful, appearing almost celebratory. Music played, as people danced and generally seemed to be having a good time.
"It's kind of weird to be having fun tonight," Lordell Rush, 27, said around 10 p.m. as he watched a crowd gather around a drummer outside the QuikTrip store that demonstrators had burned down earlier in the week.
But things changed around 11 p.m. Police officers appeared on the scene in riot gear and armored vehicles, and used smoke bombs and mace against protesters who refused to clear the street. Officers retreated quickly, but then returned for what would be an hours-long standoff.
As time went on, the store's guard team began to wear thin, eventually dwindling down to nobody. Witnesses say the looting activity moved away from the police line and down West Florissant Street, possible to a nearby Wal-Mart store. Meanwhile, the door to Ferguson Market remained wide open, and a handful of looters made their way in, one at a time.
Earlier in the evening, a line of police, some carrying helmets and others in riot gear, had lined the entrance of the same store, saying only that there were following orders. None intervened during the looting.
© Copyright IBTimes 2022. All rights reserved.
FOLLOW MORE IBT NEWS ON THE BELOW CHANNELS