Ferguson Police Arrest At Least Six During Protests, Including Journalist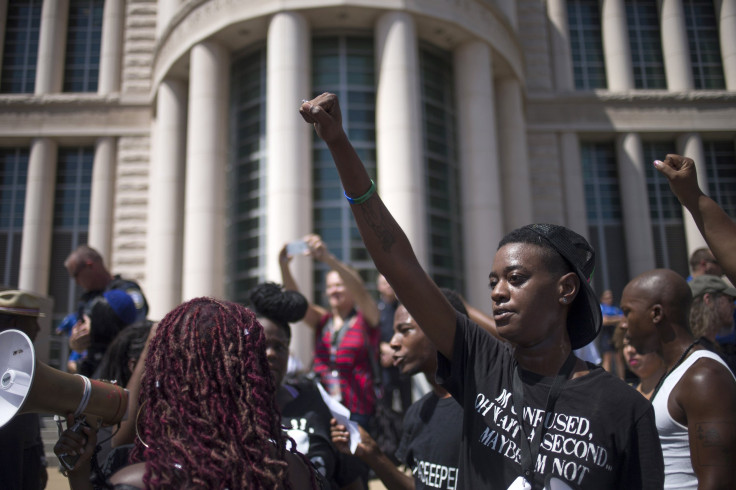 Police in Ferguson, Missouri arrested at least six people Thursday, including a journalist from CNN. The charges under which they were arrested were not immediately made clear, the Washington post reported.
The people who were arrested reportedly belonged to a group called the Millennials, who had dared police Monday to arrest them for "standing up for their constitutional rights." The group had joined Thursday's protests after police had asked protesters to calm down and follow a 11 p.m. noise ordinance. Police had warned protesters, some of whom had become louder after the warning, that they would face arrest if they did not comply.
"What a remarkable display of making your own rules as you go," Patricia Bynes, a Democratic committee woman in Ferguson Township said, according to the Washington Post, adding: "They took the journalist who was doing her job and wasn't involved."
A Ferguson Police Department official told Reuters that several people were arrested outside the police station overnight. She declined to say exactly how many arrests were made or give any other information.
Protesters, who have been on the streets since August protesting against the shooting of black teenager Michael Brown by white police officer Darren Wilson, locked arms after the police warning and continued to chant. Police then started making arrests, with officers shouting that protesters were being arrested on the charges of "inciting violence" and "failure to obey," the Washington Post reported.
The protests in Fergusson have seen violent clashes between the police and the residents, who claim that Brown's shooting was racially motivated.
Last week, the U.S. Justice Department had asked the Ferguson police not to wear bands supporting Wilson. A grand jury is currently weighing whether to bring charges against officer Wilson.
© Copyright IBTimes 2023. All rights reserved.