US Justice Department Tells Ferguson Police To Stop Wearing 'I Am Darren Wilson' Bands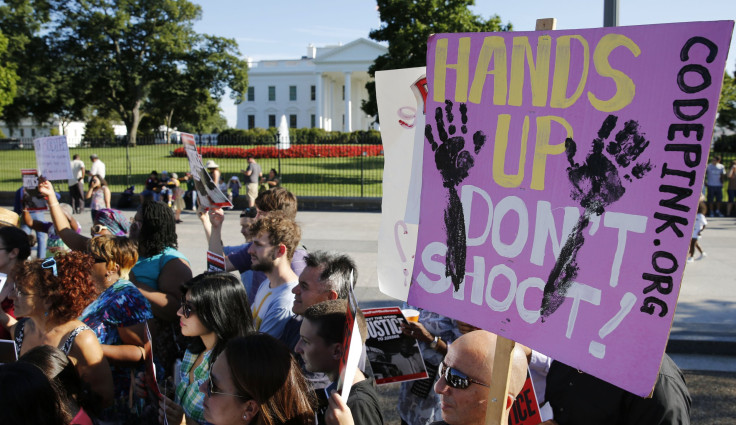 The U.S. Department of Justice has asked the Ferguson, Missouri police department to order its officers not to wear bracelets saying "I am Darren Wilson," a reference to the white officer who killed black teenager Michael Brown. The shooting has led to weeks of protests, mainly in the St. Louis suburb.
Protesters had uploaded photos of police officers wearing bracelets expressing their support for Wilson, who a grand jury is currently decideing whether or not to charge over the killing. The letter from the U.S. justice department was sent to the Ferguson police chief Tom Jackson, who had recently given an interview apologizing for the conduct of Ferguson Police in recent months. Earlier this week, the Justice Department had also reportedly said its investigators had found that Ferguson police officers were not wearing name tags, a violation of the department's rules.
The letter said, according to Reuters, that the bracelets "upset and agitated" people and "reinforce the very 'us versus them' mentality that many residents of Ferguson believe exists."
In the letter sent earlier this week, the Justice Department said: "The failure to wear name plates conveys a message to community members that, through anonymity, officers may seek to act with impunity," Reuters reported. The Justice Department investigation into the shooting and the treatment of protesters by police is still ongoing.
Christy Lopez, the deputy chief of special litigation for the Justice Department's Civil Rights Division, wrote in the letter, according to USA Today, that the Justice Department was "keenly aware of the importance of individual expression of opinions, even those that some find offensive, insensitive or harmful," adding that "the message that many officers intend to convey by wearing these bracelets may be different than the message received by many of those who see these bracelets."
"Nonetheless, there is no question that police departments can and should closely regulate officers' professional appearance and behavior, particularly where, as here, the expressive accessory itself is exacerbating an already tense atmosphere between law enforcement and residents in Ferguson," Lopez reportedly added, according to USA Today.
© Copyright IBTimes 2023. All rights reserved.