Ferguson Protests: Demonstrations Begin After Grand Jury Announcement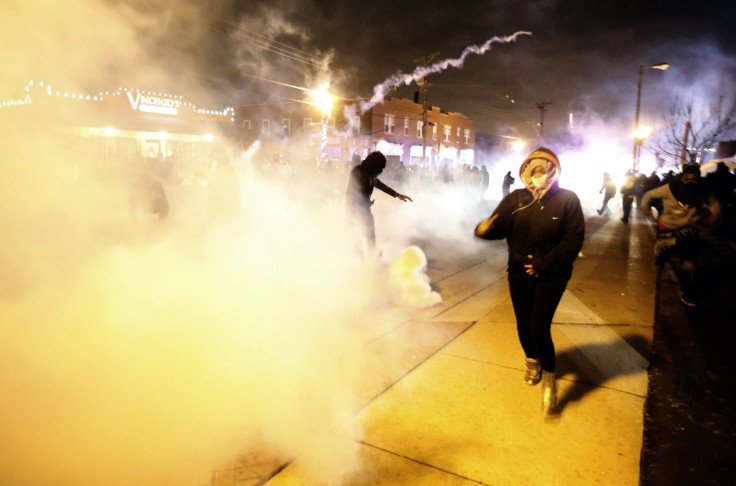 Protests began in Ferguson, Missouri, Monday night moments after a grand jury decided not to indict Darren Wilson, a white police officer who fatally shot unarmed black teenager Michael Brown on Aug. 9. St. Louis County Prosecuting Attorney Robert McCulloch made the announcement Monday around 9:30 p.m.
The late evening timing of the grand jury announcement seemed to only increase the chances for violent confrontation, and it was not clear why the St. Louis prosecutors office chose to announce such predictably polarizing news after dark.
Michael Brown's mother, overcome, was reportedly helped away from the scene. And within an hour after the announcement, gun shots were heard near the Ferguson Police Department. Zachary Roth, national reporter for MSNBC, described police wearing riot gear. Protesters have expressed confusion and anger, and some have thrown bottles, he tweeted. Some have been heard shouting "murderers" in front of a police barrier. Other witnesses in Ferguson are reporting some threats of violence but otherwise calm demonstrations.
According to reports on CNN, the windows of a police car were smashed. Protestors were trying overturn the car, while cops on a police truck announced that the crowd was "unlawfully assembling." Tear gas was fired, which did succeed in dispersing much of the crowd. The cops did not brandish weapons, said CNN reporters, because the tear gas had succeeded in driving the protestors back.
Looting has been reported on West Florissant Ave. and North Florissant Ave. with several businesses being vandalized including a Walgreens, AutoZone, Dollar Tree and Little Caesars. At least one police car has been set on fire. A portion of Interstate 44 near Saint Louis University's medical school has reportedly been shut down, according to St. Louis Dispatch reporter Nicholas Pistor.
Protesters began to gather outside the Ferguson police department hours ahead of the decision. Several news reports describe National Guard troops positioning themselves and their vehicles around Ferguson. Several school districts have canceled classes on Tuesday. Some St. Louis metro routes have been altered in anticipation of traffic delays the protests will cause.
The New York Times reports that some protesters who attended in past demonstrations decided not to participate Monday night. Some blame the cold (St. Louis was 40 degrees Monday night), others said they cannot miss work.
A live feed outside of Ferguson's police department showed hundreds of protesters who have decided to bear the cold and protest the grand jury's decision. Some were honking horns, others were holding signs and chanting.
The latest protests belong to a history of demonstrations the area has seen since the 18-year-old was killed. In the days after Brown's death, protestors took to the streets demonstrating against racial bias in the police force.
After the shooting last summer, as protests developed, the Ferguson police were policing the area. After members of the force were accused of arresting journalists and using excessive force among protestors, the Missouri State Highway Patrol stepped in.
"We're all about making sure that we allow peaceful and appropriate protests, that we use force only when necessary, that we step back a little bit and let some of the energy be felt in this region, appropriately," Missouri Governor Jay Nixon said Aug. 14.
The following day, Ferguson Police Chief Tom Jackson released Darren Wilson's name to the public. That evening, violent riots broke out with looters vandalizing nearby stores. On Aug. 16, Nixon declared a state of emergency in Ferguson and implemented nightly curfews. In the following days, violent clashes between riot police and protestors took place. Two days later, the National Guard was called up to "help restore peace and order and to protect the citizens of Ferguson."
A handful of demonstrations have taken place since Brown's funeral on Aug. 25 -- some were sparked by an apology Jackson made to Brown's parents in a video on Sept. 25.
On Nov. 17, in anticipation of the grand jury's decision, Nixon declared a state of emergency in Ferguson. The National Guard will be authorized to assist police "during any period of unrest that might occur following the grand jury's decision concerning the investigation into the death of Michael Brown."
At a press conference held Monday night ahead of the grand jury's announcement, Nixon said authorities will be focused on "protecting life, property, and free speech" during the expected protests.
Wilson allegedly shot Brown after he approached Brown and his friend Dorian Johnson in his squad car on a Saturday afternoon. The pair was walking in the middle of a quiet street and Wilson asked them to move to the sidewalk.
A fight appeared to break out between Brown and Wilson. Brown tried to flee when Wilson reportedly chased him with his gun drawn. Some eyewitnesses say Brown had his arms in the air when Wilson started to fire his weapon. An autopsy report shows Brown was shot six times at close range.
According to leaked testimony from the grand jury, Wilson said he acted in self-defense. He said he shot Brown because he feared for his life when the 6-foot-4 and nearly 300-pound teenager attacked him and reached for his gun.
Brown has been linked to a strong-armed robbery at a convenience store that took place minutes before the shooting. Jackson said Wilson's encounter with Brown was unrelated to the robbery, Reuters reports.
A St. Louis County grand jury had been hearing evidence since Aug. 20. According to Missouri law, nine out of the 12 members must find there is enough "probable cause" to lay charges on Wilson. Possible charges included murder and involuntary manslaughter, or there was the possibility of no charges at all.
The grand jury included seven men and five women. Three were African-American and nine were white. Normally a St. Louis County convenes every Wednesday to hear evidence. Nearly a month into the investigation, the grand jury was given an extension to Jan. 7. This allowed jurors to convene on days where all 12 of them were available.
Usually police investigations are concluded before evidence is shared. However, St. Louis County Prosecuting Attorney Robert McCulloch said that the evidence would be opened to the public.
"Absolutely nothing will be left out, so the grand jury is making their decision based upon absolutely everything, and we'll go from there," he told a St. Louis radio station in August, according to CNN. Before the decision was made, McCulloch took the unusual step of allowing the grand jury testimony to be shared with the public.
There are two other ongoing investigations into Michael Brown's death. On Aug. 11, the FBI opened a civil rights inquiry to investigate whether Wilson infringed on Brown's civil rights when he fired his weapon. On Sept. 4, the Justice Department has also launched its own civil rights investigation into the Ferguson Police's practices including racial profiling and excessive fines.
FOR FREE to continue reading
✔️ Unlock the full content of International Business Times UK for free
offer available for a limited time only
✔️ Easily manage your Newsletters subscriptions and save your favourite articles
✔️ No payment method required
Already have an account?
Log in
© Copyright IBTimes 2023. All rights reserved.