Ferguson Protests Turn Violent Following Missouri Governor's Discussion With President Obama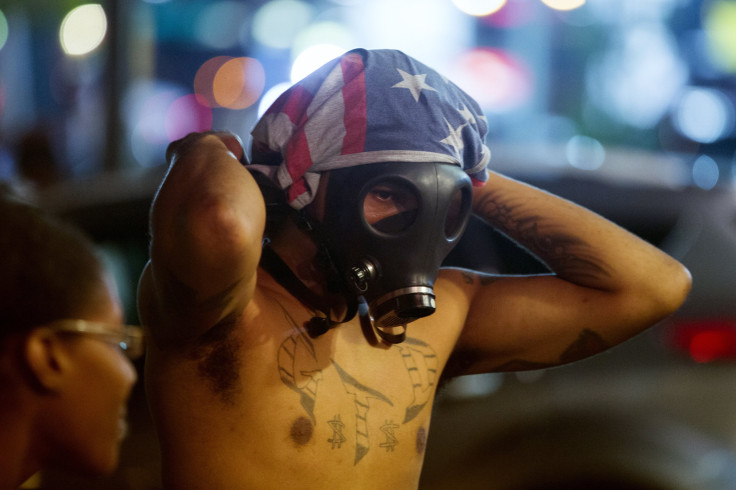 Update as of 4:52 a.m. EDT: A law enforcement official with the Missouri State Highway Patrol reportedly used harsh words to describe the situation in Ferguson, where protests continued into Tuesday morning, and claimed police officials came under "heavy gunfire."
"This nation is watching each and every one of us," State Highway Patrol Capt. Ron Johnson told reporters, according to Fox News. "I am not going to let the criminals that have come here from across this country, or live in this neighborhood, define this community."
"These criminal acts came from a tiny minority of law-breakers," Johnson said, according to NBC News. "It is criminals who throw Molotov cocktails, fire shots and endanger lives. These are not acts of protesters but acts of violence."
Update as of 3:10 a.m. EDT: Two people were shot and taken to a hospital as protests turned violent in Ferguson early Tuesday morning, i24News reported, citing CNN. Yet another report said that 31 people have been arrested so far.
According to the i24News report, State Highway Patrol Capt. Ron Johnson said that the two people were not shot by police officials, while another report cited him as saying that a SWAT truck assisted the victims.
"We have two subjects that have received gunshots that are out here protesting against us, but after receiving gunshots they are asking for our help, so we have two that have been transported to hospital," Johnson said, according to i24News.
Meanwhile, the St. Louis County Police Department posted photos on Twitter of explosives and guns that it said were seized from protesters.
Missouri Gov. Jay Nixon spoke with President Barack Obama late on Monday night about the efforts required to achieve peace and justice in Ferguson while clashes between police and protesters continued in the Missouri town. Ferguson has seen days of protests, which have sometimes turned violent, against the shooting death of a black teenager by a local police officer on Aug. 9.
The first few hours of evening protests on Monday were mostly peaceful until a large number of armed police officials wearing tear-gas masks and driving armored vehicles reportedly used noise cannons to disperse a crowd. A reporter from International Business Times, at the site of the protests, reported late on Monday night that police are showing restraint in the face of bottle-throwing by protesters, while another news report said that one building appeared to have caught fire, and added that gun shots had been heard.
According to reports, police officials have started arresting protesters who were on the street hours after officials urged them to move away.
The unrest in Ferguson following the Aug. 9 shooting death of Michael Brown, an unarmed black teen, by a local police officer, has sparked riots, looting, curfew and clashes between police and protesters. A second night curfew was lifted on Monday as National Guard troops were deployed at the site to help end the unrest.
Officials from Amnesty International too had arrived at the scene, the IBTimes journalist reported from the site.
© Copyright IBTimes 2022. All rights reserved.
FOLLOW MORE IBT NEWS ON THE BELOW CHANNELS