Ferguson: As Protests Wind Down, Residents Ask For Lasting Change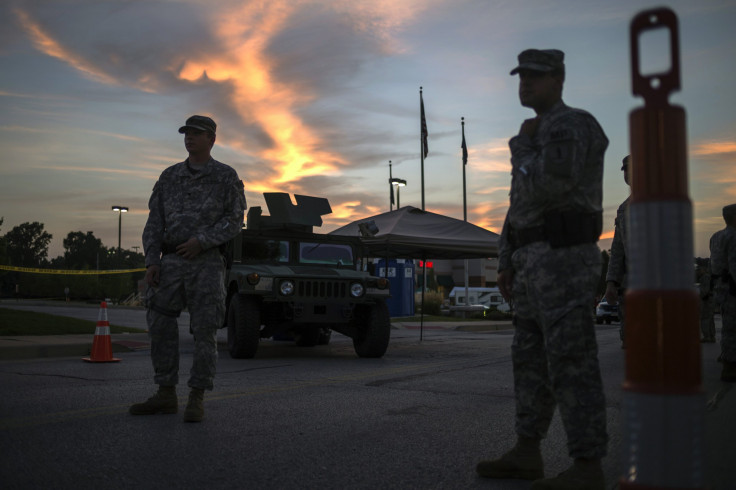 FERGUSON, Mo.-- There have been two peaceful nights in Ferguson this week. The National Guard is moving out. The mood on West Florissant Ave. has changed. But even though protesters and police are no longer clashing in the street, many battles have just begun.
"We can't just stop the train and say we've got to our destination," Missouri State Highway Patrol Capt. Ron Johnson said to IBTimes. "After this we can't stop."
While the relative calm is a welcome change from the nights of tear gas, rubber bullets and gunshot injuries, the issues that were simmering before the city's anger boiled over after the death of Michael Brown are still far from resolved. Many residents are calling for an overhaul of the police department and politicians. A number of petitions are in place, and voter registration drives are taking place on the now calm streets.
The St.Louis County, Missouri, grand jury has started hearing testimony on the case, a process which could take months to be resolved. While it may only be paperwork at the moment, it's certainly a start.
"I think it got the wheels turning," said Samantha Williams, 33.
"What's changed here is nothing, there are still no results," said Chris Collins, 47. "I'm looking for them to change Bob McCullough," he said, referring to the prosecutor on the case of Officer Darren Wilson, who has deep ties to the police force.
Missouri State Sen. Jamilah Nasheed launched a movement to remove him from the case and use a special prosecutor instead. "This racially charged climate demands an independent, impartial investigation that the St. Louis County Prosecutor's office simply cannot provide," the online petition says. On Thursday, it had more than 78,000 signatures.
The battle to improve things for the long term may also be fought at voting booths.
In Ferguson just 12.3 percent of eligible voters cast a ballot this year, up slightly from 11.7 percent in 2013 and only 8.9 percent in 2012.
On Thursday, a few folding tables were set up with stacks of forms at the corner of West Florissant and Ferguson, Ave.
Grant Doty crouched down beside them, taping a sign onto the side of the table that said "voter registration."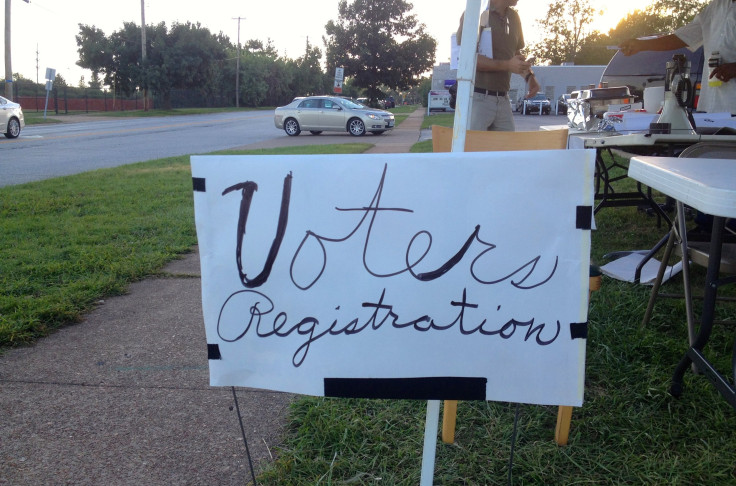 "When things aren't going the way you want it to, you have to put people in the right place," said Doty, a staff attorney at the American Civil Liberties Union of Missouri.
He said he expects a different level of turnout during the next elections in November, since most want to see an overhaul of public servants in the community and will try to express themselves with a vote.
"That's how you attack any problem in America," he said. "Some people use the system to bend the law; we'll use it to straighten the law out."
Lakisha Coates, 32, decided to register that evening.
"As a registered voter you can serve on juries and make a difference," she said. She wants to speak for people who don't have a voice, she said.
In 1990, Ferguson was 74 percent white and 25 percent black. By 2000 it was 52 percent black and by 2010 it was 76 percent black and 29 percent white. But these demographic changes in the population aren't reflected in the city's public servants. Five of the six city councilmembers are white, as are 97 percent of the police force. The mayor is white.
"I had no idea about those statistics until this week," said Eric Jackson, 22, who grew up in Ferguson. "I thought we were a minority in this town."
"I figured that's why we always had to be on our best behavior around cops," he said.
According to a report from Missouri's Attorney General, out of 5384 people stopped in 2013, 4632 were black.
The Brown incident and protests that followed have sparked a new attitude towards political involvement among the residents, especially in the run-up to a Missouri general election on November 4, according to Samantha Williams.
"It's going to be a big turnout. Usually it's not, but I'm hoping all this right here will make a difference" she said.
Still, all three candidates are white.
Many residents have called for the ouster of Ferguson Mayor James Knowles, who has been relatively absent from the media during these two weeks, except for an interview on MSNBC where he told Tamron Hall that "there's not a racial divide in the city of Ferguson."
The Justice For Michael Brown Leadership Coalition wrote an open letter demanding that Mayor Knowles and Police Chief Thomas Jackson "immediately resign from their positions of authority and if not we will call upon the people to immediately do a recall of the Mayor of Ferguson."
Missouri State law allows the recall of municipal officials as long petitions include the signatures of 25% of registered voters gathered within 60 days.
Meanwhile, investigators are looking into another officer-involved shooting. A video released by the police department shows the 25-year-old man walking erratically and muttering to himself, holding something in his pocket. When police arrive he yells that they should kill him and, moments later, both officers fire their guns at the man, who falls down dead soon after.
This only added fuel to the residents who call for better officer training and accountability.
"All of our cops need to be trained on how to take someone down on site without using deadly force," said Williams.
A petition to the White House asks for a "Mike Brown Law" that would require all state, county and local police to wear cameras while on duty.
It states that such a system would "remove all question from normally questionable police encounters."
The filers' goal was to reach 100,000 signatures by September. As of Thursday it had 139,498 signatures.
© Copyright IBTimes 2023. All rights reserved.