Ferguson: University City Cop Shot But Incident Not Linked To Protests, Police Chief Says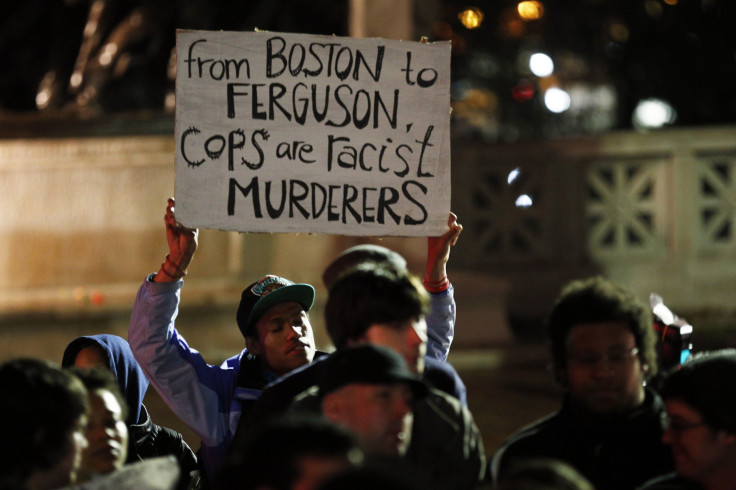 Update as of 2:30 a.m. EST: St. Louis County Police Chief Jon Belmar reportedly said at a news conference on Tuesday that the University City police shooting was not linked to the Ferguson protests.
A police officer from University City, a St. Louis suburb about six miles south of Ferguson, was shot late on Monday night, the St. Louis County Police Department wrote on its Twitter account. But, it was not yet confirmed if the shooting was related to the ongoing protests in Ferguson over a grand jury's decision to not charge Officer Darren Wilson in the death of Michael Brown.
Authorities reportedly said that the injured officer was taken to a hospital but his condition was unknown. The incident reportedly took place near Canton and Lamb avenues, northeast of Millar Park, a few miles from an area where violent protests continued, the St. Louis Post-Dispatch reported. Police are reportedly looking for a suspect.
Meanwhile, tensions escalated in Ferguson as a hospital in the region reported that three people had arrived with injuries. The Christian Hospital reportedly said that one of the patients received treatment for a head injury from a brick.
Demonstrations turned unruly late on Monday night, as three buildings and two police vehicles were reportedly set on fire, and reports emerged of vandalism in Ferguson. Police reportedly used smoke canisters to disperse crowds looting in a neighborhood. Police also had to use tear gas to disperse violent crowds on South Florissant Avenue after the use of smoke failed to deter protesters.
Protests also continued across the nation as a grand jury failed to indict Wilson in the fatal shooting of the 18-year-old unarmed black teen on Aug. 9.
The University of Southern California was put under lockdown, KTLA5, a local news network, reported citing the Department of Public Safety, but it was unclear if the incident was linked to people in the area protesting the developments in Ferguson.
© Copyright IBTimes 2023. All rights reserved.