Ferguson Indictment: Protesters Gather Outside White House For Peaceful Demonstrations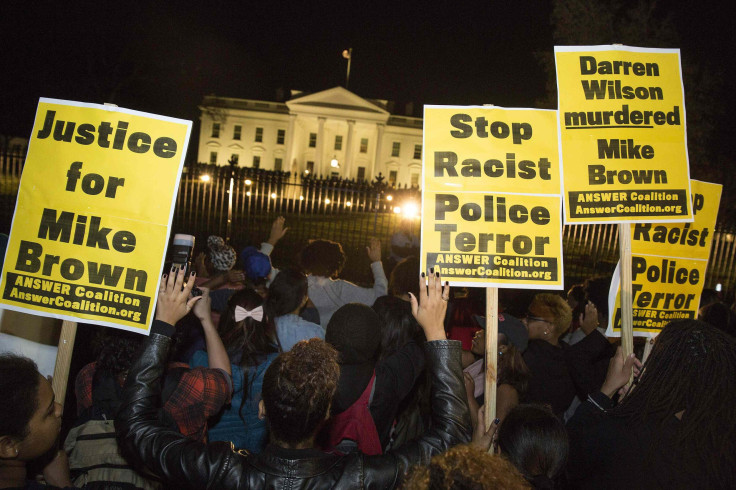 WASHINGTON -- About 350 protesters gathered in front of the White House to protest the decision not to indict Officer Darren Wilson. The peaceful protesters chanted and held signs after President Barack Obama urged calm in response to the decision. The protesters showed up in waves, carrying signs and chanting, "Hands up, don't shoot."
Each wave of protesters added to the size of the crowd and its enthusiasm. Ultimately, the crowd remained calm and, the police, who had been positioned in front of the White House long before their arrival, watched with no reaction. Most of the protesters said they came from Howard University, a historically black university in Washington, D.C.
Rome Miller, 23, an African-American studies major at Howard said he was so upset after the grand jury decision became public, he grabbed his camera and headed outside. He didn't know where he was going. Quickly he found other students and they made their way to the White House. "I'm upset," Miller said. "I grabbed my camera and ran into the streets."
Miller said he was encouraged to see so much diversity at the protest outside the White House. "People brought their children," he said.
Sandy Robson, 28, was among the non-student protesters chanting "Black lives matter" outside the White House. Robson works for a Quaker group that lobbies for peace. "As a white person, I think it's important to show solidarity," she said.
Before the protests began to break up and students started heading home, about 300 protesters marched across Washington, D.C., from the White House to the Capitol, taking a long route through the city's downtown. Washington Metro police followed the protest, closing streets and allowing them to walk as a group unobstructed. And, when the protest passed a public housing building, residents cheered from their balconies.
© Copyright IBTimes 2023. All rights reserved.