With Few Policy Ideas, Romney Falls Flat
ANALYSIS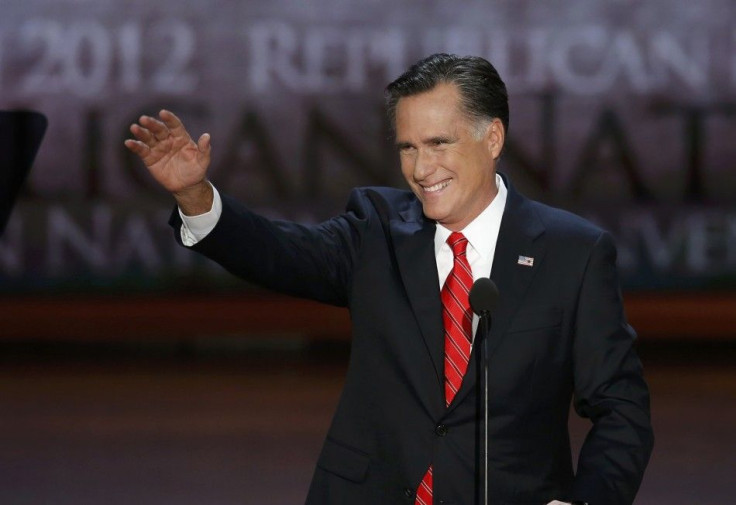 This was supposed to be Mitt Romney's moment. After a year of perpetual campaigning, Thursday night gave the newly elevated Republican nominee a chance to articulate the broad presidential vision which fellow Republicans have been exhorting him to offer.
Instead, Romney's speech sounded, as much of his campaign has, like one long repudiation of President Obama. Rather than focus on telling the American people why he is prepared to lead, Romney took the tone of a friend offering advice to a spurned lover. You may have fallen for Obama, he said, but the honeymoon is long over.
"I wish President Obama had succeeded because I want America to succeed, but his promises gave way to disappointment and division," Romney said, adding that "you know there's something wrong with what he's done as president when the best feeling you had was the day you voted for him."
There were few stirring moments, and the audience at times seemed listless. The best line may have been a dig at President Obama's inauguration day promise to address climate change.
"President Obama promised to begin to slow the rise of the oceans and heal the planet," Romney said, pausing for effect. "My promise is to help you and your family."
Beyond that were the usual patriotic platitudes from a candidate who has campaigned with atonal renditions of "God Bless America" -- nods to American optimism, freedom and seeking a better life. There was a "God bless Neil Armstrong" thrown in.
But that way of life is endangered, Romney warned, recounting economic hardship manifested in scarce jobs and rising prices. He appealed to the sense of economic insecurity that has been the rationale for his campaign.
"You deserved it because during these years, you worked harder than ever before," Romney said in reference to deferred prosperity. "You deserved it because when it cost more to fill up your car, you cut out movie nights and put in longer hours."
Given that dire situation, the choice is clear: "to the majority of the Americans who now believe the future will not be better than the past, I can guarantee you this," Romney intoned ominously. "If Obama is re-elected, you'll be right."
When it came to the policy portion of the speech, Romney offered nothing new. His prescriptions sounded like bullet points in a presentation to investors: expand energy production, safeguard freedom of religion and the sanctity of life, repeal Obamacare, champion small businesses. And in case you had forgotten what Romney's campaign is about, "what America needs is jobs."
"Lots of jobs," Romney added.
Even the autobiographical portion of the speech -- the humanizing details meant to animate a candidate who is famously stiff -- still came off as forced. The only mention of his Mormon faith was an assurance that, growing up in Michigan, "my friends cared more about what sports teams we followed than what church we went to." That preceded a brief lecture on the value of parental love.
"All the laws and legislation in the world will never heal this world like the loving hearts and arms of mothers and fathers," Romney said. "If every child could drift to sleep feeling wrapped in the love of their family - and God's love -- this world would be a far more gentle and better place."
It all served to affirm the notion that Romney's campaign is less about Big Ideas than it is about unseating President Obama and then advancing his party's well-established philosophy of spurring growth through lower taxes and fewer regulations. There was a moment, towards the start of the speech, when Romney demonstrated that he had a sweeping sense of what is desirable and right.
"Paul," Romney told his beaming running mate Paul Ryan, "I still like the playlist on my iPod better than yours."
© Copyright IBTimes 2023. All rights reserved.