FIFA 2022 World Cup Sponsors Visa, Adidas, Coca-Cola Concerned Over Qatar's Labor Conditions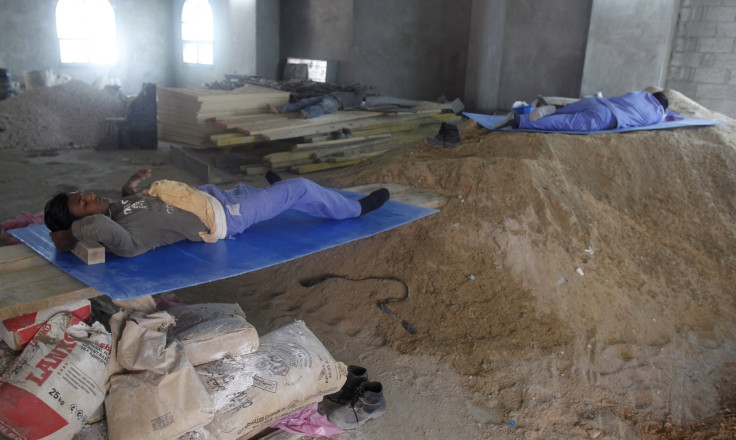 Sponsors of the 2022 FIFA World Cup including Visa, Adidas and Coca-Cola, pressured the organizer Wednesday to help Qatar improve the living and working conditions of its migrant workers building highways, hotels, stadiums and skyscrapers ahead of the tournament. The move comes as Amnesty International's latest report, published Thursday, states that Qatar has failed to deliver on the year-old promise of bringing reforms for over a million migrant workers.
Qatar had promised to address, among other issues, the "kafala" employee sponsorship program, which ties expatriate workers to one employer and forces them to obtain consent from the employer to get an exit visa. In May last year, the country's officials had made plans to bring in legislation to end the system, Deutsche Welle reported.
However, Amnesty said that reforms haven't been put in place as promised and workers' conditions continue to worsen with Qatar "promising little and delivering less."
"We've had a year, and not much has changed. For us that's a really important thing," Mustafa Qadri, Amnesty's Gulf migrant rights researcher, told the Associated Press (AP), adding: "The situation has probably gotten worse because you have more workers now. ... There's a matter of urgency."
San Francisco-based Visa said, in a statement Wednesday, according to the Guardian: "We continue to be troubled by the reports coming out of Qatar related to the World Cup and migrant worker conditions," adding: "We have expressed our grave concern to Fifa and urge them to take all necessary actions to work with the appropriate authorities and organizations to remedy this situation and ensure the health and safety of all involved."
The Coca-Cola Co expressed concern over accusations that hundreds of workers in the country were suffering from bad working conditions, and said in a statement, according to Agence France-Presse: "We expect FIFA to continue taking these matters seriously and to work toward further progress."
German sportswear maker Adidas also said, according to the AP: "There have been significant improvements and these efforts are ongoing, but everyone recognizes that more needs to be done in a collective effort with all stakeholders involved."
While FIFA said, in a statement Wednesday, that there has not been a single death in any of its stadium projects, which it said follow international construction standards, it added that it hopes to see "these standards extended to serve as a benchmark in the whole country," the AP reported.
The 2022 World Cup has been mired in controversies since Qatar was chosen to host one of the world's biggest sporting events. There were allegations of corruption within FIFA as Qatar, which will be the first Middle East country to host the World Cup, was chosen over the U.S., South Korea, Japan and Australia. Concerns were also raised over the timing of the World Cup games -- which are typically held in the months of June and July -- but have now been moved ahead to November and December to sidestep the brutal Persian Gulf summer. However, the changed schedule means it will likely clash with many league seasons and competitions.
"The best option would be to not hold it in Qatar," Greg Dyke, chairman of England's football association, had reportedly said in February, adding: "But we are now beyond that so November/December would seem to be the best of bad options. It will clearly disrupt the whole football calendar as it means club football stopping at the end of October."
© Copyright IBTimes 2023. All rights reserved.
FOLLOW MORE IBT NEWS ON THE BELOW CHANNELS