FIFA Corruption Reform, Independent Oversight Committee Unlikely Despite Sponsor Criticism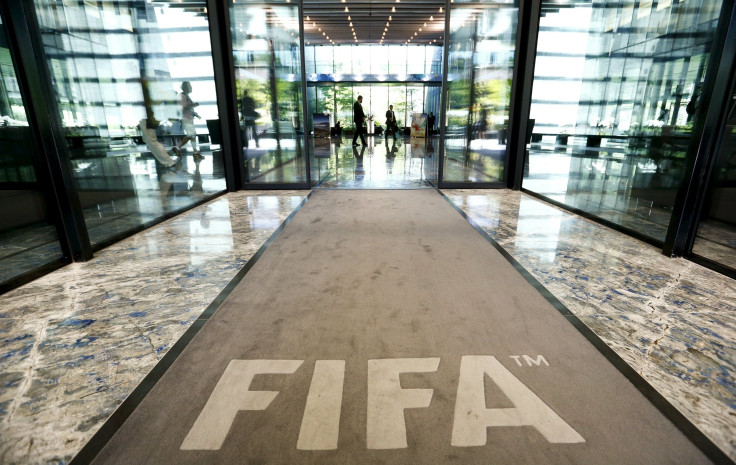 Visa and Coca-Cola's public calls this week for independent oversight of FIFA's attempts at internal reform may sound like progress, but they're unlikely to make a difference. Past attempts to enact change within the embattled global governing body of international soccer have disintegrated into FIFA-controlled shams, with corporate sponsors ultimately unwilling to hold the organization accountable.
Faced with the corruption indictments of several top executives, outgoing FIFA President Sepp Blatter has vowed the organization would affect meaningful change to satisfy critics and sponsors alike. But FIFA's two most recent attempts at what it called "independent" oversight were unsuccessful because FIFA remained in control of the outcome. With FIFA unwilling to submit to a completely external oversight committee, it's unlikely that new proposals aimed at self-reform will be any more effective, a watchdog group said.
"Historically, sponsors have given FIFA multiple attempts at so-called "independent" self-reform that, in reality, lacked any real independence," said David Larkin, co-director of Change FIFA, an organization dedicated to holding the governing body accountable. "Not surprisingly, those efforts have failed multiple times. If the sponsors tolerate yet more gamed FIFA self-reform efforts, then I do not think they are serious."
Under Blatter's leadership, FIFA weathered allegations of corruption among members of its executive committee for years. But in May, the U.S. Justice Department's surprise indictments of 14 officials connected to international soccer, including nine current and former FIFA executives and two of its vice presidents, drew an unprecedented level of scrutiny to the organization's practices. Even after the scandal broke, Blatter used a shady array of international alliances to win an unprecedented fifth term as FIFA's president, only to resign shortly thereafter when his reelection generated reactions ranging from incredulity to outrage.
In separate announcements, Visa and Coca-Cola, two of FIFA's top corporate sponsors, called for the organization to allow an independent oversight committee to enact reforms aimed at ending corruption within the organization.
"We view the stewardship of our company, our brands and our clients with the utmost importance and try to hold ourselves to the highest standards," VISA CEO Charles Scharf said Thursday, according to the Associated Press. "We seek to partner with those who think and act like us. I don't believe that FIFA is living up to these standards."
Despite critical scorn and his impending departure from office, Blatter has placed himself at the forefront of FIFA's reform movement, and all indications were that he had no intention of submitting the organization to that type of external scrutiny. Blatter tapped Domenico Scala, chairman of FIFA's Audit and Compliance Committee, to lead the organization's reform task force, envisioned as an 11-member independent body.
The task force is to submit several reforms to FIFA's executive committee for review by next September. Those measures were expected to include transparency related to FIFA executive salaries, term limits for top positions, submitting potential executive committee members to FIFA's Congress for approval and "integrity checks" to ensure individuals in leadership positions would not abuse their power, the BBC reported.
Many have already questioned how Scala, an individual who was associated with FIFA's top officials for years, could possibly maintain impartiality. New FIFA Now, another organization dedicated to reform, told the BBC it was "laughable" to suggest Scala was an independent official.
It's hardly the first time critics have questioned the integrity of an investigative body FIFA has put forth as independent. Back in 2011, FIFA created what it called the Independent Governance Committee, or IGC, to suggest reforms after allegations of corruption dogged the 2018 and 2022 World Cup bidding processes. Led by Swiss law professor Mark Pieth, the team recommended several changes related to salary transparency, term limits and background checks for prospective executive committee members.
But FIFA appointed the IGC's members and had the ability to ignore its recommendations -- which is exactly what it did. The governing body's apathy toward the IGC's requests led Alexandra Wrage, an anti-corruption expert, to register her protest by resigning from the team in 2013.
"The [IGC] made recommendations that ultimately amounted to nothing more than common-sense textbook corporate governance and best practices in compliance, but even those were never considered by FIFA," Wrage's anti-bribery company Trace International said in a statement at the time, according to the Guardian.
Sunil Gulati, the president of the U.S. Soccer Federation since 2006, also served on the IGC. In 2013, he was elected to FIFA's executive committee, in what critics said was a blatant example of the organization's propensity for nepotism.
When executives allegedly accepted bribes and kickbacks during Russia and Qatar's successful attempts to secure World Cup hosting rights, FIFA appointed former U.S. attorney Michael Garcia to head an investigative branch of FIFA's Ethics Committee. Separately, the organization appointed German judge Hans-Joachim Eckert to lead the Ethics Committee's judicial wing, with power to mete out discipline based on Garcia's findings.
When presented with Garcia's report, Eckert declined to release it to the public, opting instead to issue a 42-page summary that cleared Qatar and Russia of wrongdoing. Garcia was openly critical of Eckert's decision and accused his summary of "erroneous representations" of the report's findings. When FIFA dismissed Garcia's attempt to formally appeal Eckert's summary, the investigator resigned.
"Past investigations and reform efforts have failed because they all, ultimately, [have] been under the control of the FIFA Executive Committee, the very FIFA body historically plagued by corruption. In order to be successful, future investigations and reform efforts have to be independent of FIFA and the Executive Committee," Larkin said.
Throughout each of FIFA's corruption scandals, major sponsors -- including Visa, Coca-Cola and Adidas -- have publicly criticized the organization, but they haven't pulled funding or taken direct steps to punish wrongdoing. The risk of significant financial loss would provide a clear motivation for FIFA to submit to truly external review.
"We see this when leaders speak out. We had this around same-sex marriage; we had this around various diversity issues. It does really have an effect on what certain organizations do, when these larger companies step out and say, 'We're not financially supporting this anymore,' " said Dave Mayer, an ethics expert and professor of management at the University of Michigan's Ross School of Business.
© Copyright IBTimes 2023. All rights reserved.
FOLLOW MORE IBT NEWS ON THE BELOW CHANNELS