Fighting ISIS: Kings of Jordan, Saudi Arabia Meeting To Discuss Terrorism, Regional Conflicts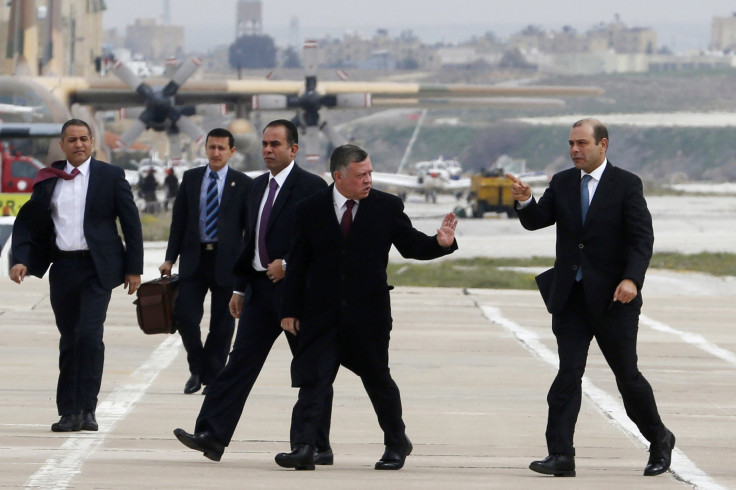 King Abdullah II of Jordan arrived in Saudi Arabia Wednesday to meet with King Salman and discuss a number of regional issues, including fighting the Islamic State militant group as it expands across Iraq and Syria.
An unnamed Saudi official told the Associated Press that the meeting would discuss fighting the group (known as ISIS), the Israeli occupation of Palestine, and the crisis in Yemen, as well as some international issues. Both Jordan and Saudi Arabia are part of the U.S.-led coalition that is carrying out airstrikes against the Islamic State group in Iraq and Syria.
King Salman acceded to the Saudi throne in late January following the death of his older brother, King Abdullah. The king himself and Saudi Crown Prince Muqrin bin Abdulaziz Al Saud received King Abdullah at the airport Wednesday, the state-owned Saudi Press Agency reported. Accompanying King Abdullah were the chief of the Hashemite Royal Court, Jordanian Minister of Foreign Affairs Nasser Judeh, and other senior officials.
On Feb. 18 and 19, the U.S.-led coalition against the Islamic State also held meetings in Saudi Arabia to discuss the fight against the militant group. Military leaders from 26 coalition countries attended, and the Saudi Press Agency reported that the meetings were supposed to give those leaders a chance to discuss different views about ongoing efforts to stop ISIS' violent campaign to establish a caliphate.
As part of that coalition, Jordan, Bahrain, the United Arab Emirates and Saudi Arabia are involved in conducting air raids on ISIS. In early February, Jordan unilaterally carried out a succession of airstrikes in Syria after ISIS burned to death a Jordanian pilot that the group had been holding hostage, releasing a graphic video online of the pilot's execution. Controversially, Saudi Arabia has also helped arm rebel groups in Syria fighting the government forces of Syrian President Bashar al-Assad.
© Copyright IBTimes 2022. All rights reserved.
FOLLOW MORE IBT NEWS ON THE BELOW CHANNELS