ISIS Burning Video Sparks Massive Protests In Jordan After Airstrikes in Iraq And Syria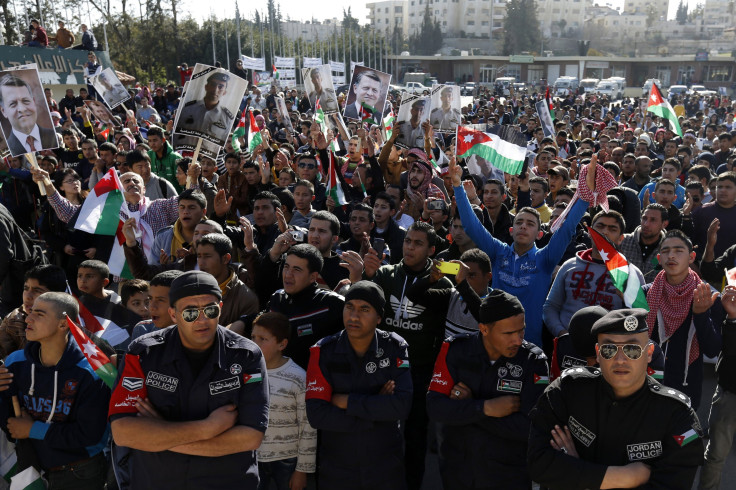 Thousands marched through downtown Amman, Jordan, Friday after midday prayers, chanting patriotic slogans and carrying banners and pictures of Jordanian pilot Lt. Muath al-Kasaesbeh, who was gruesomely executed, burned alive, by the Islamic State group in a video released this week. The protests were an unusual display of public emotion in a country that has seen relatively little of such sentiment in recent years, local media outlets and journalists reported.
"Muath, don't worry we will avenge you" was one slogan, according to Randa Habib, a journalist in Jordan and former Agence France-Presse correspondent. Another called the militant group also known as ISIS "God's enemy." Some chanted "Death to Islamic State" and burned and beheaded an effigy of leader of the group Abu Bakr al-Baghdadi, Taylor Luck, a Washington Post correspondent, tweeted. Al-Ghad, a national newspaper, tweeted that "ISIS' ugly crime has united Jordanians and made them more determined to eradicate terrorism."
Jordan's Queen Rania, who is outspoken on many issues, including moderate Islam, joined the march.
As the march proceeded, the main street in Amman's downtown area swelled with people in an unusual display of unity among Jordanians. Previous marches and demonstrations in Jordan were typically attended by a few hundred people, for reasons as varied as displaying a general discontent with the government or protesting the sending of a few hundred American troops to Jordan. Over 4,000 people took part in Friday's march, Luck estimated.
Some Jordanians have said that the release of the video has turned more Jordanians more fully against ISIS, with increasing support for Jordan's role in using military force against the group. Jordan is one of several Arab countries in the U.S.-led coalition that began launching airstrikes against ISIS in Syria in September 2014.
On Tuesday, ISIS released a video showing al-Kaseasbeh, the Jordanian pilot captured and held hostage since late December after his F-16 crashed in Syria, being burned alive in a cage. The king and military vowed to exact revenge on ISIS for al-Kaseasbeh's death. At dawn on Wednedsay, Jordan executed two prisoners it had been keeping on death row. It also carried out airstrikes on ISIS in Iraq on Thursday that killed 55, including a commander.
© Copyright IBTimes 2023. All rights reserved.