Filipino Boxing Referee Admits Cheating To Help Manny Pacquiao Win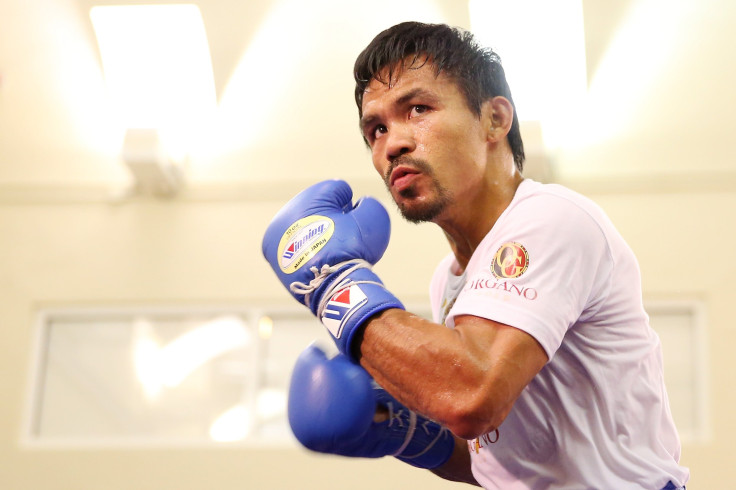 KEY POINTS
A Filipino boxing referee has admitted to cheating to help Manny Pacquiao win against Nedal Hussein
Pacquiao went on to become an eight-division world champion and one of boxing's biggest names
Hussein fought until 2007 and never captured a world championship gold
When it's all said and done, Manny Pacquiao will go down in history as one of the best boxers to ever enter the squared-circle.
The Filipino slugger is the only eight-division world champion in boxing history, and has compiled a professional record of 62-8-2, with 39 of those wins coming by way of knockout.
Throughout his career, "Pacman" has notched notable wins against the likes of Keith Thurman, Adrien Broner, Juan Manuel Marquez, Erik Morales, Timothy Bradley, Shane Mosely, Antonio Margarito, Miguel Cotto, Ricky Hatton, and many others.
Indeed, there's no question about what Pacquiao has done for the sport. However, recent news revealed that Pacquiao received a little bit of help from a certain Filipino referee back in the day.
Back in 2000, Pacquiao was already a world champion, but he was far from the superstar that he would become.
That year, Pacquiao fought Australian Nedal Hussein for the WBC international super bantamweight championship in Manila.
The bout saw Pacquiao get dropped in the fourth round but battled back to score a technical knockout courtesy of a doctor stoppage in the tenth round.
The third man in the ring with Pacquiao and Hussein was Carlos Padilla, who was recently interviewed by the WBC.
In the interview, he admitted that he gave Pacquiao a little bit of an assist, so to speak.
"Manny was not a world champion yet, he was only good in the Philippines," Padilla said. "That fight, I'm about to go and leave the following day and they told me 'Carlos, please--this is an important fight for Pacquiao because the winner will have the chance to fight for the world championship.'"
Padilla continued, admitting that he prolonged the count when Pacquiao was knocked down by Hussein.
"So in the [fourth round], Manny got knocked down, I thought he was going to get up, but his eyes were cross-eyed," he recalled. "I am Filipino, and everybody watching the fight is Filipino, so I prolonged the count. I know how to do it. When he got up, I told him, 'Hey, are you okay?' Still prolonging the fight. 'Are you okay?' 'Okay, fight!'"
Padilla went on to say that he deducted a point from Hussein in order to prolong the fight further.
"Because Manny was not like Manny is now, he wasn't trained by Freddie Roach yet, he holds on for his dear life, and the guy throws him, and he went down again," the referee bared. "I said to the opponent, 'Hey, you don't do this.' You know, I was prolonging the fight. 'You don't do that. Okay, judges, [point] deduction.'"
Padilla also confessed later on that he ruled a headbutt from Pacquiao as a punch so that the fight could continue.
"Because [Pacquiao] is shorter, he headbutted the other guy and there is a cut but I declared it a punch. If there is a headbutt you have to stop the fight and declare to the judges a point deduction, but I didn't do that, meaning the fight could continue," he divulged.
That cut would eventually be the reason that the fight was stopped in the tenth round, awarding Pacquiao the victory.
Hussein, for his part, reacted to the revelation and called for the WBC to look into the matter.
Pacquiao, as mentioned, would go on to become one of the boxing world's biggest names, finally retiring in 2021.
Hussein, meanwhile, never captured world championship gold and called it a day in 2007.
Had things gone differently, would Pacquiao and Hussein's careers go in different directions?
© Copyright IBTimes 2023. All rights reserved.