The Fine Art Of Disruption: How Lorenzo Thione Evolved From 'Bing' To 'Artify It'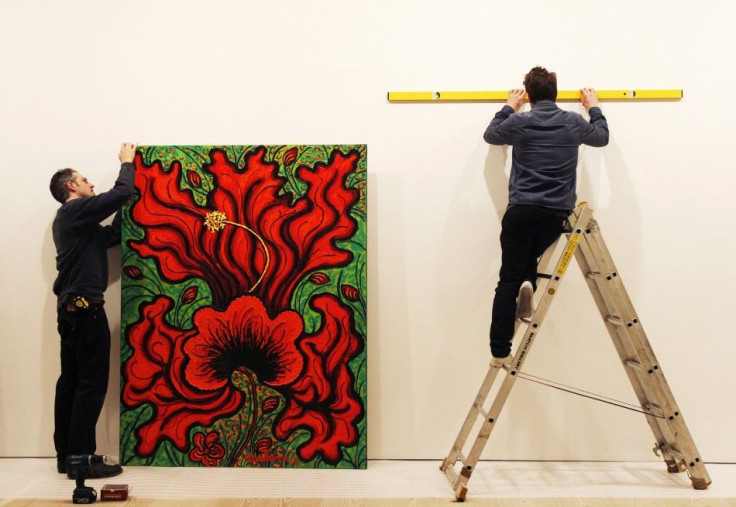 Lorenzo Thione believes in fate and approaches the world with a somewhat self-confident naivete. This outward optimism -- whether cockeyed or simply self-assured – comes across most clearly when he talks about his new business: He wants to be an artist among the artists, unchaining fine art from wealthy collectors and setting it free among the hoi polloi.
I definitely know there's a value to the experience of living with beautiful art, and I can probably put a price to it, Thione said, so caught up in describing his new business that he completely ignored the cup of coffee the waiter at Sardi's Restaurant in New York's Theater District had placed in front of him.
Thione said his latest company, San Francisco-based Artify It, will be a disruptive consumer Internet start-up in the art market, which will fly in the face of the traditional art world's inscrutable and undemocratic way of doing business.
By the end of this month, when the firm formally launches, Artify It customers will be able to rent fine art from artists by paying a monthly subscription fee as low as a few hundred dollars.
Like most start-ups, Artify It is a huge gamble, and Thione is compounding the odds against its success by doing it on a relative shoestring. The company has secured more than $800,000 from investors for the first stage of its launch in San Francisco -- a relative pittance in the world of venture capital. And he thinks Artify It could expand into other large markets, like New York, within only nine months.
There are plenty of naysayers, particularly in the art community, who view Thione's idea as little more than a pipe dream. For me, it's like the Wal-Mart model," said Benjamin Krause, director of the Krause Gallery in New York. "For businesses that want some art for a while, great, but for a person? No. Art becomes part of you. Why would you return it?"
The path to upending the art world was not linear for Thione. He was born in Milan. As a child, he dreamed of becoming a movie producer. He moved to Austin when he was 21 to study computer engineering at the University of Texas. But he quickly realized that entrepreneurialism was more to his taste than writing software code after launching his first company, Powerset Inc., a search-engine start-up, while still in his 20s.
Thione's experience at Powerset convinced him that while his education had made him an expert in fixing technical problems, what he wanted most was to tap into the creative side of his personality. He learned that the process of building a company and a product from scratch, especially organizing people, directing strategy, and trying out new ideas while perfecting older ones -- the rudiments of launching a new venture -- captured his imagination more than day-to-day product-development issues.
And the money wasn't bad, either. Three years after Powerset's debut, Thione sold it to the Microsoft Corp. (Nasdaq: MSFT) for roughly $100 million, where it eventually became part of the tech giant's Bing search engine.
Although Thione worked at Microsoft for a short time, it was inevitable he wouldn't stay long in the role he was given: to re-create and then fix technical problems -- and then test them again.
I hate repetition," Thione said.
Life Is What Happens To You While You're Busy Making Other Plans
So Thione ended up on Broadway, producing shows. It was a perfect option for him at the time. New musicals were like start-ups, involving the orchestration of a thousand different details and moving parts into a symbiotic whole, constructing something unique and innovative with each show. All of this fed Thione's thirst for fresh projects and controlled chaos.
Thione was a member of the producing teams responsible for two recent Tony Award nominees as best musical: Catch Me If You Can in 2011 and Green Day's American Idiot in 2010. He is currently producing Allegiance, starring George Takei, which is scheduled to hit Broadway after a tryout at San Diego's Old Globe Theater this summer.
The leap from Broadway to renting art was an unexpectedly sharp detour for Thione -- and here's where his belief in fate enters the picture.
I wasn't looking to start a new company, Thione said, explaining that the concept began with a very close friend, Alessi Armeni, who was having a personal exhibit in Mexico City and invited him along during the set-up.
Through that, I got to see as an outsider some of the inside relationship between the artist and the agent and the gallery owner, Thione said.
What he observed was an opaque, "inscrutable," "elitist," and "undemocratic" business that divided the haves and the have-nots -- one that tirelessly promoted established artists while making it difficult for artists early in their careers to gain a foothold -- and which separated moneyed collectors from common art lovers. Thione believed instantly that he could wrest control of the established art market from galleries and dealers by directly connecting artists, known and unknown, with consumers. Those insights led to the creation of Artify It, with Armeni as co-founder and chief art officer.
Here's how Artify It will work: Customers will pick one or more pieces of art from a website and will pay one of several monthly subscription fees, depending on how much art they want and how frequently they want the items on display changed. A representative of Artify It or the artist will install the pieces. Artify It does not own the art it will rent; rather, the artists themselves retain ownership of the art and can sell it whenever they like.
If someone sees a piece that Artify It is renting -- on someone's office wall, for example -- and asks to buy it, the artists are under contract to sell it. And the client who displayed the art originally gets a 20 percent commission. Artists also get fees whenever someone rents their pieces. Because the artists themselves store and maintain their work, Artify It incurs no warehousing expenses.
Thione contended that his company's business model is a win-win for both consumers -- it democratizes the enjoyment of art -- and artists.
The larger the audience, the more successful the art really is, and it seems to me everything about the art world is designed to keep that audience small, Thione said. Most artists are only able to access a wide audience if they succeed in getting their pieces displayed in museums, he said.
By contrast, Thione said, we're turning everybody into a kind of art collector with a huge collection in storage.
Under established art-world models, fine art is too often viewed as an investment, not a cultural treasure, an approach Thione and Armeni reject.
If you say, 'Forget about art as an investment' ... then people who would be freaked out by that are able to consider it, Thione said. Art is not a good. It is an experience.
As of early May, 10 artists had signed on to participate in the program.
Creating A Market
Artify It initially hopes to find customers among San Francisco start-up companies that want to have art in their offices as employee perks. If a company wanted to buy 100 pieces for its offices at $1,500 apiece, it would come to a whopping $150,000, whereas Artify It can provide the same level and quantity of quality art for a monthly rate of only a few thousand dollars.
Either because they view Artify It as a threat or because they are truly unimpressed by the concept, many gallery owners said the new company is little more than a twist on an old idea.
I've seen this, actually, a long time ago, Krause said, explaining that art-rental services are an old business. They do it for movie sets, they do it for TV. I don't see [Artify It] changing anything. Why is this one going to be successful? Why's this going to take over the art world?
Thione argued that Artify It differs from the traditional art-rental approach in that, rather than focusing on try and buy," Artify It is perfectly content with customers leasing different works of art for long periods of time. And so are the artists, he said, because they're getting paid for their work.
Under other loaning programs, the artist doesn't get anything out of it," Thione noted, unless the painting is purchased -- and even then, much if not all of the profits can wind up going to the dealer.
Despite the push back from some gallery owners, Artify It does have its supporters in the art-world establishment. For example, Karen Hakimi, an art dealer for Milavec Hakimi Gallery in New York, likes the idea of letting people choose "how we incorporate art into our lives." She hopes that programs like Artify It will make art more accessible to people who wouldn't own it at present. "The world is changing, everything is evolving, and that includes the art market, Hakimi noted.
Although Thione thought he left his computer-engineering background behind when he walked out of Microsoft, these skills are coming in handy at Artify It. For instance, each work of art that is displayed will have a Quick Response, or QR, code embedded in the company logo on an accompanying plaque next to the piece. People can snap a picture of this code with their smartphones and see on their screens the Artify It catalog page with more information about the work.
There are also plans for an application that will tell people as they walk through a city where the nearest Artify It works are located. The goal is to turn as many places as possible into freely accessible art galleries.
That means people's homes, as well. And who knows? If Thione's plans pay off, we may see in the future the blending of two concepts that few of us would have thought possible: fine-art parties where paintings are sold like Tupperware.
FOR FREE to continue reading
✔️ Unlock the full content of International Business Times UK for free
offer available for a limited time only
✔️ Easily manage your Newsletters subscriptions and save your favourite articles
✔️ No payment method required
Already have an account? Log in
© Copyright IBTimes 2023. All rights reserved.