First U.S. Ambassador To Somalia In 25 Years Withdraws, Citing Personal Reasons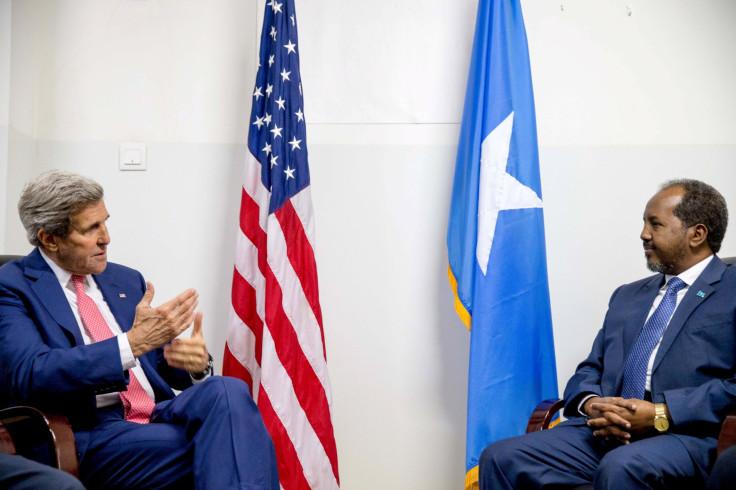 The president's choice for the next U.S. ambassador to Somalia has withdrawn her nomination, putting a wrench in American plans for increased relations with the country for the first time in decades. In a White House notice, officials announced the withdrawal of Katherine Simmons Dhanani for the position of ambassador to Somalia, initially proposed in February.
While the notice didn't contain an explanation, an anonymous official told the Associated Press she turned down the post for "personal reasons." Dhanani, a seasoned Africa diplomat with experience in Zimbabwe, Gabon and the Democratic Republic of the Congo, was nominated for the post in February.
"This historic nomination signals the deepening relationship between the United States and Somalia," a White House spokesperson said at the time. "It also allows us to mark the progress of the Somali people toward emerging from decades of conflict. Somalia has considerable work ahead to complete its transition to a peaceful, democratic and prosperous nation."
Experts say her withdrawal will slow U.S. efforts to work with Somali officials to help address issues of instability, refugees and the terrorist threat from al Qaeda-linked group al-Shabab, which still controls vast swathes of the country, and has been carrying out increasingly violent attacks in Somalia and beyond.
"The consequences are that the attempt to boost the diplomatic relations between Somalia and the U.S. will not have a lot of tangible results," said Jean-Christophe Hoste, senior research fellow at the Egmont-Royal Institute for International Relations Africa Program.
Dhanani, originally from Florida, would have been the first U.S. Ambassador in Somalia in 25 years.
The United States withdrew its presence in 1994 after the infamous "Black Hawk Down" incident and a battle in Mogadishu that left 18 American soldiers dead, with 73 others injured. The U.S. had initially sent troops into the country in 1993 to protect civilians in the chaos that followed the downfall of dictator Siad Barre.
Lately, the United States has spent millions to support the African Union Mission in Somalia, a force comprised of troops from Kenya, Uganda, Burundi, Djibouti and Ethiopia focused on helping stabilize the country and fight against al-Shabab militants.
In many ways their efforts have been a mixed success. American airstrikes have killed a handful of key leaders in the past year, but the extremist group continues to carry out fatal attacks on a regular basis, both in Somalia and in neighboring Kenya, such as the recent attack on Garissa University College that left 148 people dead.
Now, Somalia has become a key feature of U.S. foreign policy in Africa. Last week, Secretary of State John Kerry became the first high-level official to visit in decades, and expressed hope for the future of Somali-U.S. relations, though because of the unsafe conditions the visit lasted just a few hours and he never left the airport.
"I think it will send a strong signal to al-Shabab that we are not turning our backs on the Somali people and that we will continue to engage with Somalia until we bring al-Shabab's terror to an end," a senior state official said in a press briefing about Kerry's trip.
But officials and civilians on both sides know the way forward will be slow.
"We're making plans to make our presence more enduring in Somalia," the official said. "We still see a bit of light at the end of the tunnel -- and notice I said 'a bit.' "
During the visit, Kerry expressed hope that one day he could just walk through downtown Mogadishu without fearing violence. For many, it seems a distant goal.
"We all know that unless Kerry keeps holding his position in many years, he will never walk down the street anytime soon," said Sagal Bihi, who grew up and lives in Mogadishu.
"But it's one of those statements we all say hoping that one day it will come true."
© Copyright IBTimes 2023. All rights reserved.