Five Races That Could Swing The US Senate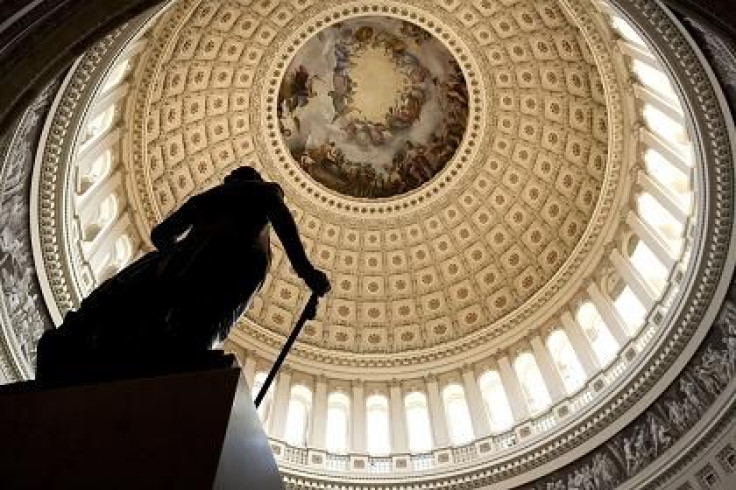 For all the talk about what a President Romney or a second term of President Obama would bring, either man's ability to push through his agenda hinges on who controls Congress.
It's worth noting here that a simple Senate majority doesn't mean what it once did: The crucial number is not 51 but 60, the amount of votes needed to end debate, thereby averting a potential filibuster, and vote, on legislation.
But it still matters. Should Republicans capture the Senate and retain the House, for example, they can use a method that requires only a simple majority known as "budget reconciliation" to hammer through initiatives like a repeal of the Affordable Care Act (Democrats used the same mechanism to pass the law in the first place).
While the odds that the House changes hands are slim, the Senate looks like more of a toss-up. A few months ago, observers were predicting that Republicans were well positioned to retake the Senate majority. But several races have tightened since then, leaving us with a handful of hard-fought contests to watch on Election Night. Here are five key ones.
Massachusetts (Scott Brown, Republican, vs. Elizabeth Warren, Democrat): This has drawn perhaps the most fanfare of any Senate contest, pitting a freshman Republican lawmaker against a rising liberal icon. The 2009 death of longtime Massachusetts Sen. Ted Kennedy badly disrupted the Obama administration's plans -- the seat that had for so long been occupied by Kennedy, a liberal stalwart and champion of universal health care, went not to a fellow Democrat but to Brown, robbing the Democrats of their filibuster-proof Senate majority.
Enter Elizabeth Warren, a Harvard professor and progressive darling who was the architect of the Consumer Financial Protection Bureau. She made a name for herself by denouncing the excesses of the finance and banking industries, winning her many liberal admirers but few friends among Republicans, who vowed to block her nomination to head the CFPB.
Instead, Warren jumped into the Massachusetts Senate race. Her message plays well in solid-blue Massachusetts, but Brown has been able to counteract that by touting his own moderation -- he cast a key vote in favor of the Dodd-Frank financial reform bill that created the Consumer Financial Protection Bureau, for example. The race has obliterated the Massachusetts record for spending on a Senate campaign, with the two candidates deploying a combined $68 million.
Virginia (Tim Kaine, Democrat, vs. George Allen, Republican): This race features two former Virginia governors seeking a Senate seat, and it's happening in a swing state where presidential preferences could lend a down-ballot boost. Kaine served as governor of the Commonwealth from 2006 to 2010 and later polished his liberal bona fides by heading the Democratic National Committee. Allen was governor from 1994 to 1998 and served in both chambers of Congress. He upended his 2006 Senate re-election campaign by referring to an Indian-American as "macaca."
The Romney campaign has been making a hard push for Virginia, and it has done so in part by adopting Allen's key strategy of denouncing impending military cuts. There is a huge military-industrial complex in Virginia that relies on federal contracting dollars, so the first round of cuts from the "sequester" -- a deficit-cutting mechanism triggered by the failure of the Super Committee last year -- could have dire consequences in Virginia. Allen has promised to undo those cuts and has sought to tie them to President Obama, who signed the legislation creating the Super Committee.
As with many states, Virginia is divided between a large swath of less populated, Republican-leaning counties and the more liberal enclaves that encircle its cities or extend outward from the Washington, D.C., suburbs.
Missouri (Claire McCaskill, Democrat, vs. Todd Akin, Republican): This seat is a key target for Republicans, who considered the freshman McCaskill to be one of the most vulnerable Democratic incumbents. Rep. Akin altered the dynamics of the race with his declaration earlier this year that, in cases of "legitimate rape," a woman's body could act to prevent pregnancy.
The backlash was swift and furious, featuring Republicans denouncing Akin (bipartisan Sen. Brown was the first, followed by Mitt Romney), the National Republican Senatorial Committee pulling funding for Akin's race, and mounting calls for Akin to step aside. Many Republicans felt that Akin was doomed and would cost them a possible seat.
But things seem to have shifted since then. After plummeting in the polls, Akin has climbed back to within striking distance. His allies are coming around too: Former Speaker of the House Newt Gingrich and former Arkansas Gov. Mike Huckabee have campaigned for him, and a last-minute burst of money from backers that include the Now or Never SuperPAC and the Missouri Republican Party has poured about $2 million into Akin's coffers. That has allowed Akin to spend $1.75 million on ads in the final week, after having been heavily outspent by McCaskill.
Indiana (Richard Mourdock, Republican, vs. Joe Donnelly, Democrat): Mourdock wasn't the only one celebrating on the night when he won the Republican senate primary, unseating incumbent Sen. Richard Lugar. Democrats were gleeful over Mourdock's elevation, believing that they had a shot in Indiana now that Republicans had nominated a tea party-supported upstart who openly disdained cooperation and compromise (Mourdock's election prompted Lugar, who crossed the aisle to support measures like TARP and the DREAM Act, to release an emotional statement warning about the partisan paralysis in Washington).
Mourdock has sought to soften his rhetoric a bit since then, but he may have damaged himself recently with an Akin-esque stumble in which he suggested that rape pregnancies are a "gift from God." Donnelly has campaigned against the statement, and the Obama campaign has also exploited it by noting that Romney shot a spot endorsing Mourdock shortly before the gaffe.
The Indiana race is of particular interest because it tests an increasingly familiar pattern: the far-right Republican candidate who pushes aside the more moderate alternative, in part because of a huge influx of outside cash. Organizations like the Club for Growth and the tea party umbrella Freedom Works poured millions into Mourdock's primary campaign, and the general election has been the most expensive in Indiana history. Different pro-Mourdock groups are spending about $4 million for the final push.
Arizona (Jeff Flake, Republican, vs. Richard Carmona, Democrat): In addition to pitting a popular six-term Republican representative against a Democrat heavily supported by the Obama administration, this race offers a preview of Arizona's future. The usually solidly conservative state is undergoing demographic changes, in particular a surging Latino population, that could reshape its electoral dynamics -- the Obama campaign considered it to be in play, although it now looks likely to go for Romney.
The fiscally conservative Flake has a formidable opponent in Carmona, a Latino military veteran who was at one point President George W. Bush's surgeon general. Democrats hope those bona fides can help Carmona become the Arizona's first Democratic senator in decades. Flake has become a tea party favorite for his outspoken stand against earmarks, although his relative moderation on immigration -- including some of his concerns about Arizona's controversial S.B. 1070 law -- may hurt him with conservatives in a border state.
Polls have alternatively showed slim leads for Flake and for Carmona, leaving the outcome of this one very much in play. Carmona might have hurt himself by releasing an advertisement in which Republican senators John McCain and Jon Kyl (whose seat Carmona is seeking) praise the Democrat. Kyl and McCain have called the ad disingenuous, noting that they are backing Flake.
© Copyright IBTimes 2023. All rights reserved.