UAW Wants Romney To Disclose $15 Million Auto Bailout Profit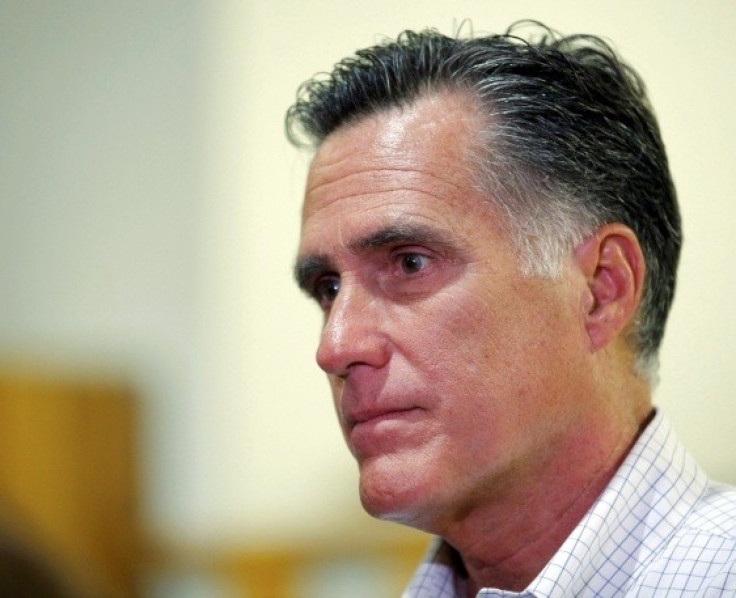 It seems Republican nominee Mitt Romney still cannot shake the demons of the auto industry bailout he supposedly opposed, and a new one looks like it may well haunt him just days before the Presidential election.
The biggest auto workers' union and several government and public interest groups say that they have filed an ethics complaint against Romney, alleging "serious conflicts of interest" and calling for the presidential nominee to release information about what they say are millions he made from the industry bailout. At issue are alleged investments the Romneys made in a hedge fund that owned a controlling interest in Delphi Auto, the former GM auto parts division.
Through the money that the federal government provided to prop up the automakers and their suppliers, Delphi received huge payments -- ultimately $12.9 billion in taxpayer subsidies -- and the hedge fund that the Romneys had invested in received a significant return, according to published reports.
"(The hedge funds') gains, and the Romneys', were astronomical — more than 3,000 percent on their investment," The Nation Magazine said in an investigative article last month.
The United Automobile Workers, or UAW, announced that it is calling upon the Office of Government Ethics to investigate Romney for alleged noncompliance with the Ethics in Government Act. They also want that authority to force the nominee to either "disclose his investments or divest them."
The UAW has been joined by liberal watchdog groups such as Citizens for Responsibility and Ethics in Washington, People for the American Way and The Social Equity Group, among others in the letter of complaint.
A union press release stated that the groups believe the former governor of Massachusetts' undisclosed stock holdings pose serious conflicts of interest related to the auto bailout. Because of the bailout, the federal government still owns upwards of 30 percent of General Motors.
The UAW claims that in his Public Financial Disclosure Report in June, Romney did not reveal gains from the bailout to the Office of Government Ethics. The union argues that this is because Romney "did not disclose the underlying holdings of his private equity and limited partnership funds."
"It's time for Governor Romney to disclose or divest," UAW president Bob King said in a statement. "While Romney was opposing the rescue of one of the nation's most important manufacturing sectors, he was building his fortunes with his Delphi investor group, making his fortunes off the misfortunes of others."
Democrats have hammered Romney in campaign ads for opposing the bailout and for the 2008 op-ed piece "Let Detroit Go Bankrupt."
An email to the Romney campaign for comment on the UAW complaint received no reply.
Romney's alleged $15.3 million in profit from the bailout was reported last month by The Nation. That report also stated that some of the Republican nominee's Wall Street donors made more than $4 billion from the same bailout.
According to the article: "It all starts with Delphi Automotive, a former General Motors subsidiary whose auto parts remain essential to GM's production lines. No bailout of GM — or Chrysler, for that matter — could have been successful without saving Delphi. So, in addition to making massive loans to automakers in 2009, the federal government sent, directly or indirectly, more than $12.9 billion to Delphi — and to the hedge funds that had gained control over it.
One of the hedge funds profiting from that bailout — $1.28 billion so far — is Elliott Management, directed by 
Paul Singer. According to The Wall Street Journal, Singer has given more to support GOP candidates — $2.3 million — than anyone else on Wall Street this election season. His personal giving is matched by that of his colleagues at Elliott; collectively, they have donated $3.4 million to help elect Republicans this season, while giving only $1,650 to Democrats. And Singer is influential with the GOP presidential candidate; he's not only an informal adviser but, according to the Journal, his support was critical in helping push Representative Paul Ryan onto the ticket....
Other GOP presidential hopefuls chased Singer's endorsement, but Mitt chased Singer with his own checkbook, investing at least $1 million with Elliott through Ann Romney's blind trust (it could be far more, but the Romneys have declined to disclose exactly how much)."
FOR FREE to continue reading
✔️ Unlock the full content of International Business Times UK for free
offer available for a limited time only
✔️ Easily manage your Newsletters subscriptions and save your favourite articles
✔️ No payment method required
Already have an account? Log in
© Copyright IBTimes 2023. All rights reserved.