Flight MH370 Update: Families Frustrated Over Inconclusive Probe As Official Says Plane Wreckage Likely Overlooked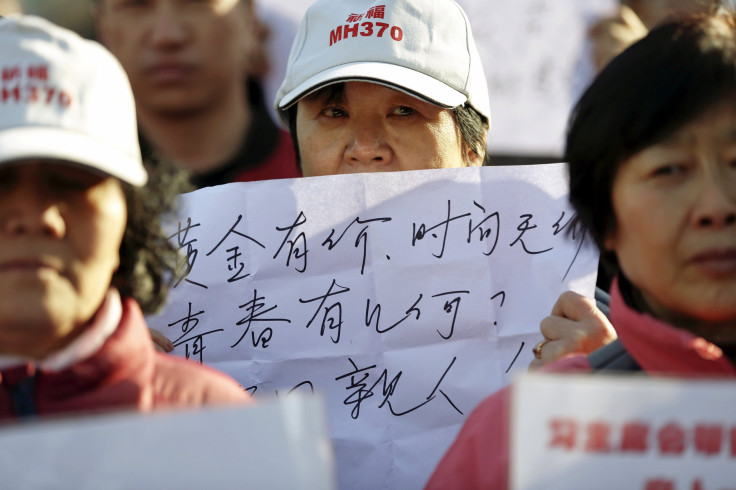 The relatives of passengers of the Malaysia Airlines Flight MH370 have arrived in Australia to get answers from the government over the inconclusive investigation into the plane's disappearance as the search nears its end. With no new credible clues about the plane's whereabouts, authorities have decided to suspend the search operation that has been ongoing for over two years in a remote part of the southern Indian Ocean.
The next-of-kin are pressurizing the Australian government as the suspension of the search is making it difficult for the families to find closure. The family members who reached Perth Tuesday, on a self-funded trip, will meet the authorities in charge of the search and will be shown a small fragment of recovered wreckage, BBC reported. Flight MH370 went missing on March 8, 2014, with 239 people on board -- mostly Chinese nationals -- while on its way from Kuala Lumpur to Beijing. A $180 million search to scour a 46,000-square-mile area has been ongoing with no information on what might have happened.
The relatives "just want to know what efforts are being made so new credible information can be found for the search to go on," Grace Nathan, whose mother Anne Daisy was on board the plane, told Australia's ABC radio. "I really have mixed emotions about the whole trip... I live in denial about what's happened."
Questions over the ongoing probe into the plane's disappearance come just a week after the Daily Beast reported that the Australian Transport Safety Bureau (ATSB), the agency which is leading the search for the missing plane, said it needed to re-examine a few spots more thoroughly because it might have overlooked some of the plane debris.
The agency is going to use a remotely operated vehicle in October to check "sonar contacts that are judged to warrant a closer look" found "scattered throughout the greater search area," spokesman Daniel O'Malley told the Daily Beast. The overall hunt is scheduled to end by December.
Meanwhile, some of the relatives of the passengers have accused Malaysian authorities of ignoring possible new evidence washing up along the African coast.
Last month, three pieces of possible aircraft debris were retrieved in the waters off Mozambique, with the largest one being a triangular piece of metal, with red and white colors on one side. The debris pieces are due to be sent to Malaysia for examination.
Since last year, several debris pieces have washed up on shores near the African coastline. A flaperon found last year in the French-controlled Réunion Island in the Indian Ocean has been confirmed to be from the missing plane, following which several other parts this year have been said to be "likely" from the jet.
© Copyright IBTimes 2023. All rights reserved.