Floyd Mayweather-Andre Berto Fight Not Yet Set In Stone: Virgil Hunter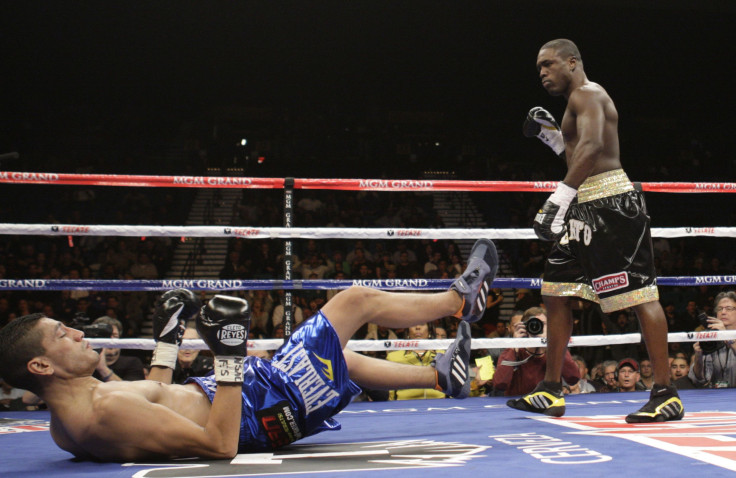 Multiple reports state that Floyd Mayweather Jr. has already picked Andre Berto as his next opponent in September. But Berto's own trainer, Virgil Hunter won't believe the news until he actually sees the signed contract.
"No, if it's not done, it's not done. Being in this business so long, how many times have we heard things and it hasn't turned out to be that way? You can't have any inconclusive stuff," Hunter told Hustle Boss when asked about the probable Mayweather-Berto fight later this year. "Until I actually hear something that says it's a done deal, then I guess I can give some sort of quote on how I feel about it. Until then, it's just the daily grind."
Berto is a well-respected trainer in the boxing scene and currently handles or has handled the likes of Amir Khan, Andre Ward, Amir Khan, Mike Dallas Jr., Brandon Gonzales, Karim Mayfield, Alfredo Angulo, Demetrius Andrade, Argenis Mendez, Abner Mares and Berto, whom he has coached since 2013.
Berto is not the most popular fighter among possible Mayweather opponents reported in recent weeks. Right after his win over Manny Pacquiao and in weeks leading up to the rumored Mayweather-Berto pairing, the more prominent names to come up were Amir Khan, Keith Thurman, Kell Brook, Danny Garcia, Miguel Cotto, Adrian Broner, Lucas Matthysee, Terrence Crawford and Gennady Golovkin.
Back in June, Hunter was asked about the probable fight by his ward against the top pound-for-pound boxer in the world, and he stated that Berto will be ready if it happens.
"[Berto] brings his own personal set of weaponry just for him, just like Amir brings his own personal set of weaponry just for him. Each one is different, but each one is unique," Virgil stated via Fight Hype. "Both of them have had setbacks, but both of them, if they're prepared physically and mentally, give you a very competitive fight, and if you are not ready and not prepared, if you shortchange them, it could come out bad for you."
After a couple of losses in 2012 and 2013, Berto (30-3-0, 26 knockouts) is back in the winning column with victories over Steve Chambers, via a unanimous decision win; and Josesito Lopez, via a sixth round technical knockout win.
© Copyright IBTimes 2023. All rights reserved.