Floyd Mayweather Legacy: After Manny Pacquiao Fight, Is Floyd The Greatest Pound-For-Pound Boxer Of All-Time?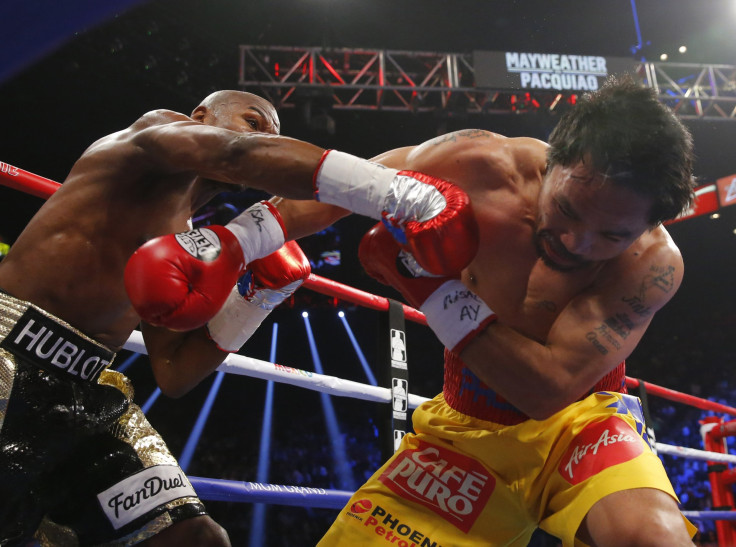 After a unanimous-decision win over Manny Pacquiao on May 2, undefeated welterweight champion Floyd Mayweather silenced many of his most vocal doubters who claimed he would never step into the ring with the No. 1 challenger or lose to the Filipino superstar. With the victory, Mayweather vaulted into the conversation as one of the greatest pound-for-pound boxers of all-time with the likes of iconic figures Henry Armstrong, Sugar Ray Robinson, Joe Louis and Muhammad Ali.
The win over Pacquiao puts to rest the idea that Mayweather was ducking his top challenger. Pacquiao entered the fight as one of boxing's best pound-for-pound boxers, coming off three consecutive convincing victories following a shock knockout to Juan Manuel Marquez and a controversial decision loss to Timothy Bradley in 2012.
It may be difficult to argue against Mayweather as one of boxing's greatest, due to one over-riding statistic: 48-0. All of boxing's best fighters have blemishes on their records, aside from former heavyweight champion Rocky Marciano, whose 49-0 record Mayweather will challenge this September in what is expected to be Mayweather's final fight. (The unfortunate knock on Marciano's record was his perceived lack of competition in his division and his only six title defenses, though Marciano still knocked out an impressive 43 of his opponents.)
Mayweather has not only held off all challengers, but also won in dominating fashion. Against Pacquiao, one judge had Mayweather winning 118-110, and the other two had it 116-112. Pacquiao, who it was later learned was fighting with an injured shoulder, is not alone in failing to win even one scorecard against the long-time champion. Mayweather has not lost on a scorecard since judge Tom Kaczmarek awarded Oscar De La Hoya a 115-113 win on May 2007.
In the ultra-competitive welterweight division, Mayweather has thrived against boxing's top opponents, quelling suggestions that his undefeated record is misleading. The 38-year-old has victories over Ricky Hatton, Marquez, Shane Mosley, Canelo Alvarez, and two wins over Marcos Maidana. He also defeated De La Hoya and Miguel Cotto at 154 pounds. Mosley landed a hard punch against Mayweather in 2010 and De La Hoya provided a tough test in 2007, but in the end Mayweather did enough to win.
Mayweather also held off other notable boxers such as Robert Guerrero, Carlos Baldomir, Zab Judah, Arturo Gatti, Angel Manfredy, Genaro Hernandez and Diego Corrales. (Mayweather has 26 wins by knockout, though most of them came in the early stage of his career.)
How Mayweather has excelled over his 19-year professional career is quite clear. There have been few boxers who have epitomized the label "defensive specialist" better than the Michigan native, with his patented shoulder roll and his keen ability to dodge punches. A student of another defensive great, Pernell Whitaker, Mayweather may be in the conversation with legendary featherweight Willie Pep as one of the most difficult boxers to hit. The speedy hands of Pacquiao managed to connect on just 18 jabs and 63 power punches over 12 rounds, with only 19 percent of his total punches landing on the champion.
No boxer is flawless, and Mayweather has his share of shortcomings. He has rarely demonstrated the ability to clearly hurt his top opponents with any serious power punches, and that includes Pacquiao. When more serious challengers appeared to be available in 2013, Mayweather somewhat inexplicably took on heavy underdog Robert Guerrero. (Though a solid boxer, Guerrero's win over Andre Berto was the sole bright spot on his resume.)
What seems to hold back fans and experts' view that Mayweather is not in the same class of boxers likes of Armstrong, Robinson, Louis and Ali is the general opinion that Mayweather's arrogance and behavior outside the ring have overshadowed his professional accomplishments. Boxing fans also tend to have an aversion towards boxers who are reluctant to fight toe-to-toe, describing Mayweather as "boring."
These factors don't seem to hold much weight. Mayweather's perceived inability to entertain fans should not diminish his success in the ring, as a boxer's overall purpose for fighting is to win -- not to win "in style" or by annihilating the opponent. Meanwhile, the only victory that some may deem was "controversial" was Mayweather's win over De La Hoya in May 2007. In that fight, Mayweather often went toe-to-toe and threw hard punches that cleanly connected on De La Hoya.
Comparing boxers of different generations is often a painstaking task, and rarely provides a definitive conclusion. Here's a look at some of the great pound-for-boxers, and then how they stack up against Mayweather:
Henry Armstrong
Legendary boxing writer Bert Sugar stated in 2012 that Pacquiao was possibly the best boxer he has seen since Henry Armstrong, who had fought in the 1930s. Climbing from a featherweight to a middleweight, Armstrong began his career with losses, but would go on to flourish, defeating as many hard-nosed brawlers that he could find. He was adept and landing hard punches with either hand, and was a non-stop puncher. Armstrong also had an excellent chin and seemed to thrive when an opponent landed clean shots.
Verdict: Armstrong. If Mayweather and Armstrong fight in their prime, Armstrong wins but it would be extremely close. Mayweather is very quick, and would undoubtedly avoid Armstrong's steady attack. But one clean power punch would do enough damage against a boxer like Mayweather, who is unfamiliar with brawling. Armstrong would no doubt land that punch over the course of a 12 or 15-round fight and Mayweather would likely struggle to keep up the rest of the way in a competitive bout.
Sugar Ray Robinson
The Detroit native began his career in 1940, accumulating a record of 127-1-2 for the first 11 years of his career. The one loss came at the hands of top-era middleweight Jake La Motta, who Robinson would ultimately defeat four total times. Robinson finished his career with a staggering 173-19-6 record, and with two no contests. Mayweather is set to retire later this year, so he will have roughly a quarter of the number of Robinson's fights. It's understandable to claim Robinson as the greatest boxer of all-time, simply because he was a combination of tremendous speed, and fantastic punching power. There probably is no better boxer in history who had better footwork than Robinson.
Verdict: Robinson. He would simply be too much for Mayweather. There is no doubt that Mayweather would be tough to hit, but Robinson would throw off Mayweather's rhythm by flying out of the corner and punishing Mayweather with speedy combinations. The shoulder roll would have minimal impact due to Robinson's strength and aggression. Robinson could leave himself vulnerable to jabs and power punches from Mayweather but would fend them off with his legendary chin.
Joe Louis
One loss to Max Schmeling in 1936 was the lone blemish over 15 years as arguably the greatest heavyweight of all-time. When Louis had a rematch with Schmeling two years later, he won in a first-round TKO. Louis often looked like a perfect boxer, combining superior footwork and balance with perhaps the best power of any boxer in history. Had Louis retired after defeating Jersey Joe Walcott in 1948, he would not have two extra losses on his record (one against Ezzard Charles and the other in his last career fight with Rocky Marciano). Every top heavyweight that followed Louis has been compared to him.
Verdict: Louis. When he owned a 58-1 record Louis was brutalizing top opponents. But Mayweather has fought the very best of his division, as well. It's difficult to gauge both boxers considering their different eras and weight class, though Louis deserves the slight edge because his power punching made no mistake that he was the overwhelming winner of his fights.
Muhammad Ali
His stamina was incredible, and may have actually had under-rated punching power. When Ali won, he won big. Defeating boxing superstars Joe Frazier, George Foreman, Archie Moore, Sonny Liston, Ken Norton, Ali was like a machine for much of the 18 years of his professional active career. His ability to bounce around the ring and take punishment and then dish it back out made him legendary. Like Louis, Ali unnecessarily prolonged his career, which damaged his overall record with three losses over his last four fights. What hurt Ali's resume was how he was often tested by some rather uninspiring opponents.
Verdict: Mayweather. Though Ali had memorable bouts against Frazier and Foreman, Mayweather dominated his competition better than Ali dominated his opponents. There were too many fights in which Ali took punishment and struggled to clearly defeat his opponent. Mayweather did a stronger job of winning convincingly.
Conclusion
Mayweather deserves to be mentioned with the all-time greats, but it's very difficult to put him ahead of Robinson, Armstrong and Louis simply due to their volume of fights and their overall success in dominating all facets of a bout. While Mayweather may not have fought with the same style as Ali and Armstrong, he would certainly be considered in their class in terms of punching efficiency. Where Mayweather's detractors seem to be wrong, is by discrediting him for his inability to knock out top opponents. While the aforementioned boxers may have punched harder, and were willing to brawl, the accurate-punching Mayweather has done what it takes to win on the scorecards, and in the end, that's what matters.
There is also another important caveat that strengthens Mayweather's case: Pacquiao. Mayweather secured his legacy by fighting and defeating Pacquiao, who is a boxing legend in his own right. Experts may cry foul that the two superstars fought past their primes and with Pacquiao injured, but that doesn't change the fact that they were both among the best pound-for-pound boxers alive at the time of the fight and few thought Pacquiao left the ring as the true winner. Mayweather, for all the vitriol directed at him, deserves to be listed among the best ever.
© Copyright IBTimes 2023. All rights reserved.
FOLLOW MORE IBT NEWS ON THE BELOW CHANNELS