Floyd Mayweather, Manny Pacquiao Net Worth: How Much Are Floyd And Manny Making In The Fight?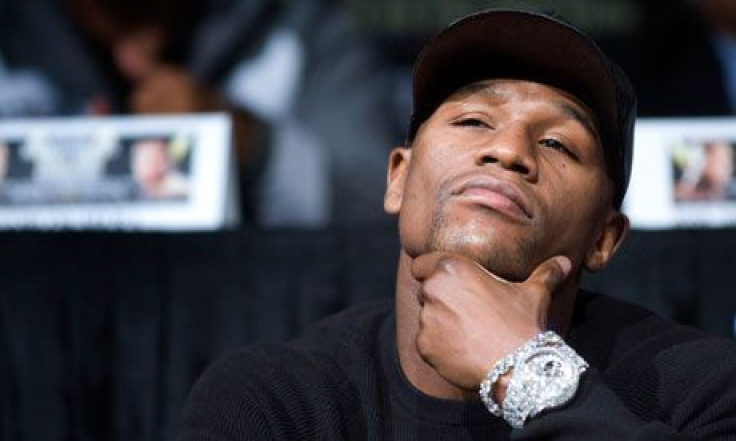 Floyd Mayweather and Manny Pacquiao will receive record-setting paydays for their welterweight championship unification fight on Saturday at the MGM Grand Garden Arena in Las Vegas. The exact numbers won't be known until after the bout, but the two boxers are expected to split close to $300 million.
Mayweather will receive 60 percent of the fight revenue that is split between the boxers, while Pacquiao will get 40 percent. The amount of pay-per-view buys will ultimately determine the final purse, but projections have Mayweather making as much as $180 million and Pacquiao netting $120 million for a night's work.
No matter how many people watch the fight, Top Rank promoter Bob Arum told the New York Times that Pacquiao will be given a $50 million down payment on Monday morning. Chief executive of Mayweather Promotions, Leonard Ellerbe, said Mayweather's check will be worth a lot more.
The PPV is almost guaranteed to shatter the previous record set in 2007 when Mayweather fought Oscar De La Hoya. The bout was purchased by 2.48 million people, and the projected PPV buys for Saturday has been set at 3.15 million. The fight will cost a record-setting $89.95 in standard definition, and $99.95 in HD.
If the fight does $3 million in PPV buys, all in standard definition, the PPV revenue will amount to just less than $270 million. According to the New York Times, 30 to 40 percent of that money goes to cable companies and satellite providers. Other than the additional 7.5 percent of the revenue that goes to HBO and Showtime, the boxers will collect the rest.
The September 2013 fight between Mayweather and Canelo Alvarez set a record by generating over $200 million in total revenue, but Saturday's mega-bout could double that number. The rest of the profits include $72 million from ticket sales, $35 million from international broadcast sales, $13 million from closed circuit viewings, $13.2 million from sponsorships and possibly another $1 million from merchandise sales. Selling 3 million PPVs would put the total revenue north of $400 million when including those revenue sources.
Mayweather's paycheck will be extremely high, even for him, having earned more money than any boxer in history. After his fight against Marcos Maidana last September, Forbes estimated that Mayweather's career earnings reached approximately $420 million.
After he fights Mayweather, Pacquiao's career earnings will reportedly reach $425 million if he makes $80 million from Saturday's bout. When he fought Chris Algieri in September, PacMan was guaranteed a reported purse of $20 million.
At celebritynetworth.com, Mayweather is listed as being worth $280 million, while Pacquiao's net worth is listed at $110 million. But Pacquiao has experienced his own share of financial troubles, as the Philippine government demanded he pay $75 million in taxes last year. In December 2013, TMZ reported that the IRS asked for $18.3 million from Pacquiao in taxes as a result of fights from 2006-2010.
© Copyright IBTimes 2023. All rights reserved.