Floyd Mayweather Net Worth: How Much Did Boxer Make In Marcos Maidana Rematch?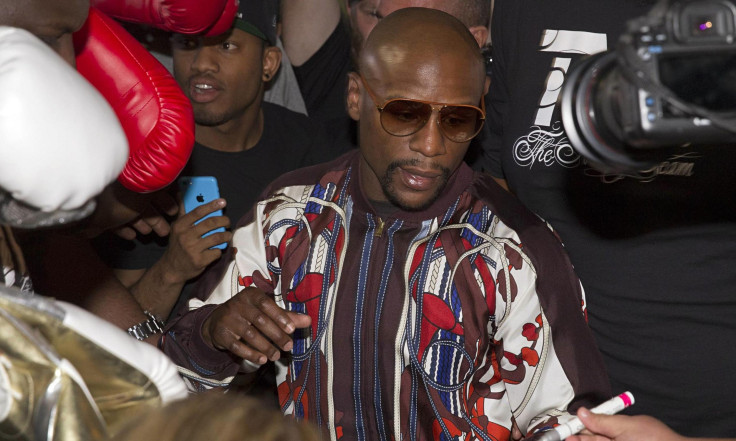 Floyd Mayweather added to his career win total, as well as his fortune, on Saturday night when he defeated Marcos Maidana in a unanimous decision at the MGM Grand Garden Arena in Las Vegas. The fight will make Mayweather the highest-paid athlete in all of sports for 2014.
According to Forbes, Mayweather's career earnings reached approximately $420 million with Saturday's fight. Before the boxer stepped in the ring for his rematch with Maidana, Mayweather -- aptly nicknamed "Money" -- was guaranteed to make $32 million.
While the purse for the fight alone makes Mayweather the most profitable athlete in the sport, he's set to make even more money, based on the total amount of money the fight drew. As a promoter with Mayweather Promotions, the champ will make millions from pay-per-view buys, ticket sales, merchandise and other revenue streams.
After he beat Maidana on May 3, Mayweather estimated that his total earnings for the fight would reach $70 million. An additional $38 million on the back end might have been presumptuous of the 37-year-old, but he still made a significant amount of extra profit.
The final numbers for Mayweather-Maidana have yet to be released, but it stands to reason that the rematch will earn Mayweather more money than what he made in the first fight. When the two boxers first met four months ago, Mayweather was a considerable favorite and there was not much hype surrounding the fight. It proved so competitive that a rematch was set.
With fan interest increased, there's a good chance the rematch will outdraw the approximate 900,000 buys of Mayweather-Maidana I. Even if the buyrate is the same as May's fight, the rematch should be a windfall for Mayweather. Showtime PPV charged $74.95 for a high-definition viewing of the first fight. The price of Saturday's bout was increased to $77.99.
Unlike the first match between the two, Saturday's bout didn't sell out. The building was nearly full, though, and ticket sales could end up amounting to about $15 million.
Maidana earned $3 million for the fight. In May, he was paid $1.5 million to take on the champ.
Last year, Mayweather set records with his earnings, raking in $105 million for the year. His biggest payday came from his Sept. 14, 2013 bout with Canelo Alvarez, which became the highest-grossing fight in the history of the sport. Mayweather, who was guaranteed $41.5 million, breezed through the fight to get his 45th career victory. The PPV drew 2.2 million buys, and the total fight revenue neared $200 million.
Mayweather's drawing power in boxing is unmatched. Even when compared to the sport's other top star, Manny Pacquiao, Mayweather stands alone. Pacquiao's much-anticipated rematch with Timothy Bradley in April drew between 100,000 and 150,000 fewer buys than Mayweather's first fight with Maidana. Pacquiao and Bradley were expected to have a competitive fight, while a Mayweather victory was considered inevitable.
Mayweather's net worth will continue to rise exponentially in 2015. He has two fights remaining on his six-fight contract with Showtime, which in total is worth $200 million.
© Copyright IBTimes 2023. All rights reserved.