Floyd Mayweather News: After Manny Pacquiao Fight, Next Opponent Should Be Financial Letdown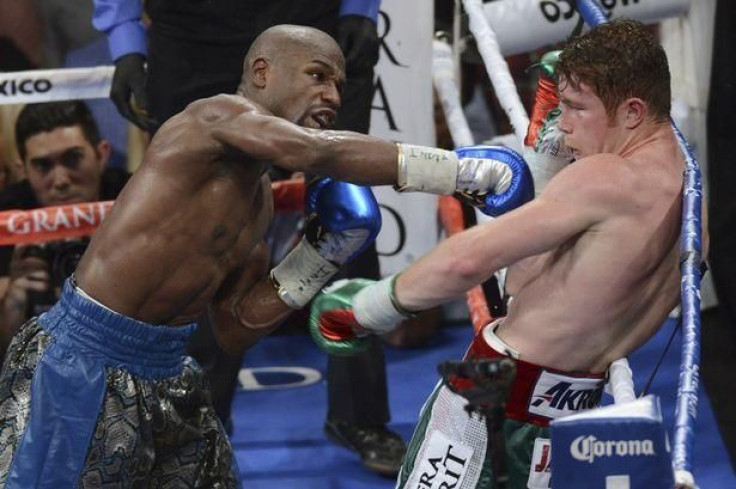 Floyd Mayweather set a record with his payday against Manny Pacquiao on May 2, but he isn't expected to make anywhere near that much money for his upcoming fight in September. After Mayweather earned approximately $200 million in the highest-grossing pay-per-view of all time, there isn't an opponent who will help him make anywhere close to that much money in his next bout.
Mayweather's most profitable potential fight might be against Canelo Alvarez. The two faced off in Sept. 2013, and it was the top grossing boxing match ever, until the record was shattered by Mayweather-Pacquiao. The bout generated $150 million and 2.2 million PPV buys.
A guaranteed purse of $41 million against Alvarez was the second-highest of Mayweather's career, and he made even more after the final PPV numbers were accounted for. But Mayweather's dominance in the fight could limit the interest of some for a potential rematch.
Alvarez wasn't much competition for Mayweather two years ago, but his popularity might be at an all-time high. He's won all three of his fights since losing to the world's top boxer, and fans continue to tune in. Six months after fighting Mayweather, Alvarez's PPV bout with Alfred Angulo drew close to 400,000 PPV buys. Alvarez vs. Erislandy Lara didn't do as well, generating around 325,000 PPV buys, but his May 9 fight against James Kirkland was seen by an average of 2.146 million viewers on HBO, giving the network its highest boxing ratings since 2006.
The Mayweather-Pacquiao fight likely ended up helping Alvarez's popularity. The replay of the fight aired on HBO prior to Canelo vs. Kirkland, giving the fight increased viewership. The timing of the two fights has also given Alvarez a reputation as an exciting fighter, since Mayweather vs. Pacquiao was viewed as "boring" by many casual boxing fans.
If Mayweather doesn't fight Alvarez in September, his next best financial option might be a different rematch. Miguel Cotto will be looking for an opponent after he faces Daniel Geale on Saturday, and his 2012 fight with Mayweather was the biggest of his career.
When Mayweather and Cotto met in May 2012, Mayweather's guaranteed purse of $32 million had never been matched. The PPV generated 1.5 million buys.
Cotto was the sport's third-biggest PPV draw just a few years ago, but the loss to Mayweather and a subsequent defeat at the hands of Austin Trout haven't helped him. He's since regained his spot as one of boxing's top pound-for-pound fighters with dominant performances against Delvin Rodriguez and Sergio Martinez. Returning to PPV after bouts on Showtime and HBO, Cotto's fight against Rodriguez disappointed with between 300,000 and 315,000 PPV buys.
But Mayweather-Cotto II might be a more intriguing matchup than a Mayweather-Alvarez rematch. Mayweather's majority decision win over Alvarez was considered one-sided, and the one judge that scored the fight a draw was forced to step down soon after. There wasn't much debate when Mayweather beat Cotto by unanimous decision, but it was one of Mayweather's most challenging bouts in years.
Mayweather's most recent rematch came last year, and the result of the first fight didn't seem to have much of an effect on the PPV buys of the second bout. When Mayweather was expected to have an easy fight against Marcos Maidana in May of last year, the fight generated an estimated 900,000 buys. After Maidana shocked much of the boxing world and his strong performance forced Mayweather to give him a rematch, the second fight produced roughly the same amount of buys.
Four months after his fight with Pacquiao generated 4.4 million buys, Mayweather could have a difficult time breaking 1 million buys. Cotto and Alvarez, who compete at a higher weight class than Mayweather, seem likely to face each other, leaving Amir Khan as a likely candidate.
Khan's May 29 unanimous victory over Chris Algieri gave him five consecutive wins, but it didn't do much to inspire confidence among fans, or even his trainer, that he could challenge Mayweather. An average of 1 million viewers watched Khan-Algieri on Spike TV, as the Brit struggled to put away the boxer that was knocked down six times in his last fight against Pacquiao.
Towards the end of 2014, Mayweather told BoxingScene.com that Khan didn't have a big enough name to face on PPV. Promoter Eddie Hearn has predicted that a fight between the two boxers would generate 800,000 PPV buys. No Mayweather fight has produced so few buys since he beat Carlos Baldomir in 2007.
Khan has yet to headline a PPV in the United States. His win over Devon Alexander in December averaged 762,000 viewers on Showtime.
If Mayweather wants to fight Pacquiao again, he'll have to wait until 2016 when Pacquiao will be recovered from his shoulder injury.
© Copyright IBTimes 2023. All rights reserved.
FOLLOW MORE IBT NEWS ON THE BELOW CHANNELS