Floyd Mayweather Is Trying To Convince Everyone Conor McGregor Can Beat Him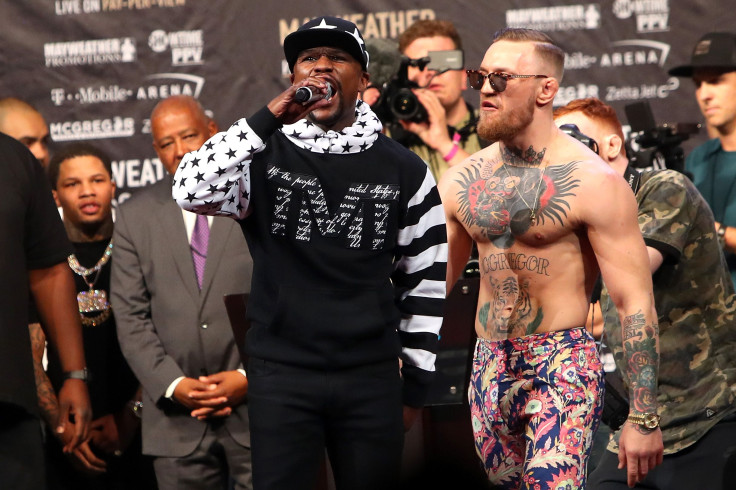 Conor McGregor has a real chance to defeat Floyd Mayweather in their fight at T-Mobile Arena in Las Vegas on Aug. 26. That's what the boxer wants the world to believe, anyway.
As arrogant and brash as Mayweather was on stage during the four stops of his July press tour with McGregor, a different Mayweather can be seen when speaking with reporters. He's mild-mannered and even humble, discussing a fight that could go either way.
READ: Fans Overwhelmingly Picking Conor McGregor over Floyd Mayweather
"He's a lot younger. When you look at myself and Conor McGregor on paper, he's taller, has a longer reach, he's a bigger man from top to bottom. He's a lot younger, so youth is on his side," Mayweather told ESPN's Stephen A. Smith when talking about McGregor. "And I've been off a couple of years. And I'm in my 40s. So, if you look at everything on paper, it leans toward Conor McGregor."
Both fighters will face a 154-pound weight limit the night before the bout. McGregor stands one inch taller than the 5'8 Mayweather, and the UFC lightweight champion has a two-inch reach advantage. Mayweather turned 40 in February, while McGregor celebrated his 29th birthday on the final stop of the press tour in London.
Mayweather hasn't fought since he defeated Andre Berto on Sept. 12, 2015. McGregor last fought in the octagon in November.
According to Mayweather, all of that gives a man with zero boxing matches on his resume the edge over the best boxer of his generation.
"I'm not the same fighter I was two years ago. I'm not the same fighter I was five years ago. I lost a step," Mayweather said. "A fighter like Andre Berto isn't even supposed to go the distance with Floyd Mayweather, but remember, I was 38. It's obvious I'm slipping a little bit to even let a fighter like that go the distance with me.
"I'm not what I used to be."
It's the same sentiment that CEO of Mayweather Promotions Leonard Ellerbe echoed during the press tour. Ellerbe emphasized Mayweather's age and told reporters that Mayweather has come closer to losing fights than anyone realizes. He even went so far to say that McGregor staged a video of himself looking slow while training for the fight, trying to lure Mayweather into a false sense of security.
"He tricked all y'all. Each and every one of you. He looked slow on the bag, he's doing this and doing that. Y'all can fall for it. We're not," Ellerbe told reporters at Barclays Center in Brooklyn on July 13.
"What happens [Mayweather] comes out in the second round and cracks him upside his head and he turns the hook over and hurts both of his hands? What happens? Any damn thing can happen in a fight. That's why you fight the fight. And the more and more of you guys say that guy don't have a chance, I know he's sitting over there licking his chops, and he's sitting there like 'OK.' He's got just as good of a chance as anybody else does."
Mayweather and his camp are trying to sell pay-per-views. The fight is probably going to be the most profitable of all time, likely to surpass the record of 4.6 million buys that Mayweather and Manny Pacquiao generated on May 2, 2015. If the PPV generates five million buys, Mayweather could make north of $300 million.
Fans are much more likely to spend money to watch the fight if they believe McGregor is an actual threat to Mayweather. With less than three weeks remaining before the fight date, a large portion of fans seem to believe that the UFC star can pull off the upset.
The betting odds for McGregor continue to improve, which means the public is placing more and more money on him. Once a -2250 favorite, according to OddsShark, Mayweather has seen his odds drop to -550. McGregor was nearly a 10/1 underdog when the fight began to seem like a possibility in November, and his odds are down to +375.
To put those numbers into perspective, Berto, a former world champion boxer, was a +1100 underdog on the day he faced Mayweather. Mayweather was a -3000 favorite. The fight drew somewhere between 400,000 and 550,000 PPV buys.
Mayweather is right not to underestimate McGregor. Anything can happen during a boxing match, and there have been shocking upsets in the past. Buster Douglas was a 42-1 underdog when he knocked out Mike Tyson.
Still, most of the boxing world is convinced Mayweather will win without any trouble.
Zab Judah and DeMarcus Corley have both lost unanimous decisions to Mayweather, and they recently told ESPN.com that McGregor doesn't stand a chance. IBF welterweight champion Errol Spence, who has also sparred with Mayweather, said the same thing.
READ: Floyd Mayweather Says He'll Make Over $300M Against Conor McGregor
Former welterweight champion Paulie Malignaggi had two sparring sessions with McGregor before leaving his camp prematurely, and his stories of training with the MMA champion indicate that McGregor will lose handily.
Mayweather is a master of promotion, and it's the reason why a fight with McGregor will leave him with the biggest payday in sports history. He also knows he'll be a perfect 50-0 when he retires for a third time, whether he's willing to admit it or not.
© Copyright IBTimes 2023. All rights reserved.