FOMC Meeting: Fed Will Keep Interest Rates Low, No Hints Of QE3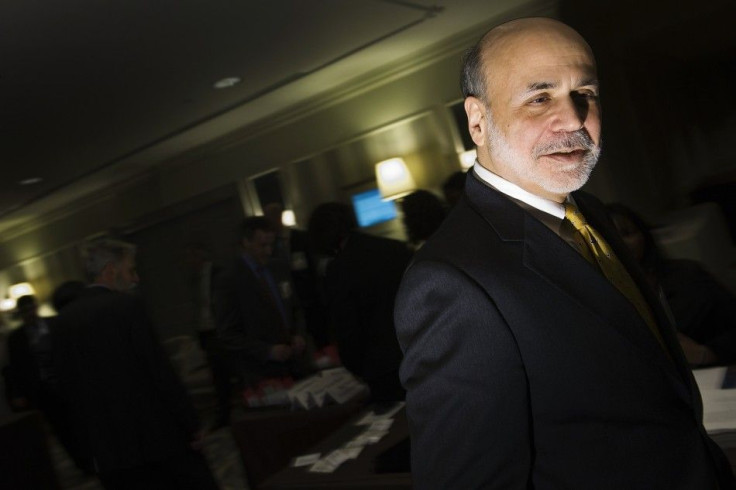 The target U.S. interest rate will remain at its current level of 0 percent to 0.25 percent through late 2014, the Federal Open Market Committee, led by Federal Reserve Chairman Ben S. Bernanke, said Wednesday.
To support a stronger economic recovery and to help ensure that inflation, over time, is at the rate most consistent with its dual mandate, the Committee expects to maintain a highly accommodative stance for monetary policy, a statement from the FOMC said.
The statement from the committee, which concluded a two-day meeting Wednesday, did not hint of further quantitative easing, commonly referred to as QE3. Rather, the statement focused heavily on modest improvements in the unemployment level, which dropped to 8.2 percent in March, although U.S. employers only hired 120,000 workers in that time, a Department of Labor report said.
The FOMC's decision was based on indications of modest U.S. economic expansion and a slowly declining, although still elevated, unemployment rate. Household spending and business fixed investment both grew since the committee's last meeting in March, but it cautioned that the housing sector remains depressed and that inflation has increased slightly in the short term as a result of high oil and gas prices. Long-term inflation expectations remained stable.
The FOMC is charged with encouraging maximum employment levels and price stability.
The Committee expects economic growth to remain moderate over coming quarters and then to pick up gradually. Consequently, the Committee anticipates that the unemployment rate will decline gradually toward levels that it judges to be consistent with its dual mandate, the FOMC said.
While there is gradual economic growth, there are also some signs of danger on the horizon that should not be discounted. The committee highlighted rising gas and oil prices and continued stress on global financial markets as being possibly damaging to continued growth. High gas prices are only expected to affect inflation temporarily, and the committee anticipates that inflation will actually run at or even below the mandated rate.
In particular, the Committee ... currently anticipates that economic conditions -- including low rates of resource utilization and a subdued outlook for inflation over the medium run -- are likely to warrant exceptionally low levels for the federal funds rate at least through late 2014, the committee's statement said.
The 10-member FOMC approved the plan, with the exception of Jeffrey M. Lacker, president of the Federal Reserve Bank of Richmond, who does not anticipate that economic conditions are likely to warrant exceptionally low levels of the federal funds rate through late 2014.
The FOMC also voted to continue to extend the average maturity of its securities holdings, a decision initially announced in September. Likewise, existing policies of reinvesting principal payments from agency debt and mortgage-backed securities, such as those marketed by Fannie Mae and Freddie Mac, will continue.
© Copyright IBTimes 2023. All rights reserved.