Food Trucks In NYC To Ditch Diesel, Go Solar In Attempt To Clean Up City's Air Pollution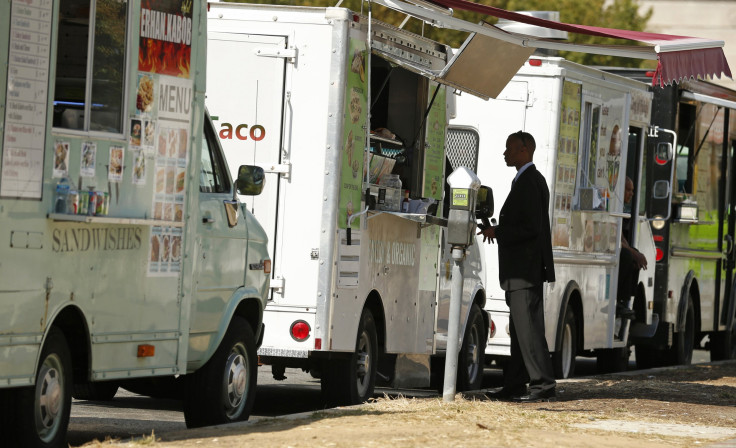 For 12 hours a day, Muhammad Islam serves up spicy South Asian cuisine from a metal food cart near New York City's Wall Street. A diesel-powered generator powers the lights and refrigerator, while a tank of propane keeps the grill warm. Around the city, some 8,000 food trucks and carts do the same each day, spewing harmful pollutants and climate-warming gases into the air.
The pollution problem is playing out in cities across the United States as four-wheeled kitchens increasingly appear on sidewalks and streets. Food trucks alone have seen revenues rise 9.3 percent on an average annual basis since 2010, and this year's revenues for U.S. trucks could reach $860 million, IBISWorld estimated in a market research report. The numbers don't include food carts like Islam's, which serves over a hundred dishes like biryani rice and grilled lamb on any given day.
In New York, the epicenter of the food truck boom, city officials are starting to tackle the issue. A pilot program unveiled this week will give vendors a chance to lease up to 500 energy-efficient, solar-powered carts for five years at no or little cost. If successful, the initiative could be replicated in other cities where conventional food carts contaminate the air.
"New York City is still dealing with an air quality crisis," Donovan Richards, a city councilmember and the environmental committee chair, said Monday from City Hall Park. He noted that 2,000 city residents die every year from soot and smog pollution, which cause asthma attacks and heart problems. With the program, "We're ensuring every New Yorker has high access to good air quality," Richards said.
The city is partnering with MOVE Systems, a New York tech company that built and designed the cleaner carts. Instead of diesel and propane, the cart's electricity and heating comes from a rectangular rooftop solar panel and a rechargeable battery pack. If needed, a generator filled with compressed natural gas can provide back-up power.
Each model is expected to cut greenhouse gas pollution by 60 percent, compared to generators in traditional carts, Energy Vision, a clean-energy research firm, said in an independent analysis of the carts. The newer versions could slash levels of smog-causing nitrous oxides by around 95 percent. Richards said the program will also help the city reach its goal to reduce greenhouse gas emissions to 80 percent below 2005 levels by 2050. "This is a small way to get there," he said.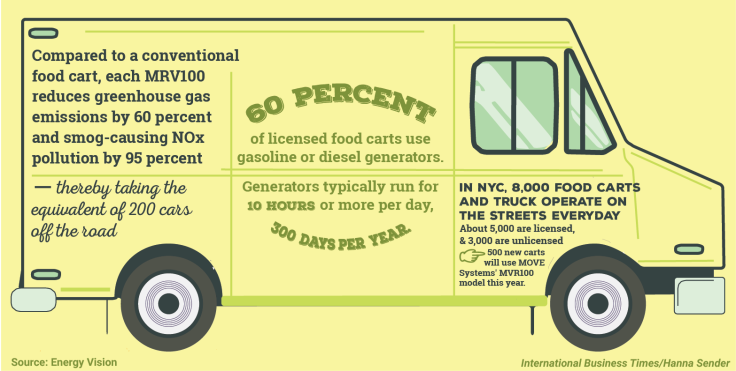 James Meeks, president and CEO of MOVE Systems, didn't disclose how much it costs to build the lower-emissions carts. He said the company is partnering with private companies, including Clean Energy Fuels and First Data, to subsidize the carts so that participating vendors have no financial requirements. Meeks estimated that using solar and battery power would reduce vendors' energy bills by about 20 percent. "We're trying to eliminate the cost to the vendor," he said Monday morning, standing beside the city's first MOVE cart, which was selling soft drinks and pastries near City Hall.
Meeks said the company is talking to officials in other cities about the initiative, though he said it's too early to name them. However, Matt Tomich, vice president of Energy Vision, said leaders in Los Angeles, San Francisco, and Atlanta are watching the New York pilot closely. "They're very interested and would like to be able to implement similar programs," Tomich said. "Everyone is waiting to make sure the carts operate as advertised. I think this will expand nationwide, and potentially globally as well."
New York's program is the largest of any city to target emissions from food trucks and carts. Two years ago, New York launched a separate effort to get vendors to use electricity instead of generators, using grid-connected power stations from Simply Grid. The start-up installed a handful of chargers in New York's Union Square and in Atlanta and Austin, Texas, but those pilots haven't been expanded. (MOVE Systems acquired Simply Grid in 2014.)
Some mobile food vendors are switching to cleaner models on their own. Green Truck, a mobile catering company in Los Angeles and San Diego, uses recycled vegetable oil to power food trucks' engines. In Chicago, Joe Wehrli is building a custom cart for his organic smoothie company, Herb-N-Juice. When finished this summer, an electric golf cart with a 1,500-pound towing capacity will pull the mobile kitchen. All the appliances and refrigerators will be powered by solar panels and rechargeable batteries. Wehrli said he will also compost excess fiber from juices and smoothies and serve drinks in glass bottles, which customers are more likely to reuse or recycle than plastic cups.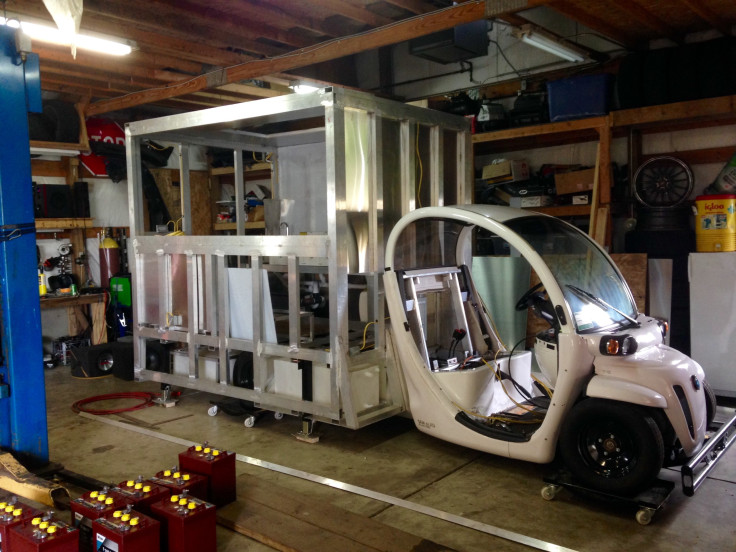 "I haven't seen really too much of a priority on environmental friendliness" within Chicago's food truck scene, he said. "But it's starting to turn that way." Wehrli said he hopes to patent his clean cart model and sell the vehicles for other mobile food businesses.
Adopting lower-pollution power systems in food trucks won't eliminate cities' air quality problems, public health experts say.
In the New York metropolitan area, levels of particle pollution from vehicles, factories and heating systems are above the national air quality standard. Particle pollution, or PM, is a tiny mixture of acids, chemicals, metals and dust that can enter the lungs and bloodstream and damage organs. The metro area also saw more spikes in short-term particle pollution and more days of high ozone pollution in the 2011-2013 period, compared to the 2010-2012 period, the American Lung Association found in its recent State of the Air report.
Still, Janice Nolen, the association's assistant vice president of national policy, applauded New York for its clean food cart program. "It's good that cities are looking at them and cleaning them up," she said. "There's been targeted efforts in the last few years nationally to reduce vehicle emissions. Communities are drilling down and looking at local sources that need to be addressed."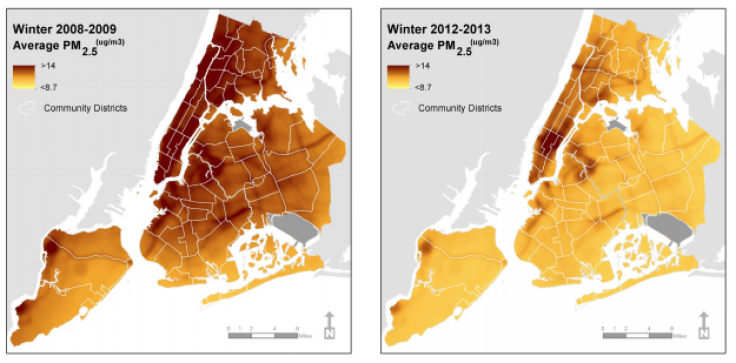 © Copyright IBTimes 2023. All rights reserved.
FOLLOW MORE IBT NEWS ON THE BELOW CHANNELS