Ford Launches 2023 F-150 Raptor R Pickup Truck: Specs, Production Date, Reservations, And More
Ford (F) has announced the debut of its 2023 F-150 Raptor R pickup truck – a truck that it said is its "fastest, most powerful, most extreme high-performance off-road desert Raptor yet."
The new addition to the F-150 Raptor family has 700 horsepower from a 5.2 L supercharged V8 engine that develops 640 lb.-ft. of torque from the same powertrain that was used in Ford's Mustang Shelby GT500.
Upgraded cooling and a 66% increase in air intake volume were also integrated into the engine compartment of the Raptor R to help in extreme off-road conditions, Ford said.
The truck has been specifically designed for off-road performance, which Carl Widmann, Ford Performance chief engineer, said, "When customers experience Raptor R in the desert and beyond, it will make the hairs on the back of their necks stand up – and they'll love every second of it."
Mated to the engine is a 10-speed SelectShift transmission on the base model of the truck, along with a new front axle that has been made more robust. Also included is a specially tuned torque converter with a heavy-duty turbine and four-pinion rear output assembly for a smoother feel when driving on and off-road.
Four driving modes are outfitted on the truck – Normal, Sport, Quiet, and Baja, along with a dual exhaust system and a five-link rear suspension. Wheel travel on the truck is 13 inches in the front and 14.1 inches in the rear, which allows for the ability to traverse sand and rocks, Ford said. Top speed on the truck is 112 mph, according to CNBC.
The exterior of the Raptor R has been designed to be 1 inch taller than the base Raptor for a more aggressive stance that is paired with Code Orange "R" badges across the truck.
A black interior rounds out the truck that is also equipped with black leather and suede seats and carbon fiber on the door adornments, media bin door, and parts of the instrument panel.
The Raptor R is also standard equipped with Trail Turn Assist for a tighter turning radius, Ford Trail Control for speed and steer control in challenging conditions, and Trail 1-Pedal Drive for easier rock crawling.
Ford is offering the F-150 Raptor in eight paint options, including Avalanche and Azure Gray Tri-Coat – a first for the Raptor series.
Reservations are being accepted now for the truck, with production slated for late 2022 at Ford's Dearborn Truck Plant in Michigan. Starting price of the pickup is $109,145, CNBC reported.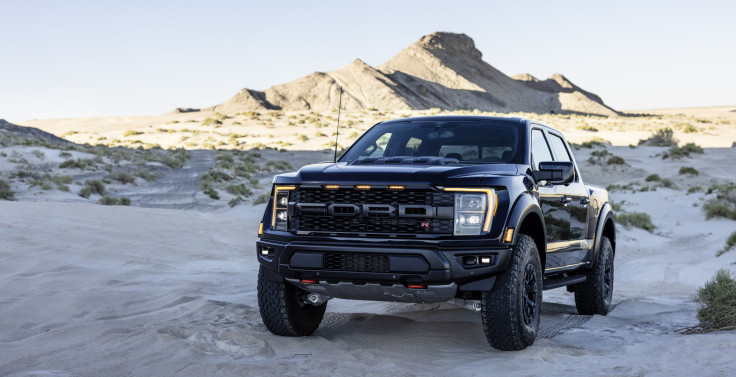 © Copyright IBTimes 2023. All rights reserved.