Former McDonald's Boss Says Company Franchisees Can't Afford $15 Minimum Wage, But What About That 12% Royalty Fee?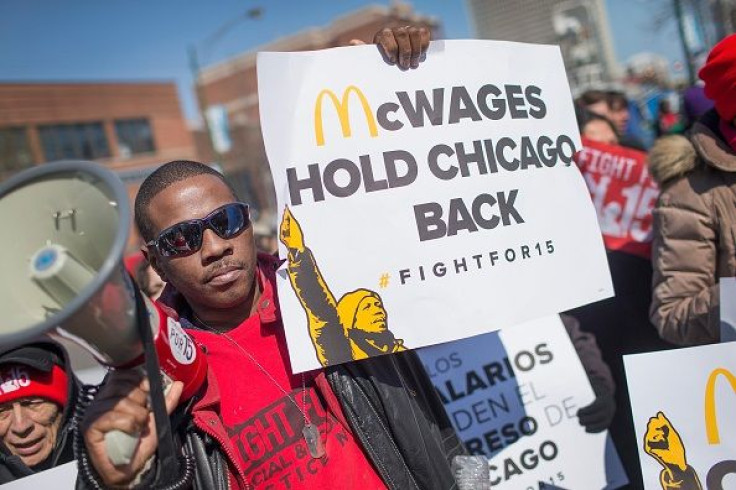 Former McDonald's Corp. CEO and President Ed Rensi has said support of a nationwide union-backed effort to boost the national minimum wage to $15 an hour is built upon "a fundamental misunderstanding" of how global fast-food chains like McDonald's operate.
Arguing that independent store owners don't have the deep pockets that supporters of the wage hike think they have, Rensi warned in an op-ed Sunday on Forbes.com the move would lead to increased automation and reduced demand for entry-level workers, hurting the people unions want to help.
"The $15 minimum wage demand, which translates to $30,000 a year for a full-time employee, is built upon a fundamental misunderstanding of a restaurant business such as McDonald's," Rensi wrote. "In truth, nearly 90 percent of McDonald's locations are independently-owned by franchisees who aren't making 'millions' in profit. Rather, they keep roughly six cents of each sales dollar after paying for food, staff costs, rent and other expenses."
While it's true that most of McDonald's roughly 13,000 U.S.-based stores are franchises, Rensi is selective with his math on how independent store owners make and spend money.
A typical franchise generated about $2.6 million in annual sales, Rensi says, giving owners $156,000 in per-store profit. A wage hike could reduce this 6 percent margin, urging store owners to cut jobs instead of taking cuts on their already thin margins. McDonald's Corp., on the other hand, earned as much as 21 percent of annual revenue in recent years, nearly four times what its typical franchise operator earns.
But, by failing to underscore the important way McDonald's makes money from its franchises –- from royalty and rent payments -– Rensi excludes one important way McDonald's could elevate workers' wages: by lowering how much it charges independent store owners.
Rensi's column comes as the U.S. National Labor Relations Board is considering a case that could upend the established franchise model. A ruling in the unions' favor would open the door for McDonald's Corp. to be the true parent of all of its outlets, allowing employees to organize and bring the main office to the bargaining table.
According to the company's website, franchisees pay 12 percent of their revenue in royalty payments, excluding rent. That means, according to Rensi's math, the royalty to McDonald's Corp. is twice the typical profit margin of a store. If franchise operators are restricted in what they can pay their employees, a large portion of that is because of the money McDonald's charges its independent store owners.
Last year, McDonald's extracted $2.98 billion in royalty payments and $5.86 billion in rent fees from franchisees, or about 35 percent of the company's total revenue last year, according to its latest annual report.
Automation might be unavoidable in the fast-food industry, especially if touch screens cost less than humans, but Rensi's efforts to put the onus of wages solely on the franchise operators fails to address the question of whether McDonald's Corp. can give franchise operators a break to pass on to their employees.
© Copyright IBTimes 2023. All rights reserved.
FOLLOW MORE IBT NEWS ON THE BELOW CHANNELS